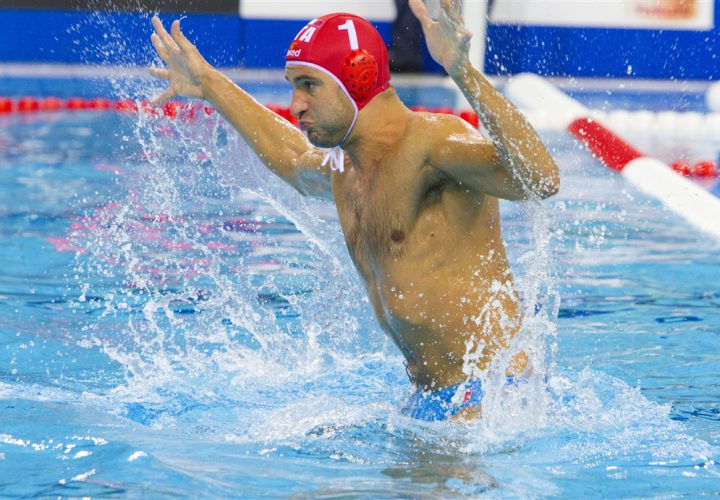 Italy's Stefano Tempesti. Photo Credit: Henk Swinkels
Editorial Coverage provided by

The Americans' failure on Wednesday to secure a win in what now appears to have been their lone opportunity for group play points threatened to overshadow what was the most complete game of the men's bracket so far. Hungary and Italy—locked in a struggle for Group B supremacy—delivered a rousing performance in front of a packed grandstand at the Alfred Hajos National Swimming Complex. A 9-all tie in the day's featured match was a jolt of excitement on a day when disappointment was palpable.

It's impossible to gauge the long-term impact of Team USA's 15-7 loss to an upstart Japanese squad. From Seiya Adachi, all 5-8 of him, torching the U.S. for seven goals, to the American's exceptionally porous defense—Japan connected on 40% of their 37 shots—to the inability of Ben Hallock and Chancellor Ramirez to exploit their substantial size advantage against Japanese defenders Mitsuak Shiga and Keigo Okawa; start to finish this was an unmitigated disaster for a young U.S. squad seeking to find its way.
Alex Rosele, whose main contribution—despite being a full foot taller than Adachi—was to get rolled after only eight minutes of pool time, conveyed the bewilderment he and his teammates experienced during and after the match.
"In this game we were just unable to complete the things we were aiming for," he said, in an understatement.
"I definitely don't think this is a true representation of how strong our team can be," Roselle added, grasping for an elusive positive.
One might suggest—following a lackluster performance against Croatia and the debacle with the Japanese—that this may exactly be what the U.S. is right now. An unexpected win Friday against Group D foe Russia may push them into the play-in for the quarterfinals, but how much further could Team USA be expected to go?
Contrast the Americans' struggles with the inspired performance of the Italian team and their ageless netminder, Stefano Tempesti. Italy's success thus far generates the unbridled excitement one might expect from contests between the world's best teams.
Tempesti may be splitting time with Goran Volarevic, but for the all-important second half of his team's most critical contest in group play, Italy's head coach Alessandro Campagna tapped his most experienced netminder.
The once retired 38 year-old—a veteran of five Olympics (2000-16)—did not disappoint.
With Hungary on the power play and less than a minute left in the third quarter of a tie match, Tempesti dove first to his left for a save on Denes Varga, then to his right on a Balazs Erdelyi shot. To further frustrate the 6,000 plus Hungarians packed into the grandstands, Tempesti stood tall on a subsequent breakaway, denying Erdelyi again to keep the score knotted at seven—a tie Nicholas Presciutti broke seconds later, giving Italy an 8-7 lead.
That the Italians and Hungarians would end the day tied with three points in group play, with a single goal scored separating the two teams, seems fitting in the strongest group on the men's side of the bracket. With Australia edging France 11-10 in the day's opening match, goal differential is likely to determine whether Italy—which finishes group play on Friday against the Aussies—or Hungary, with a match against the French, will claim Group B's top spot and a bye into the quarterfinals.
If Spain had hopes of challenging for second in Group C, they were dashed by the Serbian juggernaut. On the strength of two Andrija Prlainovic goals, Serbia broke out to a 5-1 first half lead on its way to an 11-5 win. Barring an unexpected outcome against undefeated Greece, Dejan Savic's squad is virtually certain to clinch the group, with Greece, an 18-2 winner against South Africa, content to trail the Serbs in the group standings.
Given Team USA's struggles, the picture for Group D is quite clear. Croatia—by virtue of a narrow 10-8 win Wednesday over Russia—is the likely group winner, no matter how they perform against the suddenly dangerous Japanese. Barring a major upset by the Americans—their coach Dejan Udovicic vowed: "We are going to fight until the end"—Russia will place second, with Japan taking the third spot and advancing to a play-in match for a quarterfinal berth.
In Group A play there was further heartbreak for North America, as Canada—fresh off a remarkable comeback Monday against Montenegro—lost a see-saw match as Kazakhstan tallied two fourth quarter goals to beat the Canadians 9-8.
A decisive 14-5 victory over Brazil puts Montenegro at the top of Group A with three points, followed by Brazil and Kazakhstan with two apiece, and Canada with one.
North America still has one last hope for a play-in spot; if Canada can topple the Brazilians on Friday they may finish as high as second; something to celebrate amidst the gloom.