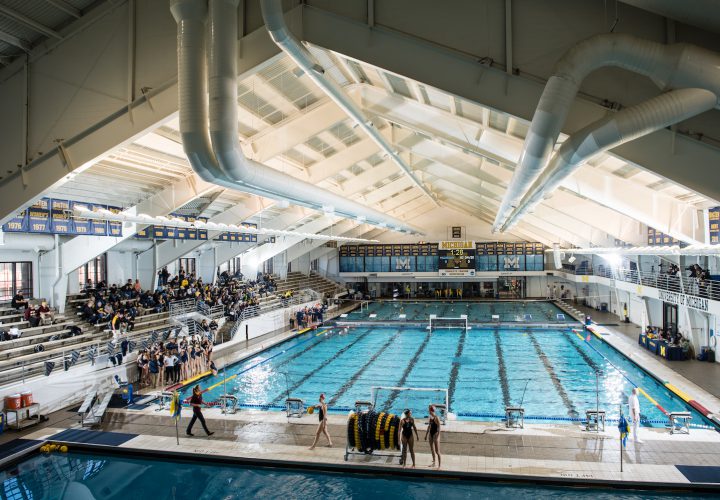 Photo Courtesy: Eric Bronson
Agon is the proud sponsor of all high school coverage (recruiting, results, state championships, etc.) on SwimmingWorld.com. For more information about Agon, visit their website AgonSwim.com.
To report a college commitment, email HS@swimmingworld.com. Join Swimming World's Watch List
NEW COMMITS: The University of Michigan has received three more verbal commitments for the Class of 2022: one to the women's team and two to the men. They are Caroline Sisson, Ian Miskelley, and AJ Bornstein. Sisson and Miskelley are club teammates.
They'll suit up along with David Cleason, Will Chan, Katie Minnich, and Alexis Wenger next fall.
Caroline Sisson
Sisson trains with Michigan Lakeshore Aquatics and is a senior at West Ottawa High School in Holland. A USA Swimming Scholastic All-American, Sisson is primarily a breaststroker and freestyler
Her best times are:
100 Breast 1:03.26
50 Breast 30.05
200 Free 1:50.85
500 Free 4:56.33
1000 Free 10:12.49
Ian Miskelley
Miskelley is also an in-state talent, moving to Ann Arbor from Holland, where he also swims for Michigan Lakeshore Aquatics. He's a USA Swimming Scholastic All-American and a fairly versatile swimmer. His top times are:
100 Fly 48.90
200 IM 1:50.76
400 IM 3:56.31
200 Back 1:50.24
He wrote about his decision,
"I felt at home there — the guys on the team, the atmosphere, just the whole package. And, I really want to see how far I can go in swimming – junior national team? PanPacs? Trials? For me, coach (Mike) Bottom and the staff are the best in college swimming so who better to help me get to the next level and beyond? And, academically, Michigan is one of the best universities in the country so I'll be getting a world class education in the classroom and the pool. In the end it was the obvious choice for me and I'm just so honored to be part of the Michigan tradition."
AJ Bornstein
Bornstein is a USA Swimming Scholastic All-American and a NISCA All-American from Ridgefield, Connecticut. He swims for Ridgefield Aquatic Club and is a senior at Ridgefield High School.
Primarily a breaststroker, his lifetime bests include:
200 Breast 1:58.68
100 Breast 55.99
50 Breast 26.10
400 IM 3:57.94