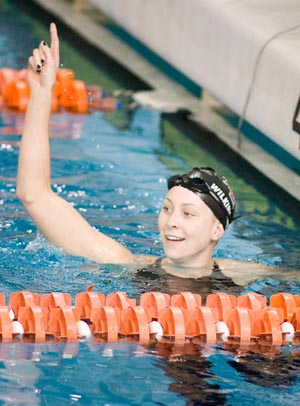 MONTREAL, Canada, April 3. ON the third night of swimming at the Canadian Trials held in Montreal, the national record book took some serious hits.
Julia Wilkinson, who already wiped out the national record in the 100 back last night, tracked down the Canadian standard in the women's 200 free with a time of 1:58.73. That performance surpassed the 1:59.38 set by Sophie Simard in 2005. Genevieve Saumur also cleared the previous record with a time of 1:59.22 to take second.
Adam Sioui followed as the first Canadian to dip under 1:58 in the men's 200 fly when he dropped a time of 1:57.98 on fans at the event. The time eclipsed the 1:58.08 set by Shamek Pietucha at the 2000 Canadian Trials. Tobias Oriwol placed second in 1:59.54.
Mike Brown then lowered his own record in the men's 200 breast with a time of 2:11.01. His previous best had been a 2:11.22 set at the 2005 World Championships. Mathieu Bois finished second in 2:12.75, while Paul Kornfeld wound up third in 2:14.15.
In a 100 back swimoff to determine who would make the Olympic team, Jake Tapp touched out Rob Taylor, 55.16 to 55.44, after the duo tied last night with matching 55.53s.
In Paralympic events, Benoit Huot won the men's 200 IM in 2:18.97, while Valerie Grand-Maison took the women's 200 IM in 2:29.85.
The team of Taryne Landry, Julianne Brown, Talia Benson and Amanda Payne won the women's 800 free relay in a time of 8:29.22.