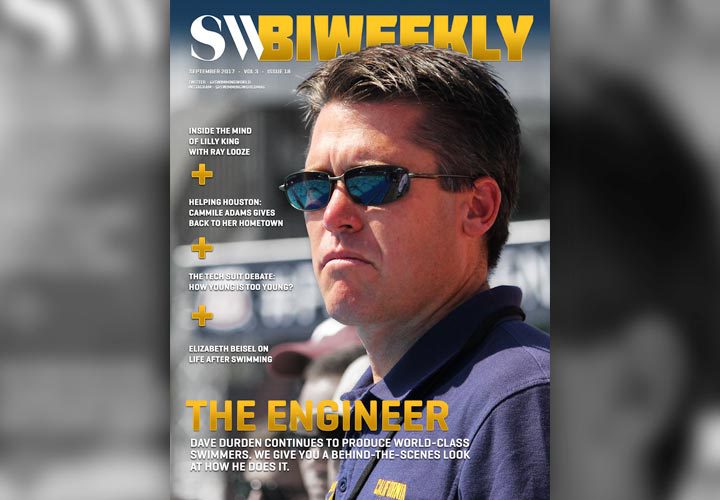 The current edition of the 2017 Swimming World Biweekly features Cal's Dave Durden on the cover. Durden has been the head coach of the Cal men's team for the past 11 seasons, with his team finishing in the top two at the NCAA Championships every year for the last eight years. He has become an engineer known for producing world class athletes.
Current subscribers can visit the Swimming World Vault to download this issue and the latest Swimming Technique Magazine! Non-Subscribers can download and sample the current Swimming World Biweekly for FREE!
Also featured in this issue are updates on USA Swimming governance, a feature on USA Swimming CEO Tim Hinchey's State of the Sport address, plus updates on what Elizabeth Beisel and Cammile Adams have been up to recently.
Featured in the parting shot is former Swimming World employee and All-American athlete Maureen "Mo" Rankin, who tragically lost her battle with cancer earlier this week.
Special $4.95 Offer For New Subscribers!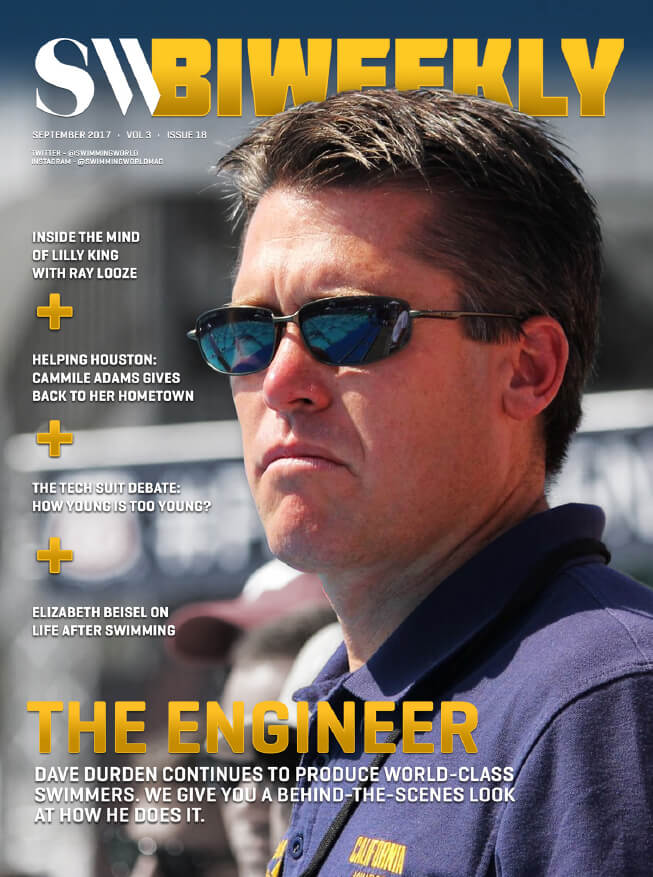 Save 25% on a 1 year subscription and download more issues from the Swimming World Vault and get the following:
Use Coupon Code: realnews and save 25%
A monthly print copy of Swimming World Magazine in the mail for 1 year!
Free download of the next 12 issues and the past 12 issues of Swimming World Magazine!
Free download of next 24 issues and the past 24 issues of Swimming World Biweekly!
Free download of next 4 issues and the past 4 issues of Swimming Technique Magazine!
Click Here For This Special Offer with coupon code "realnews" during checkout.
FEATURES:
008 BY 2028 OLYMPICS IN LOS ANGELES, SWIMMING COULD LOOK MUCH DIFFERENT
by David Rieder
Los Angeles mayor Eric Garcetti stood on state in front of the full International Olympic Committee in Lima on Wednesday as the last man speaking in support of Los Angeles' bid to host the 2028 Olympics…
010 HOW THE USA COACHES CREATED A FUN CULTURE FOR SUCCESS AT WORLDS
by David Rieder
Ask Eddie Reese and Jack Baurele about their experiences as assistant coaches for the U.S. team at this summer's FINA World Championships, and both will admit: they had no intentions of making the trip.
012 INSIDE THE MIND OF LILLY KING WITH COACH RAY LOOZE
by David Rieder
The pressure was on like never before. Lilly King had watched one night earlier as her biggest rival, Yulia Efimova, had missed the world record in the 100 breast semi-finals at the FINA World Championships by just one hundredth of a second…
014 AFTER HURRICANE HARVEY, OLYMPIAN CAMMILE ADAMS GIVES BACK TO HER CITY
by David Rieder
Cammile Adams was born and raised in Houston. She spent the first 18 years of her life in the country's fourth-most populous city before attending college at Texas A&M, less than 100 miles northwest…
016 DAVE DURDEN ENGINEERING CONSISTENTLY FAST SWIMMING
by David Rieder
Dave Durden made no effort to sugarcoat it. "I wasn't a very good swimmer," he said. As a coach, though, Durden acquitted himself well. Entering his 11th season as the head men's coach at Cal, his teams have finished in the top two at the NCAA championships each of the previous eight years…
020 JARROD POORT ACCEPTS ONE-YEAR SUSPENSION FOR MISSED DOPING TESTS
by David Rieder
Jarrod Poort, the Australian open water swimmer best-known for building and then losing a huge lead in the men's 10k final at the Rio Olympics, has accepted a one-year suspension from the sport as a result of three missed doping tests…
022 NEW ENGLAND LIMITS TECH SUITS FOR 10-AND-UNDER SWIMMERS
by David Rieder
New England Swimming has announced that 10-and-under swimmers will be restricted in what high-tech suits they can wear at meets, effective immediately.
023 HINCHEY DELIVERS FIRST STATE OF THE SPORT ADDRESS, HIGHLIGHTS FUTURE OPPORTUNITIES FOR USA SWIMMING
by Taylor Brien
Tim Hinchey, the newly appointed CEO of USA Swimming, delivered the annual "State of the Sport" address last weekend at the United State Aquatic Sports (USAS) Convention in Dallas, Texas.
026 FLORIDA EXTENDS GREGG TROY'S COACHING CONTRACT THROUGH 2020
University of Florida's men's and women's swimming and diving coach Gregg Troy, who has led the Gators to a national title and seven conference titles, received a contract extension through June of 2020.
027 LOCHTE RULE MODIFICATIONS APPROVED BY USA SWIMMING
by James Sica
As previously reported, there has been a rules clarification for the freestyle turn in individual medley races that USA Swimming officially added to medley swimming rules on September 21, 2017.
028 USA SWIMMING APPROVES CHANGE IN GOVERNANCE
USA Swimming announced substantive governance restructure changes, created two new membership categories and officially adopted resolution to help swimmers in disaster-impacted areas.
030 OLYMPIC GOLD MEDALIST DAVID BOUDIA ANNOUNCED HE IS TRAINING FOR TOKYO 2020
by Andy Ross
In a press conference held at Purdue's Mackey Arena, 2012 Olympic gold medalist David Boudia announced he plans on continuing training for the Tokyo Olympics in 2020.
032 ELIZABETH BEISEL LEADS RECORD-BREAKING SWIM ACROSS AMERICA, DISCUSSES RETIREMENT
by Diana Pimer
After a summer of traveling to Budapest for the World Championships, Austin for the LEAD Sports Summit, and more, three-time Olympian Elizabeth Beisel made a trip back home to Rhode Island for the state's Swim Across America event.
033 CAELEB DRESSEL CROWNED USA SWIMMING ATHLETE OF THE YEAR
by James Sica
Following a breakout performance at the 2017 FINA World Championshpis, Caeleb Dressel was named USA Swimming Athlete of the Year on Saturday at the United States Aquatic Sports Convention.