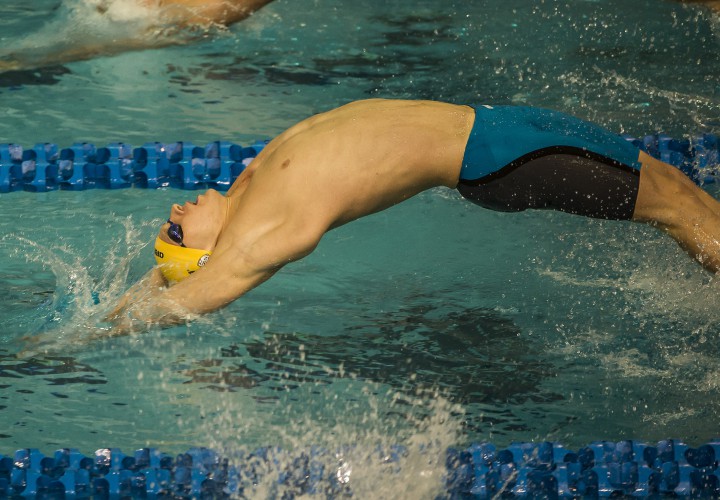 NCAA Championship editorial coverage is proudly sponsored by Competitor Swim. Visit CompetitorSwim.com for more information on our sponsor. For all the latest coverage, check out our event coverage page. Also, make sure to check out our Facebook photo gallery for the latest images from the meet in Austin.
AUSTIN, Texas, March 29. CALIFORNIA's Ryan Murphy helped the Golden Bears continue to roll against Texas for the team title as Murphy dropped an NCAA record in the men's 200-yard backstroke at the NCAA Division I Men's Championships.
Murphy clocked a winning time of 1:37.35 to beat Tyler Clary's NCAA record of 1:37.58 set back in 2009. That swim vaulted Murphy to second all time in the event's history behind only Ryan Lochte's American record of 1:36.81. Incidentally, Murphy downed his 17-18 U.S. National Age Group record of 1:38.15 set at the end of 2012. Murphy added his 200 back title to the 100 back he'd already won earlier in the meet.
"It's awesome. It's been one of the best meets of my life and it's sad that it's starting to come to an end. But I think this is great for the team, most importantly. Hopefully we can keep the momentum rolling," Murphy said. "This meet is so physically taxing. I've never been an emotional swimmer, but this meet, in order to be successful, you have to swim with a lot of emotion. So it's been a bit of an adjustment, but it's so much fun."
Murphy's teammate Jacob Pebley finished fourth in 1:39.59 to pick up some valuable team points for California, while Indiana's Eric Ress (1:38.69) and Stanford's David Nolan (1:39.17) finished second and third.
Texas, meanwhile, hurt itself in the championship heat as Kip Darmody (1:40.18) and Jack Conger (1:40.73) wound up sixth and eighth overall. West Virginia's Bryce Bohman (1:39.83) and Tennessee's Sean Lehane (1:40.35) also vied for the NCAA title in the finale.
Texas also didn't help itself in the consolation heat as Pat Murphy (1:41.06) and Will Glass (1:41.70) faded to fourth and seventh in the B final, while Virginia Tech's Collin Higgins won the heat in 1:40.10.
Georgia's Ty Stewart (1:40.37), Auburn's Joe Patching (1:40.67), NC State's Stephen Coetzer (1:41.30), Virginia's Luke Papendick (1:41.69) and Florida's Corey Main (1:42.59) also scored team points in the consolation heat.
Surprisingly, defending champion Drew teDuits of Wisconsin missed out on both the A and B final.
Splits
1 Murphy, Ryan FR California 1:39.16 1:37.35N 20
22.76 47.13 (24.37)
1:11.98 (24.85) 1:37.35 (25.37)
2 Ress, Eric SR Indiana 1:39.25 1:38.69 17
23.25 47.66 (24.41)
1:12.47 (24.81) 1:38.69 (26.22)
3 Nolan, David JR Stanford 1:39.72 1:39.17 16
23.42 48.53 (25.11)
1:13.85 (25.32) 1:39.17 (25.32)
Team Standings
1. California 364.5
2. Texas 349.5
3. Florida 308
4. Michigan 256
5. Georgia 237
6. Auburn 141
7. USC 140
8. Stanford 136
9. Arizona 135.5
10. Indiana 112