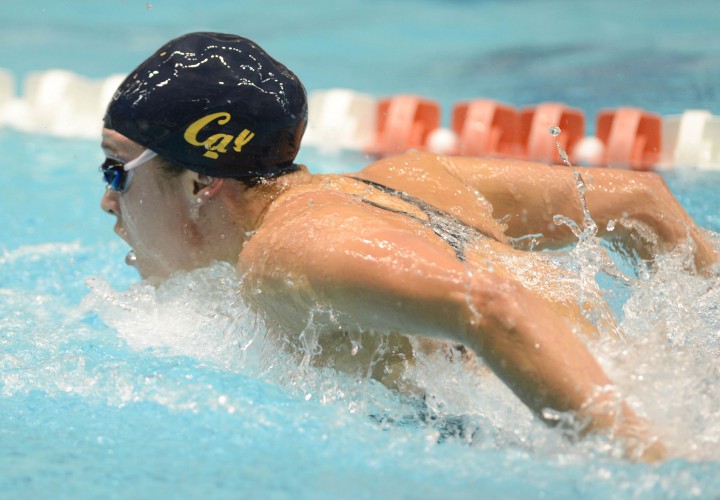 Photo Courtesy: Tia Patron/Tennessee Athletics
BERKELEY – The California women's swimming and diving team got wins from 10 different athletes Thursday night on the way to a route of Oregon State. The Bears raced to a 156-97 victory in the team's first dual meet of the season.
Cal claimed the first event of the meet as Jasmine Mau, Marina Garcia, Farida Osmun and Camille Cheng combined to post a 1:41.92 in the 200 medley relay, about a second and a half in front of the Cal B team.
Oregon State's Sammy Harrison claimed the first of her two individual wins in the 1000 free, touching in 9:50.25 in the first individual event of the meet. Cal's Cierra Runge finished second in 9:53.91. Later in the meet, Harrison added a second victory in the 500 free, as she topped the heat in 4:51.25, with Cal's Catherine Breed finishing second in 4:55.15.
Cal's Missy Franklin nearly picked up back-to-back wins in the next two events. First, Franklin hit the wall first in the 200 free in 1:48.24; minutes later, she jumped back in the pool for the 100 back. Franklin couldn't quite pull off the double though, as teammate Jasmine Mau just out-touched her at the finish, 55.67 to 55.78. Franklin has been much faster this season with a 1:46.37 in the 200 free and a 54.05 in the 100 back.
Marina Garcia led a 1-2 finish for Cal in the women's 100 breast, stopping the clock in 1:03.05; Maija Roses finished second in the event in 1:04.73. Roses returned later in the meet to win the 200 breast in 2:20.39, comfortably ahead of Oregon State's Czsarina Isleta (2:22.88).
Rachel Bootsma kept the ball rolling for Cal with a win in the 200 fly (2:01.14), before teammate Kaylin Bing raced to a dominant win in the 50 free. Bing won by more than a second in 23.21, with Oregon State's Sophie MacEwan in second at 24.62. Farida Osmun posted an equally impressive swim in the 100 free, winning by more than two seconds in 51.23, well ahead of Oregon State's Constance Toulemonde (53.72).
Melanie Klaren (200 back, 1:58.54), Noemie Thomas (100 fly, 54.09) and Celina Li (400 IM, 4:19.67) picked up the other three wins for Cal. Caroline Piehl, Jasmine Mau, Cierra Runge and Kaylin Bing closed out the meet with a win in the 200 free relay (1:34.78). Oregon State's Claire McLaggan, Sophie MacEwan, Tair Maimon and Anni Hecker finished second in 1:38.50.