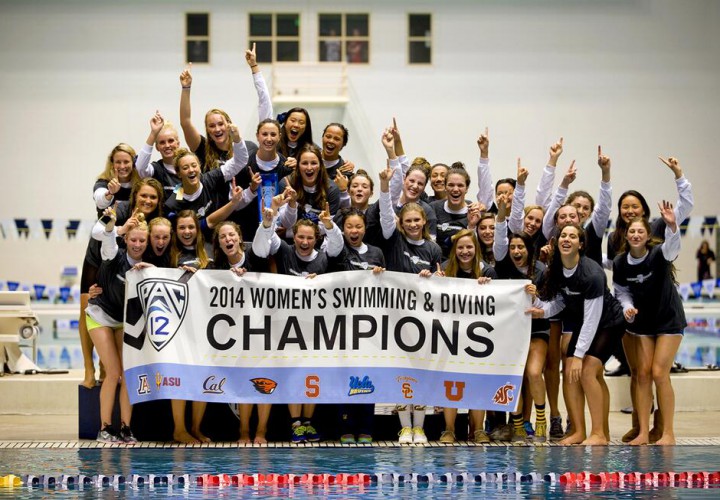 FEDERAL WAY, Washington, March 1. THE University of California women's swimming and diving team shook off a stunning relay disqualification two nights ago that left them more than 100 points out of first place to dominate the rest of the meet and claim the Pac-12 Conference title this evening, one year after finishing third behind Stanford and USC. Stanford and USC finished second and third this time around.
In the 1650 free, Oregon State's Samantha Harrison was the surprise winner, posting an 'A' cut and shaving more than 23 seconds off her seed time to win in 15:55.57. Arizona freshman Tjasa Oder came in second with a 15:59.88, while UCLA's Katy Campbell took third in 16:05.95.
The University of California picked up right where they left off last night with a win in the 200 back. American record-holder Elizabeth Pelton posted the fastest time of the championship final, a 1:52.18. Arizona sophomore Bonnie Brandon took the race out fast and faded to second in 1:52.50, while Cal's Melanie Klaren took third in 1:53.85. With five swimmers finishing in the top six, Cal basically put the meet out of reach for any potential challengers.
The Bears kept the ball rolling in the 100 free as freshman Missy Franklin made it three-for-three in individual events and meet records this weekend. Franklin posted a 47.17, the fastest time in the country this year, a new personal best and a new Pac-12 meet record. Stanford freshman Lia Neal certainly made it an interesting race, out-splitting Franklin on the second half of the race to finish second in 47.53. Arizona's Margo Geer, the top qualifier from this morning at 47.37, rounded out the top three in 47.68.
Stanford's Katie Olsen swept the breaststroke events this weekend, becoming the first Stanford breaststroker to accomplish that feat since the great Tara Kirk in 2004. Olsen swam a 2:08.39 for the win, while the two Stina's, Utah's Colleou (2:09.07) and USC's Gardell (2:09.26), took second and third. Olsen's previous season-best had been a 2:11.23 from the Cal-Stanford dual meet; she'll move up significantly with that time, to 13th in the country.
Maya DiRado of Stanford joined Franklin as a triple event-winner, grabbing the women's 200 fly title in 1:53.60. DiRado has made great strides in that event over the past year since qualifying for the 2013 FINA World Championships in that event. She dropped almost a second from her previous season-best of 1:54.47, set at the Art Adamson Invitational. UCLA's Noelle Tarazona, the top qualifier after prelims, took second in 1:54.80, while Cal's Rachel Bootsma earned her third top-three finish of the meet with a 1:55.37.
USC's Haley Ishimatsu earned her second win of the weekend after dominating the women's platform event. Ishimatsu scored 340.20 points to beat Cal's Kahley Rowell (299.80) and Utah's Kersten Merry (280.10).
Cal put the cherry on top of another conference championship title with a win in the final 400 free relay. Kaylin Bing (48.70), Rachael Acker (48.09), Caroline Piehl (48.29) and Missy Franklin (46.41) put together a 3:11.49 to close out the meet, and earn a half-second victory over Arizona. The Wildcats' Bonnie Brandon (49.01), Margo Geer (46.56), Alana Pazevic (48.22) and Gracie Finnegan (48.11) came in at 3:11.90. Stanford's Maddy Schaefer (48.55), Maya DiRado (48.81), Felicia Lee (48.55) and Lia Neal (46.64) rounded out the top three in 3:12.55.
Cal won the meet with 1,552.5 points, with Stanford in second (1,364) and USC in third (1,327). UCLA (936.5), Arizona (933.5), Utah (758), Arizona State (461.5), Washington State (346) and Oregon State (309) made up the rest of the teams in the field.
Results For: Women's Pac-12 Championships, Day Four