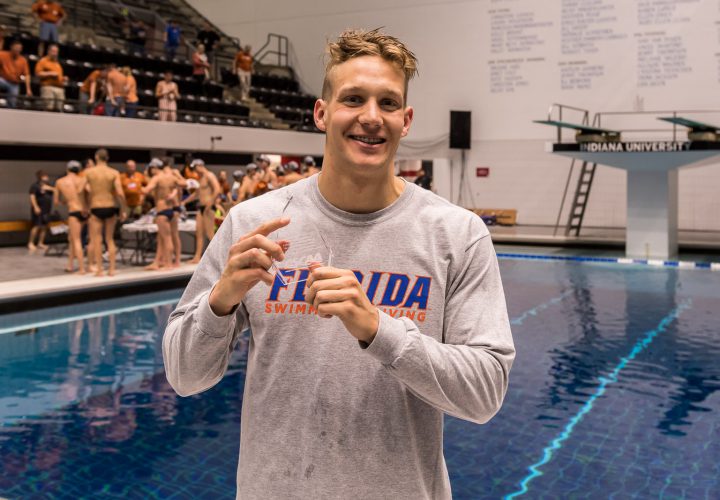 Photo Courtesy: Peter Bick
NCAA DI editorial coverage is proudly sponsored by Adidas. Visit adidasswimming.com for more information on our sponsor. For all the latest coverage, check out our event coverage page.

CLICK HERE FOR LIVE RESULTS
After winning three individual titles and setting two American Records, it should be no surprise Florida junior Caeleb Dressel was announced swimmer of the meet on Saturday night at the 2017 NCAA Division I Men's Swimming and Diving Championships.
Dressel won the 50 free with an 18.23 on Thursday night, the second fastest performance in history. He followed that up with a win in the 100 fly over old club teammate Joseph Schooling of Texas with a 43.58 thanks to a monster last wall. Schooling had won two in a row in the event and was also the Olympic gold medalist. Schooling was the heavy favorite in the event but was outswum by Dressel in the final.
Dressel finished off his meet with a huge performance in the 100 free, swimming a 40.00, almost cracking an unimaginable barrier that is slowly becoming a reality. He had one more crack at breaking 40 leading off the 400 free relay, but he fell a little short with a 40.48 after a long weekend.
Dressel also swam the fastest 50 free split in history with a 17.71 on the end of Florida's 200 medley relay in the prelims. He has taken the sprint freestyle events to new heights and is expanding the ceiling on what is considered fast in short course yards. The junior has one more year of eligibility and there will be a lot of hype over what he can do next year in Columbus at the 2018 NCAA Championships, assuming he comes back.
Other CSCAA winners were Eddie Reese of Texas for coach of the year. This championship was Reese's 13th total NCAA championship as a head coach. Purdue's Adam Soldati and Steele Johnson won diving coach and diver of the year respectively. Johnson won both springboards and finished second on platform. The Boilermakers had 94.5 points on diving alone.