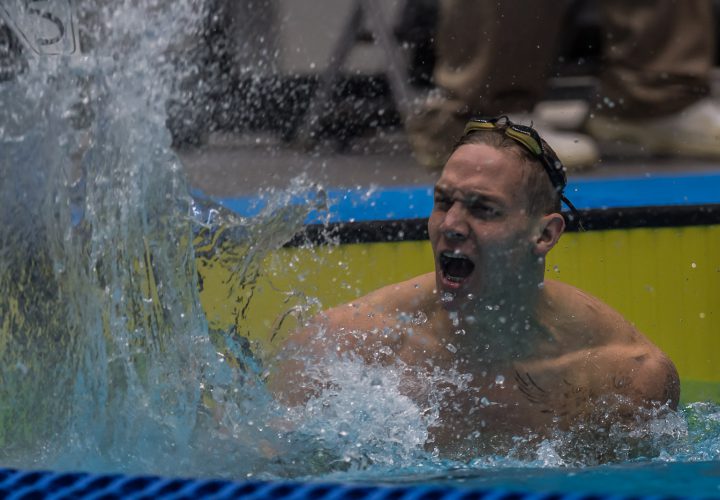 NCAA DI editorial coverage is proudly sponsored by Adidas. Visit adidasswimming.com for more information on our sponsor. For all the latest coverage, check out our event coverage page.
CLICK HERE FOR LIVE RESULTS
There were a few barriers that were expected to be broken for the first time this weekend. One of them was the unthinkable 40 second barrier in the 100 freestyle. Florida junior Caeleb Dressel almost made that a reality on Saturday night with a 40.00 for his third win of the meet. Dressel was out in 19.01 to blitz the field and made the IU Natatorium collectively sigh when he touched the wall, getting oh so close to the 40 second barrier in the 100 free.
Dressel got pressure from Missouri's Michael Chadwick who placed second at 40.95. NC State's Ryan Held finished third at 41.21. Chadwick is now fourth all-time in that event, while Held is seventh all-time.
USC's Dylan Carter, Santo Condorelli, Texas' Brett Ringgold, Stanford's Sam Perry and Indiana's Blake Pieroni also swam in the A-Final.
Florida now has two wins in the 100 free at the NCAA Championships, both from Dressel, who also won last year.
 Event 17  Men 100 Yard Freestyle
=========================================================================
         NCAA: N 40.46  3/26/2016 Caeleb Dressel, Florida
 Championship: C 40.46  3/26/2016 Caeleb Dressel, Florida
     American: A 40.46  3/26/2016 Caeleb Dressel, Florida
   U. S. Open: O 40.46  3/26/2016 Caeleb Dressel, Florida
         Pool: P 40.76            Vlad Morozov, USC
    Name                 Year School            Prelims     Finals Points 
=========================================================================
                       === Championship Final ===                        
 
  1 Dressel, Caeleb        JR Florida             41.00      40.00N  20  
    r:+0.59  19.01        40.00 (20.99)
  2 Chadwick, Michael      SR Missouri            41.58      40.95   17  
    r:+0.63  19.43        40.95 (21.52)
  3 Held, Ryan             JR NC State            41.34      41.21   16  
    r:+0.63  19.54        41.21 (21.67)
  4 Carter, Dylan          JR Southern Cali       41.73      41.76   15  
    r:+0.56  19.88        41.76 (21.88)
  5 Ringgold, Brett        JR Texas               41.96      41.77   13.5
    r:+0.68  19.75        41.77 (22.02)
  5 Condorelli, Santo      JR Southern Cali       41.92      41.77   13.5
    r:+0.62  19.60        41.77 (22.17)
  7 Perry, Sam             JR Stanford            41.77      41.80   12  
    r:+0.61  19.62        41.80 (22.18)
  8 Pieroni, Blake         JR Indiana             41.89      41.85   11  
    r:+0.61  19.93        41.85 (21.92)
 
                 Men - Team Rankings - Through Event 17                  
 
  1. Texas                             462   2. California                        273
  3. Florida                         253.5   4. NC State                        234.5
  5. Indiana                         200.5   6. Stanford                          198
  7. Southern Cali                     189   8. Missouri                        165.5
  9. Univ of Georgia                   152  10. Louisville                      123.5
 11. Alabama                         118.5  12. Auburn                          105.5
 13. South Carolina                     82  14. Michigan                           76
 15. Arizona State                      74  16. Purdue                             57
 17. Texas A&M                          56  18. Tennessee                          55
 19. Wisconsin                          53  20. Ohio St                            33
 20. Virginia Tech                      33  22. University of Miami                31
 23. Lsu                                28  24. Harvard                            24
 25. Penn St                            23  26. Arizona                          22.5
 27. Northwestern                       19  27. Denver                             19
 29. Minnesota                          18  30. Duke                               12
 30. Notre Dame                         12  32. George Washington                   9
 33. Florida State                       7  34. UNC                                 6
 35. Kentucky                            4  36. Cornell                             3
 37. Hawaii                              2  37. Penn                                2
 39. Pittsburgh                          1  39. Yale                                1