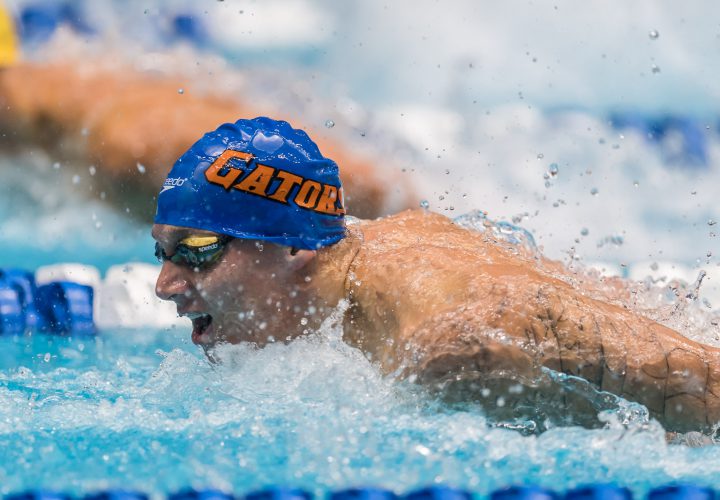 Photo Courtesy: Peter H. Bick
Caeleb Dressel and Michael Andrew each put together quick swims during the first night of action at the Atlanta Classic swim meet. For Dressel, his swims were the first since winning three NCAA titles last month in Indianapolis.
Dressel, representing the Bolles School Sharks but still training at Florida, began the night with a fifth-place finish in the men's 200 free, finishing in 1:51.47. Less than an hour later, he won the 100 fly in 53.97, holding off Auburn's Luis Martinez and Wolfpack's Justin Ress. Martinez finished second in 54.19, four hundredths ahead of Ress (54.23).
As for Andrew, he took down Cal's Josh Prenot to win the men's 100 breast, 1:01.66 to 1:02.13. Georgia Coastal's Brennan Pastorek took third in 1:02.89.
In the evening's first race, 16-year-old Isabel Ivey took home top honors in the women's 200 free. She just squeaked under 2:00, finishing in 1:59.90. Marietta Marlins' Stephanie Peters took second in 2:01.10, and Kentucky's Genna Freriks got third in 2:01.47, just ahead of Swim Atlanta's Amanda Weir (2:01.53).
Gator's Mitch D'Arrigo took the win in the men's 200 free, while Wolfpack's Anton Ipsen finished second in 1:50.61, three tenths ahead of Zach Apple (1:50.93).
Nitro's Vanessa Pearl won the women's 100 breast in 1:10.25, followed by Nashville Aquatic Club teammates Alex Walsh (1:10.59) and Allie Raab (1:10.94).
Nation's Capital's Isabella Gati picked up the women's 100 fly win in her time of 1:00.36, just ahead of Auburn's Alyssa Tetzloff, who took second in 1:00.44. Lakeside's Asia Seidt came in third at 1:00.75, and 2012 Olympian Claire Donahue was just behind in fourth (1:00.90).
Gamecock's Emma Barksdale won the women's 400 IM in 4:46.37, while Seidt earned another top-three finish, touching in 4:47.28 to take second. Gulliver's Kelly Fertel picked up the third spot in 4:47.68.
In the final race of the night, Tennessee's Sam McHugh won the men's 400 IM, but he had to work hard to hold off a strong finish from Ipsen. The NC State senior-to-be came up just short, however, as McHugh won in 4:23.97, and Ipsen took second in 4:24.04. Swim Atlanta's Andrew Winton touched third in 4:31.44.
Full results available on Meet Mobile — "2017 Atlanta Classic Swim Meet"