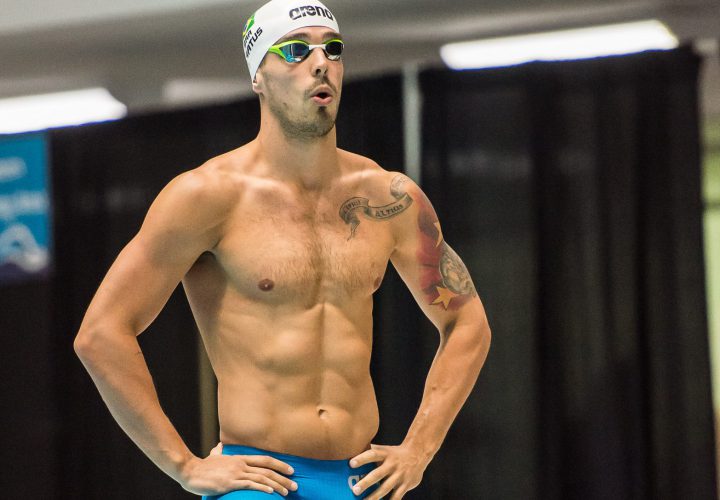 Photo Courtesy: Peter H. Bick
Brazilian Bruno Fratus registered his 59th and 60th sub-22 second long course 50-meter freestyles last week at the Mare Nostrum Tour, passing country-mate and Olympic gold medalist Cesar Cielo as the most frequent 21-second sprinter in history.
Fratus made his historic swims during the semifinal and final of the 50 free in Monaco, posting a 21.92 in semis before dropping to a 21.64 over American Michael Andrew in the finale. He celebrated the occasion in a post on his Instagram page, which you can see below:
At 28-years old the Brazilian Olympian looks only to be getting stronger heading toward this summer and the 2020 Olympics. He is coming off of arguably his best year of international competition, where he won a silver medal in the 50 free at the 2017 World Championships and recorded a personal best of 21.27. He's carried that momentum into a strong 2018 that includes the second fastest 50 freestyle in the world so far from the 2018 Brazil Trophy in April, where he stopped the clock at 21.35
While he will undoubtedly be facing the likes of American sprint star Caeleb Dressel and whoever else qualifies for the United States this summer (Nathan Adrian? Anthony Ervin? Michael Andrew? The list can go on…), it is worth remembering that Fratus is the defending Pan Pacific Championships gold medalist from 2014, which he won in a championship record 21.44.  
That alone should put his name on any swim fan's radar this summer, and given the year he has had makes him a likely favorite for a medal of any color. Regardless of where he ends up on the podium, it seems clear that he will continue to add to his record number of 21-second 50 freestyles over the coming years, as he is giving no indication of slowing down any time soon.