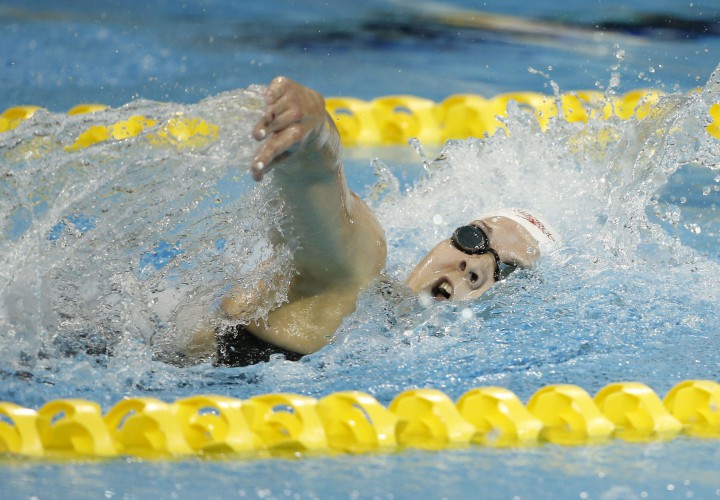 Photo Courtesy: Erich Schlegel/USA Today Sports Images
The women's matchup between the No. 5 Texas A&M Aggies and No. 2 Georgia Bulldogs proved to be a close one. Starting with the first race of the day, the Southeastern Conference powerhouses were neck and neck.
Ultimately, Georgia prevailed, winning by a score of 163.5-136.5.
On the men's side, the third ranked Bulldogs won handily over the unranked Aggies. Georgia racked up 178 points, finishing well ahead of Texas A&M's 122.
The day started with a close race in the women's 200-yard medley relay. The Aggies knocked off the Bulldogs by only .05 seconds, posting a time of 1:40.32. The Texas A&M team consisted of backstroker Beryl Gastaldello, breaststroker Sycerika McMahon, butterflier Bethany Galat and freestyler Lexie Lupton.
In the men's race, Georgia won by over half a second. The team of backstroker Taylor Dale, breaststroker Ty Stewart, butterflier Gunnar Bentz and freestyler Michael Trice touched the wall in 1:28.01.
Georgia's Brittany MacLean led all women with 27 individual points. The senior took first place in three individual events: the 1000-yard freestyle (9:41.60), 200-yard freestyle (1:47.47) and 500-yard freestyle (4:47.47). MacLean was also on the Bulldogs winning 400-yard freestyle relay team.
Gastaldello led the Aggie women with 22 individual points. She won the 50-yard freestyle (22.46), the 100-yard butterfly (53.98) and finished second in the 100-yard freestyle (49.71).
Kevin Litherland led the way for the Bulldog men, scoring 18 individual points. Litherland won the 200-yard freestyle (1:38.62) and 500-yard freestyle (4:29.22). He also helped Georgia to a win in the 400-yard freestyle relay.
For the Aggies, Brock Bonetti was the men's top scorer. With a win in the 200-yard backstroke (1:45.02) and second place finish in the 100-yard backstroke (47.69), Bonetti scored 13 individual points.
Both programs are back in action tomorrow. Georgia will continue to compete in the Lone Star State. The Bulldogs will take on Texas (No. 1 men, No. 6 women) at 10:30 a.m. central time. The Texas A&M women will face off with in-state rival Southern Methodist University at 1 p.m. central time.