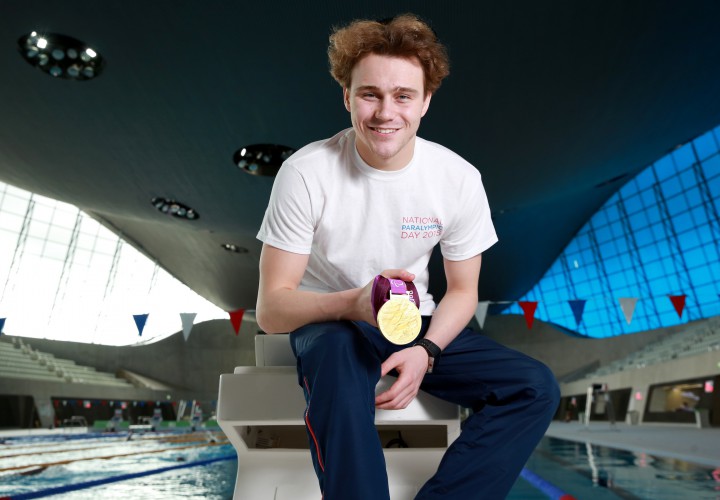 Photo Courtesy: Matt Alexander
By Pippa Field
STRATFORD – His brother Sam may have hung up the goggles for good last year, but that doesn't stop the sibling rivalry in the Hynd household with fellow Paralympic swimming champion Ollie admitting he is gunning for his world record later this year.
Back in February 2014 older brother Sam, winner of 400m freestyle S8 gold at Beijing 2008 in a world record time of 4:26.25, announced his retirement from the sport aged 22.
That left the focus firmly on Ollie and the Nova Centurion swimmer certainly continued to do the family name proud last summer, winning 200m medley SM8 gold for Team England at the Commonwealth Games before adding double gold and silver at the IPC Swimming European Championships in Eindhoven.
The latter completed the full set of major international titles following his 200m individual medley SM8 gold at London 2012 and double gold at the 2013 IPC Swimming World Championships in Montreal.
Next on the horizon are this year's World Championships in Glasgow – the same city that hosted last year's Commonwealth Games – and Sutton-in-Ashfield born Hynd admits further gold and a new 400m freestyle world record are firmly on his radar.
"My season so far has been going quite well. We recently had the trials for the World Championships where I was able to qualify for my second World Championships," said Hynd, who broke his first world record last year when he posted a time of 2:08.71 in the 200m freestyle at the Deutsche Meisterschaft.
"Going into the Worlds, I am holding two titles in the 400m freestyle and 200m individual medley and I really want to defend those titles.
"But I'm just focusing on each day at a time, each training session and doing the best that I can so then hopefully come the Worlds I'll be in the best shape trying to defend those.
"World records are obviously really important for swimmers. The 400m world record is actually held by my brother, so it's quite good motivation to try and get that one.
"We'll see what happens this year, it would be really special if I could break that.
"I think I've improved the last few months in the 400m freestyle. If anyone is going to break it, I think he'd rather me break it. He's stepped away from the sport now. But he's supportive in everything that I do and I'm really grateful."
Hynd recently took time out of training to help launch the 2015 National Paralympic Day, a day of sporting competition which will be held at the Queen Elizabeth Olympic Park on Sunday, July 26.
Building upon the legacy of London 2012, the day will feature international para-swimming at the London Aquatics Centre as well as the IPC Athletics Grand Prix Final as part of the last day of the Sainsbury's Anniversary Games at the former Olympic stadium.
"I'm really looking forward to National Paralympic Day this year, it's a great event and a good chance for us athletes in the pool and on the track to showcase what we're about and carry on that legacy that was built from London 2012," added Hynd.
"I'd encourage everyone to get their tickets, they're available now, and come along and support us and see some great action.
"Anyone who enjoyed the Paralympics in London, it's a great opportunity to come and see some Paralympic sport.
"Last year I was unfortunately not able to swim but I came along to support the team and it was just a great atmosphere. It's great fun."
Tickets for National Paralympic Day are available at Ticketmaster.