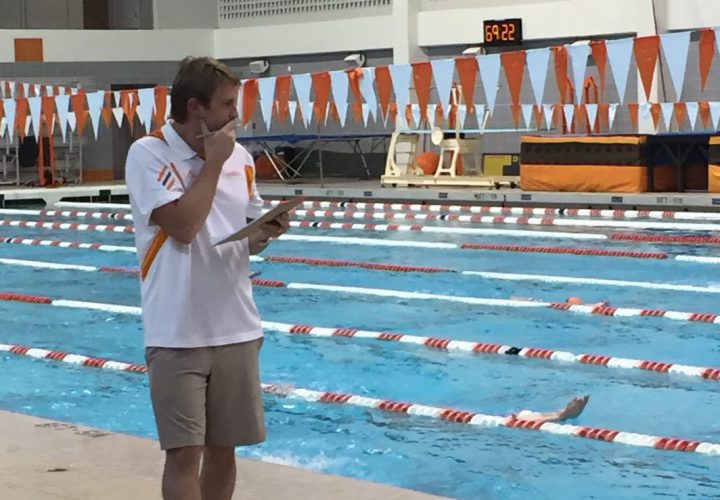 Photo Courtesy: Eric Bugby
The pipeline from Tennessee to New Jersey has once again brought a leader for the Princeton women's swimming and diving program. Tennessee assistant coach Bret Lundgaard has been named the sixth head coach for the Princeton Tigers thirty-three years after UT graduate Susan Teeter began her legendary run in Orange and Black.
"We could not be more pleased to welcome Coach Lundgaard to the Tiger family," said Mollie Marcoux Samaan, the Ford Family Director of Athletics. "The search committee was thoroughly impressed by Bret's overall approach to coaching, as well as his extremely well-articulated definition of Education Through Athletics. His track record of success both as a student-athlete and as a coach speaks for itself, but it was his passion for helping his student-athletes succeed athletically, academically and socially through an emphasis on both performance and values that what impressed us the most throughout the search process."
"Following a legend like Coach Teeter will not be easy, but we are confident that Coach Lundgaard will build upon the program's amazing tradition of excellence and will bring tremendous knowledge, innovation, and energy to the program."
Lundgaard will take over for Teeter, who won 17 Ivy League titles and produced 22 All-America honorees during her illustrious career, on May 15. Please click here for the release on Susan Teeter's retirement.
"I want to thank Mollie Marcoux Samaan, the Ford Family Director of Athletics, and the rest of the Princeton athletic department, for this unparalleled opportunity," Lundgaard said. "Their commitment to student-athlete development and world-class performance was evident throughout this hiring process, and I'm honored to join an athletic department that is responsible for helping develop the greatest student-athletes in the world.
"While you rarely want to follow a coaching legend like Coach Teeter, the opportunity to lead a program with the history, tradition and commitment to academic and athletic excellence of Princeton Swimming & Diving is too special to ignore," Lundgaard added. "I thank Coach Teeter for her relentless service to Princeton Swimming & Diving. You and your teams' paw prints will be a part of this exciting new chapter for Princeton Swimming & Diving."
Lundgaard, who is also currently a USA Swimming National Team Coach, had a remarkable five-year impact at Tennessee on both the individual and team levels. He was responsible for all training components for 2016 U.S. Olympian Molly Hannis, a four-year member of the US National Team who competed in Rio in the 200 breaststroke. Hannis was part of a 2013 Tennessee squad that placed third at the NCAA Championships, the best finish in program history.
"Bret Lundgaard has been a huge influence on my swimming career," Hannis said. "His ability to learn and evolve my breaststroke, and breaststroke in general, has rivaled some of the best coaches in the world. Princeton has found one of the most talented and quickly rising innovators in the sport. I will truly miss Bret and I will always be thankful for his contribution to my growth and success as both a person and as an athlete."
Tennessee has had multiple SEC champions and NCAA All-America honorees during Lundgaard's five years on staff, and the Volunteers were fewer than 30 points away from their first SEC team title in 2016. He was the primary breaststroke and butterfly coach in Knoxville, and he helped Brad Craig and Peter John Stevens earn silver medals at top international events over the last three years, including an NCAA runner-up finish for Stevens in 2016.
While Tennessee flourished in the water, it did not come at the expense of academic success. In 2013, the Volunteers had the highest team GPA for a Top-10 program, and the 2015-16 teams had the best GPAs in both women's and men's program history.
Lundgaard also served as the Director of Recruiting at Tennessee, and he helped recruit five Top-10 classes between the women's and men's teams, including the No. 2 women's class in 2013. In 2016, both of his classes earned Top 10 ranks from swimswam.com, including the No. 6 class for the women.
Lundgaard has earned the respect of his peers, as he has been asked to speak at several American Swim Coaches Association events, including the 2016 World Clinic.
Following a successful swim career at the University of Washington, where he was a two-year captain and 2008 Olympic Trials qualifier (100 butterfly), Lundgaard began his coaching career at both Boulder City High School and the Desert Storm Swim Team.
One year later, he began his collegiate coaching career at the United States Military Academy, where he served as both assistant coach and director of recruiting. He brought in the program's first Olympic Trials qualifier in more than a decade and helped the Black Knights break two dozen school records during his three years.
"It is important to me to thank my family for their love and support throughout my coaching career," Lundgaard said. "Specifically, I thank my wife for championing, challenging and loving me while I pursue my passion of helping young people develop into world class athletes, and more importantly, world-class people.
"Lastly, I know this opportunity wouldn't be possible without the mentors, co-workers and athletes I've been blessed to learn from, specifically University of Tennessee head coach Matt Kredich," he added. "For nearly a decade, I've apprenticed under some of the best teachers in the world of competitive swimming and character development. My mentors' knowledge of the sport is unparalleled, but their mindfulness in leading student-athletes is even more profound. The character, work ethic and commitment displayed by the athletes I've partnered with at the United States Military Academy and University of Tennessee have prepared me for this opportunity, and I will always look back on our time with a smile and endless gratitude."
Lundgaard earned Pac-10 All-Academic honors all four years of his Washington career. He earned his bachelor's degree in Journalism while also earning a Certificate of Business & Marketing. He earned a master's degree in Kinesiology with an emphasis in Sports Psychology and Motor Behavior from the University of Tennessee.
Both Lundgaard and his wife, Jessica Lundgaard (Milicic), hail from Boulder City, Nevada. In June of 2015 the couple welcomed their first child, Isabella.
Press release courtesy of Princeton University.