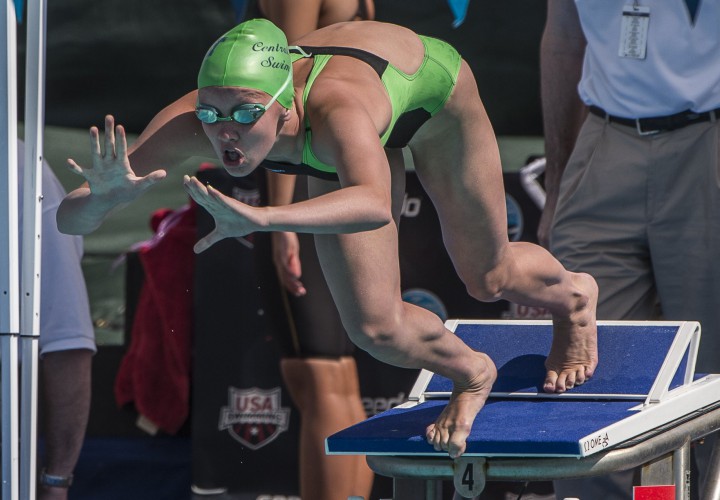 Editorial coverage for U.S. Junior Nationals proudly sponsored by Q Swimwear!
By David Rieder
IRVINE, California, July 31. HOW often does a young swimmer break onto the scene and stun the country with some crazy times, only to hardly ever be heard from again. Particularly with women, success at a young age can often be unsustainable. The best swimmers learn how to deal with such slumps and rebound, often coming back better than ever after a down period. Obviously, the likes of Amanda Beard comes to mind in this scenario, as she experienced a major drop-off after winning three medals at the 1996 Olympics.
One year ago, some may have expected Allie Szekely to fit into that mold. After all, she was only 14 when she became famous after winning a swim-off for first alternate in the 200 breaststroke at Olympic Trials in 2012. The youngster from Pennsylvania followed that up with a four-win performance at Junior Nationals, where she clocked an impressive meet record-time of 2:26.25 in the 200 breast. After that, though, no one heard much from Szekely as she began focusing on backstroke.
Tonight, though, she made an important statement at Junior Nationals in the 200 back. Wearing her typical recordbreaker as opposed to the more-typically-preferred kneeskin, Szekely bolted out to a big lead and held on to win the event in 2:11.29. That cut more than a second from her best time from prelims, and she finished almost five seconds faster than she did during her dominant Juniors performance in 2012. Now 16, will she complete the transformation into a backstroker, will her breaststroke re-emerge, or will versatility be Szekely's calling card. She remains one to watch out for headed into her junior year of high school.
On the men's side, Patrick Conaton led a tight top three in the 200 back as he won the event in 1:59.67. More significantly, though, Patrick Mulcare and Michael Taylor made it three under 2:00 in the event. The backstrokes have long been among the events in which the United States has been the most dominant. Brad Bridgewater, Lenny Krayzelburg, Aaron Peirsol, Ryan Lochte, and Tyler Clary have each won gold medals in the Olympics to make it five in a row for the country. The generation of backstrokers that includes Ryan Murphy, Jack Conger, and Jacob Pebley has entered college. And behind them, this group of sub-2:00 high schoolers leaves this event in extremely capable hands.
In the women's 100 free Amy Bilquist ripped an impressive 54.85 for first place. The time didn't come close to the 54.01 Missy Franklin set back in 2009, but any 16 year old breaking 55 at this point will be in the conversation for a spot on the 400 free relay come Olympic Trials in 2016. Even at next week's Nationals, her time tonight will have her seeded 11th in a talented 100 free field. Bilquist, of course, already has significant relay experience after she led the Carmel girls' 400 free relay to a dominating relay win and National Age Group record – breaking the mark a Missy Franklin-led team set four years ago.
For Future Reference
While Szekely used a strong front half to power to the win in the 200 back, 14 year old Grace Ariola from Bloomington, Illinois, used a very different strategy to claim the final podium spot. Swimming from lane eight, she almost even-split the race, 1:06.19 to 1:06.50, coming home in a 32.81 final split, two seconds faster than Szekely's 34.87. Ariola came home with a final time of 2:12.69, obliterating by three and a half seconds the 2:16.12 that was her best time at sunrise. Ariola will make a token appearance at Nationals next week – in the 200 back.