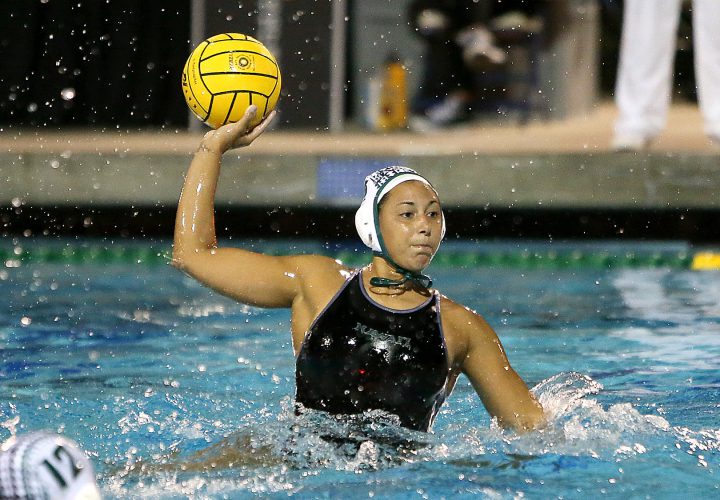 Hawai'i's Irene Gonzales. Photo Courtesy: Hawai'i Athletics
By Michael Randazzo, Swimming World Contributor
With all six teams ranked in the Collegiate Water Polo Associations top 20 poll—and three in the top 10—the Big West Conference is among the strongest in NCAA women's water polo. With the season winding down, #5 Hawai'i appears to be the best in the Big West and are the favorite to earn an NCAA berth for the first time since 2015.

With much of the conference season complete, Hawai'i (17-4, 2-0 Big West), led by Irene Gonzalez (46 goals and 77 points; tops in the conference) has shown it can beat the best in the Big West. Convincing wins over #7 UC Irvine and #10 UC Davis have separated Head Coach Maureen Cole's squad from the rest of the conference, and a strong showing in non-conference play—including two wins over #6 Arizona State—demonstrate that the Rainbow Wahine are a strong contender for a Final Four berth.
Matches against #14 Long Beach State, #17 Santa Barbara and #20 Cal State Northridge (CSUN) remain to be played, but it's highly likely that Hawai'i will finish out the season undefeated and gain the top seed and a first round bye at the Big West Championships, to be held at UC Irvine from April 27-29. Winning in Irvine will gain the Rainbow Wahine an automatic berth in the national tournament, where they are sure to gain favorable seeding in an NCAA play-in match.
Hamstrung all season by Mary Brooks'—last year's Big West Player of the Year—decision to red-shirt, defending Big West champions UC Irvine (9-11, 2-1 Big West) have feasted on lesser-ranked opponents, thanks to the the goaltending of senior Riley Shaw (Big West leading .640 save percentage) and junior Jenna Phreaner (88 saves). But when it comes to higher ranked teams, Head Coach Dan Klatt's squad simply couldn't finish the job. A three-game stretch in February—where the Anteaters dropped one-goal decisions to #6 Arizona State, #2 USC and #4 UCLA—were decisive in defining the team's ceiling of accomplishment. Today's match-up against UC Davis in Davis, California, will go a long way to deciding which of these two squads will capture second in the conference and a bye into their tournament semifinals.
A loss last weekend to Hawai'i may have dampened the spirits of Aggie faithful, but it's otherwise been a banner year for Jamey Wright's UC Davis team (16-8, 1-1 Big West). Senior Paige Virgil has been a revelation, leading the team with 43 goals—good for third in the conference—and providing senior leadership. There's important matches yet to play, including conference contests against UC Irvine, CSUN and UC Santa Barbara, as well as a regular season-ending tilt at home against #3 Cal.
Long Beach State (11-11; 2-1 Big West) has a chance today to tarnish  Hawai'i's unblemished Big West record and move over .500 for the season. With the match in the Rainbow Wahine's Duke Kahanamoku Aquatic Complex, a win today is unlikely for the 49'ers, but an upcoming match with UC Irvine offers Head Coach Gavin Arroyo a chance at a winning record in the conference and momentum heading into the Big West tournament.
The Gauchos of UC Santa Barbara (13-11, 0-2 Big West) have had an uneven season—predictable losses to #1 Stanford and #4 UCLA (twice) and a deflating loss to San Diego State—balanced by a rebound win over the Aztecs and narrow losses to Michigan, the East's top team. With three regular season matches remaining—all at home—against CSUN; Hawai'i and UC Irvine, Head Coach Serela Kay can finish with a flourish if the Gauchos and leading scorer, freshman Sarah Snyder (41 goals), can engineers some upsets.
With Madeleine Sanchez—Big West's second leading goal and points scorer—leading the way, Cal State Northridge (CSUN) has had a great season on offense, racking up 233 goals. On defense, the Matadors have also been strong; the trio of Sanchez (40), Katelyn Fairchild (44) and Shannon Hovanesian (41) lead the conference in steals, while goalie Niki Van Vugt leads the Big West in saves, with 163.
But statistical success has not necessarily translated into wins for Matt Warshaw's squad; CSUN is 15-13 overall, but 0-2 in the Big West, with matches remaining against UC Santa Barbara, UC Davis and Hawai'i. The last two are at home, so a win in the regular season and then an upset in the Big West tournament will make this a memorable season for the Matadors.