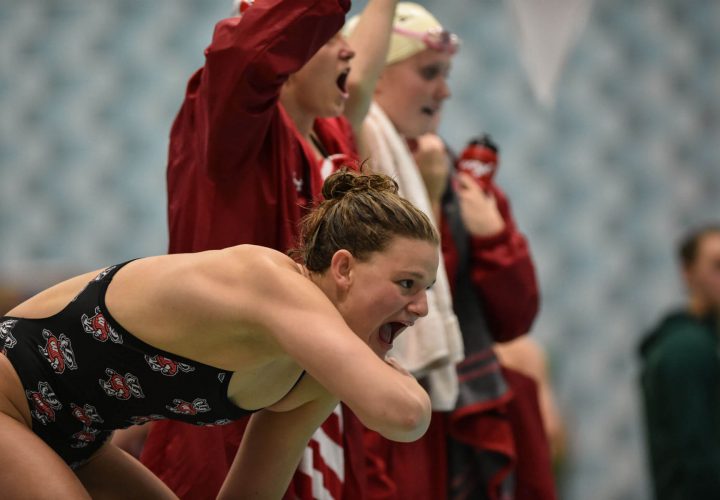 Photo Courtesy: Jack McLaughlin, Action Point Photo
By Dan D'Addona.
While the Michigan women compete at the SMU Classic, there are plenty of other meets going on in the Big Ten this week.
On Friday, a three-way showdown opens at Auburn with Wisconsin and Tennessee. The Badgers will kick off their season at this showdown.
Wisconsin has a lot of question marks coming into the season and should have a better knowledge of what it needs to improve on to be a Big Ten contender after this week.
A two-day meet Friday and Saturday will be another three-way showdown as Michigan State and Texas A&M swim at Notre Dame.
The Spartans are looking to ride some momentum after the football team knocked off rival Michigan. It will be an uphill battle in this meet, but MSU will gain some big-time experience heading into the Big Ten season.
Virginia at Penn St.
On Saturday, Penn State will be up against one of the top teams in the country in Virginia. The Cavaliers are ranked No. 13 in the women's rankings and No. 22 in the men's rankings.
It will be an uphill battle for the Nittany Lions, but give them a taste of what the stretch run of the Big Ten season is going to be like.
Non-conference showdowns
On Wednesday, Northwestern travels to Michigan to face one of the powerhouse teams in the Mid-American Conference, Eastern Michigan.
Eastern is no slouch and Northwestern will use this meet to build toward Big Ten competition.
Meanwhile, Nebraska will swim at Northern Iowa on Friday. Also in Friday, Purdue faces Wright State and Miami (Ohio) and Illinois hosts Indiana State.