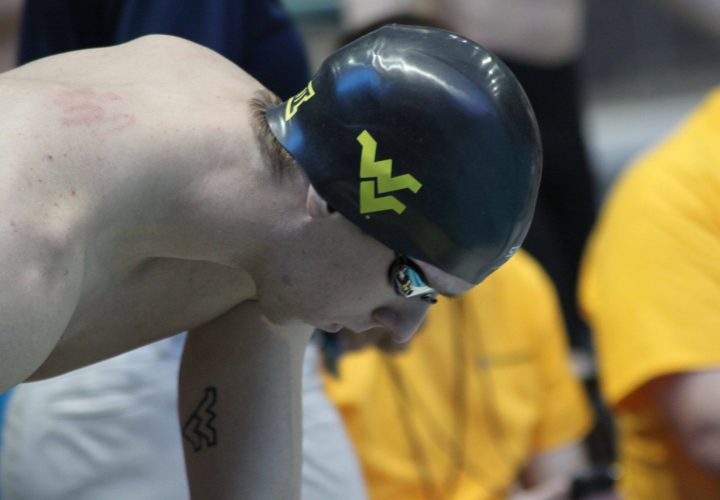 Photo Courtesy: Andy Ringgold
With only two duals around the Big 12, there was not a lot of swimming this weekend but with what we did see, there was plenty of entertainment. West Virginia University took on Big 12 rival Texas Christian University and came out on top while the Cyclones continued their successful season by defeating Northern Iowa.
Here's a closer look at this weekend's action around the Big 12:
West Virginia vs. TCU
Scores
Women: WVU 196, TCU 103
Men: WVU 221, TCU 77
For complete results, click here.
The Mountaineers, who, due to a home pool malfunction, raced for the first time since mid-November. Their first time back into the pool resulted in a huge success for WVU due to their victory in 29 out of 32 total events. The men from WVU were even able to win all 16 of their events.
A total of four swimmers from both WVU squads came out of the meet with four victories. This Mountaineer foursome included junior Merwane El Merini, sophomore Morgan Bullock, freshmen David Dixon and Angelo Russo.
WVU was able to earn a 2-3-4 standing in the women's 1000 free. Freshman Luisa Winkler took second place with a time of 10:38.48, while sophomore Alex Pampalone touched third in a time 10:39.60 while junior Morgan Carr put together a 10:41.79 for fourth place. Senior James Koval won the men's 1000 free, in a time nearly ten seconds ahead of the field, in a 9:35.92.
The WVU kept the winning trend going when they produced a 1-2-3 finish in the 200 free, which was led by sophomore Ryan Kelly's 1:41.29. That set junior Drew Damich up with a second place finish in 1:41.57, while senior Chris McMahon was in third with a 1:44.08.
Sophomore Trayton Saladin won the 500 free later on, leading yet another 1-2-3 Mountaineer sweep in a quick 4:40.80.
The winning continued for WVU on the women's side as well, especially in the 100 back Julia Miranda won with her mark of 57.25, ahead of her teammate Ally VanNetta, who placed second in a 58.35.
Up next for WVU will be a dual with rival Pitt while TCU is traveling to North Texas on the 26th of January.
Iowa State at Northern Iowa
Scores
Iowa State 188.5, Northern Iowa 110.5
The Iowa State University Cyclones won 10 of 16 events, while completing four event sweeps on the way to winning the entire meet.
The Cyclone quartet of Kasey Roberts, Martha Haas, Mary Kate Luddy and Laura Miksch nabbed the win in the 200 medley relay with a swift time of 1:46.15. The medley relays were immediately followed by a sweep in the 1000 free, led by Cyclone Keely Soellner's time of 10:34.48. Soellner was followed by teammates Haley Ruegemer and Jessi Storer, who each were able to dip under 10:40.
The Cyclones completed a 1-2-3-4 sweep in the 100 breast as well with a 1:05.88 by Danica Delaquis. Taking second in the sweep was Martha Haas in 1:06.18 while Kasey Roberts posted a 1:07.42 for third. Fourth place was awarded to freshman Lehr Thorson by virtue of her 1:08.73.
Luddy claimed the 200 butterfly in 2:05.07 with teammates Kami Pankratz, who swam a 2:11.96, led the way, with fellow Cyclone Grace Snyder tying with UNI's Kelsey Ostrowski for the third spot in a time of 2:12.90.
On the diving boards, Big 12 Diver of the Week, Dana Liva dove a 269.45 for the win on one-meter while teammated Sydney Ronald took second with a score of 258.05. Katherine Mueller took fourth scoring 231.65. On the three-meter board, Ronald earned the win with a score of 286.15, which earned her entry into the NCAA Zone Diving meet.
Up next for the Cyclones will be a dual with WVU on January 27th.