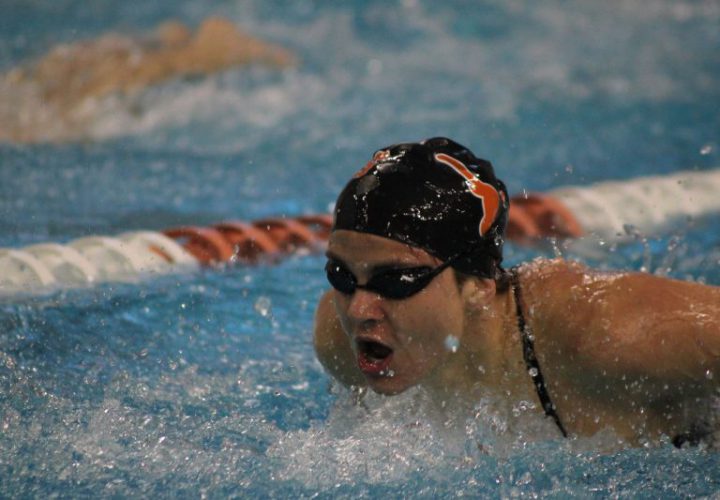 Photo Courtesy: Andy Ringgold/Aringo
By, Jason Tillotson
The University of Texas men's and women's swimming and diving teams traveled to Gainesville, Florida to take on the Florida Gators and in the Indiana Hoosiers in two-day tri-meet format.
Women's Scores
University of Texas, 190
Indiana University, 172.5
University of Florida, 66.5
Men's Scores
Indiana University, 191
University of Florida, 140
University of Texas, 98
Friday's session was contested in short course yards, with the 200-medley relays, 200 IM, 100's of strokes and 1000-yard freestyle while Saturday's session was in short course yards with the 400-medley relays, 400 IM, the 200's of strokes and no 1000-yard freestyle.
The Texas men showed some signs of struggle during Friday's session while the Lady Longhorns seemed to rise to the occasion.
Olympic gold medalist and Texas Senior, Joseph Schooling tried his hand at breaststroke in the 200-yard medley relay. Schooling's 24.64 split, the third fastest split in the field, was good enough to aid the Longhorns in sneaking into a third place finish in that race.
In the men's 1000-yard freestyle, the top three finishers were all within two seconds of each other. Senior Gator Blake Manganiello turned in a 9:08.17 for the win but was closely trailed by Freshman Longhorn Chris Yeager who swam a 9:09.64 while UF Senior Ben Lawless rounded out the podium in 9:09.89.
The Longhorn men did taste some victory on Friday, Schooling turned in a 46.57 in the 100-yard butterfly, which dethroned Caeleb Dressel as the fastest man in the country in that event. Schooling was followed by IU's Vini Lanza and UF's Dressel in 46.68 and 47.17, respectively.
Despite not earning many individual wins, the Texas men were able to secure many close third places finishes. In the 100-yard freestyle (Brett Ringgold, 43.84), the 100-yard backstroke (John Shebat, 48.39), and the 500-yard freestyle (Yeager, 4:28.89).
Blake Peroni, a senior at IU, was able to come out on top in the 200-yard freestyle by posting a blistering 1:34.10 which surpasses the nation's best of 1:36.32 from NC State's Andreas Vazaios, turned in just a few weeks ago. Interestingly enough, the two gentlemen behind Peroni, UF's Jan Switkowski and teammate Maxime Rooney, each turned in times that were faster than Vazaios' time as well which means this tri-meet played host to the country's three fastest 200-freestlyers. Notably, Longhorn veteran Townley Haas was only 1:38.68 in that race, good enough for fifth.
Texas Junior Joanna Evans started a sweeping trend for the Lady Longhorns with her double victories in the 1000 and 500 freestyles. swam away with a victory on Friday in the women's 1000-yard freestyle. Evans posted a 9:45.84 which is the fastest time in the Big-12 conference so far this year. Evans was able to hold off freshman teammate, Evie Pfeifer, by swimming a 4:46.64 while Pfeifer was right behind in 4:46.96.
Senior Rebecca Millard dominated the women's sprint events by winning both the 50 and 100 freestyles. Millard was 22.86 in the 50-yard freestyle, which was good enough to earn her the rank of fastest woman in the nation right now. After a diving break, Millard stepped up on the blocks yet again, this time turning in a 49.71 in the 100 freestyle, a time which put her more than a second ahead of the rest of the field and the only woman to break 50 seconds. Other Lady Longhorn victories consisted of Junior Remedy Rule's swift 53.51 in the 100-yard butterfly and Sophomore Claire Adams' 52.52 in the 100-yard backstroke.
On Saturday, the Texas men continued their struggle to win. Similar to Friday's results, the Longhorn men only won a single individual event and not a single relay.
Ryan Harty and Jonathan Roberts went 1-2 for the Longhorns in the men's 200-yard backstroke. Harty earned a top time in the nation, so far this season with a 1:44.93, while Roberts was close behind in 1:45.69.
Roberts almost brought UT's total win tally up to three this weekend by narrowly missing a victory in the 400-yard IM. IU's Mohamed Hassas was able to hold off Roberts by posting a 3:50.02, to Roberts' 3:50.13.
The Lady Longhorns continued their strong weekend in The Swamp. Freshman Pfeifer swum away with her first individual collegiate win in the women's 400-yard IM in a time of 4:13.90. Millard, after winning the 50 and 100 freestyles on Friday, was able to defend her 100-freestyle victory again today. The UT senior swam a 49.61, just .10 faster than yesterday but an impressive performance and the only woman to break 50 seconds, for the second time this meet.
Continuing with the Longhorns' Saturday streak of success Evans was the second lady Longhorn to win the same event twice this weekend. This time, Evans won the 500-yard freestyle in 4:47.27, about a second ahead of yesterday's second place finisher, Ault who turned in a time of 4:48.47.
Adams and Carrozza gave the UT women and 1-2 punch in the 200-yard backstroke. Adams edged Carrozza by just .04 with her 1:56.04 to Carrozza's 1:56.08.
Complete results are available on Meet Mobile as UF vs. Indiana & Texas.
Kansas (women) vs. Missouri State & South Dakota
The Kansas women hosted a two-day tri-meet this weekend with some speedy performances taking place.
Scores 
Missouri State University (W) 267.00-85.00 University of South Dakota
Kansas 275.00-77.00 University of South Dakota
Missouri State University (W) 188.00- 164.00 Kansas
The Lady Jayhawks only secured one win on Friday, the 100-yard breaststroke. Their champion was Hayley Downey, who turned in a time of 1:05.14.
Despite only one win under their belt, the Jayhawks were able to swim many close races. In the 200-yard freestyle, it took a 1:52.31 from Missouri State's Liberty Howell to win the races and a 1:52.46 Missouri State's Sydney Zupan from or second, but right behind Zupan was Kansas Freshman Jenny Nusbaum in 1:52.50.
Freshman Ellie Flanagan was able to secure a third-place finish for the Jayhawks in the 200-yard butterfly. Flanagan was 2:06.76, exactly a second behind the 2:05.76 turned in by Missouri State's Emma Wall.
In the 50 freestyle, teammates Hayley Bishop and Lauryn Parrish tied for third with a pair of 24.47's.
In the final event of the evening, the 800-freestyle relay, the Kansas women were able to earn a 2-3 finish with times of 7:39.46 and 7:56.12, respectively.
On Saturday, the KU women came back with a vengeance, coming off of Friday's session with just one victory, KU was able to earn three victories.
One of those victories was the 200-yard freestyle relay, where the lady Jayhawks won by nearly a second and a half, over Missouri State.
Further displaying their sprint-free dominance, KU secured a 1-2-3-4 finish in the 100-yard freestyle. Nusbaum led the way for the Jayhawks in a 52.24, followed closely by teammates Taylor Sieperda, Carly Straight and Breonna Barker who turned in times of 52.81, 52.99 and 53.24, respectively.
Downey swept the breaststroke events for Kansas by winning the 200, on top of her win in the 100 yesterday. Downey, swimming a 2:20.80 for the win, was the only swimmer to go under 2:22.
In the 400-yard freestyle relay, the Kansas women, comprised of the same four women who swept the 100 freestyle earlier in the meet, dominated the field by putting together a 3:29.03, ahead of Missouri State's squad and their own B Relay.
Full results are available on Meet Mobile as "Missouri State-South Dakota-Kansas".