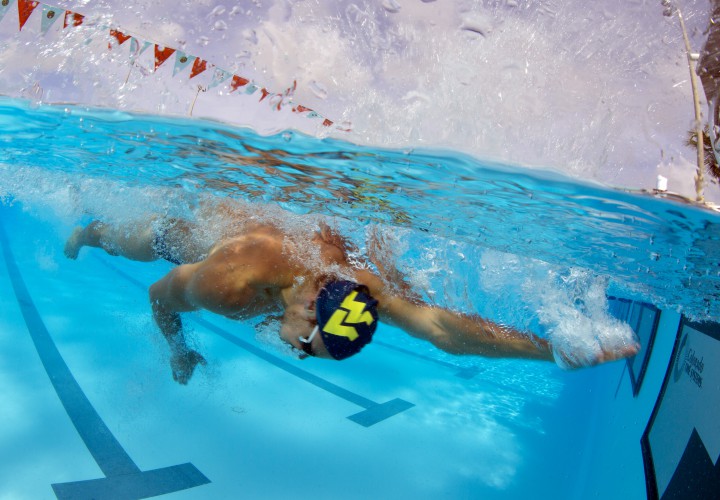 Photo Courtesy: Stephen Frink
By Sarah Lloyd, Swimming World College Intern
Another week out of intense winter break training and the Big 12 teams are looking sharper and sharper. Here's the rundown for this past week in Big 12 competition.
This Week's Takeaways:
The absence of a Texas dual meet is notable, but understandable given the Arena Pro Swim that took place quite literally in the Longhorns' backyard. With Olympic hopefuls including Jack Conger on the roster and the dawning of another Olympic year, the team opted to compete in the Pro Swim with stellar results.
TCU and West Virginia's rivalry is as alive as ever. With a split decision meet between the two conference rivals this past Saturday, both teams showed effort and grit despite being tired from some hard training the past few weeks. Expect the rivalry to stew for a few more weeks come the conference championship meet.
Iowa State proved tough this weekend. After losing by a slim margin on Friday, the Cyclones were able to reset themselves and bounce back to beat Washington-St. Louis on Saturday. Their ability to bounce back after a loss, especially the next day, bodes well for their championship mindset, where they'll need a fresh head after each session.
Oregon State was well composed against an easy opponent. There is a lot to be said for a team that stays involved and engaged during a close meet, where something is at stake, but there might be even more to say about a team that does this when an opponent isn't quite as fast. The Beavers swam fast and with integrity, which shows an immense amount of respect for their opponents this weekend.
This Week's Featured Meets:
[table "" not found /]