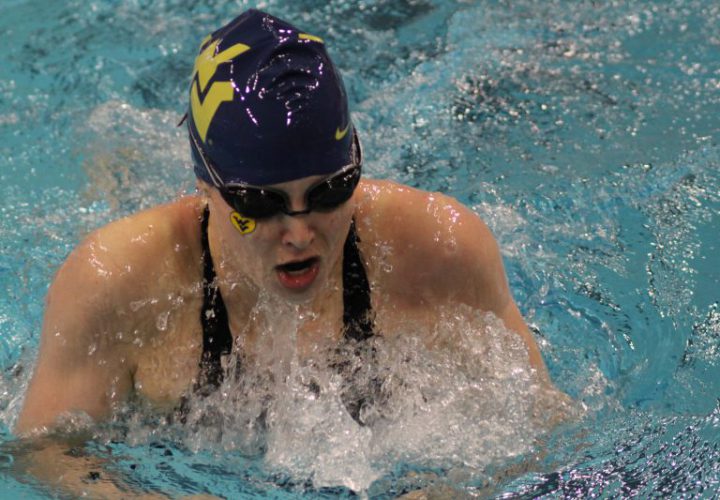 Photo Courtesy: Andy Ringgold / Aringo Photos
By Jason Tillotson.
Despite only two duals around the Big 12 conference this week we are still expected to see plenty of fast swim. West Virginia University will host its longtime rival, the University of Pittsburgh tomorrow, where the two teams will swim for the 24th straight season. Meanwhile in Lawrence, Kansas the Kansas University Jayhawks will host William Jewel in a one-day dual.
Here is a closer look the action around the Big 12 this week:
The Backyard Brawl: WVU vs. Pitt
This annual rivalry dual has been traditionally called the Backyard Brawl due to it's intense and somewhat brutal nature, being so close to both teams' training trips.
The WVU-Pitt rivalry dates back to when both teams were competing in the Big East. While WVU went to the Big 12 and Pitt went on to the ACC, the dual meet still stood on both teams' schedules to this day.
Last year, the Pitt Panthers toppled the Mountaineers in Pittsburgh with a score of 214-86 in the men's meet, while the women also lost to Pitt by more than 100 points with a score of 205.5-94.5. Despite last year's result the he men's team at WVU will look to repeat the result of the 2016 meet which ended in a WVU victory. The Mountaineer women will look to win for the first time in five years.
Both West Virginia teams come in as the favorite with dual meet records of 3-0.
WVU will look to freshman standouts David Dixon and Angelo Russo in the butterfly and freestyle events while Nate Carr will likely take the IM and breaststroke responsibilities.
On the women's side, Morgan Carr will likely be key for the Mountaineers in the butterfly while Emma Harris will lead the lady Mountaineers into the breaststroke scene.
Kansas Hosts William Jewel
After almost two months of no competition, the KU Jayhawks will host the Cardinals from William Jewel.
William Jewel is coming off four straight losses which contributed to their 2-7 record this season while Kansas comes in with a first place finish at the Kansas Classic and their undefeated dual-meet season.
Kansas will likely swim sophomore duo of Jenny Nusbaum and Haley Downey in the meet and expect the two to provide the Jayhawks with the same performance they produced at the Kansas Classic, where they individually scored 71 and 64 points, respectively.
William Jewel does have Maddie Allen, though who should give Kansas distance swimmers a swim for their money as she comes in with times right on the heels of the Jayhawks.