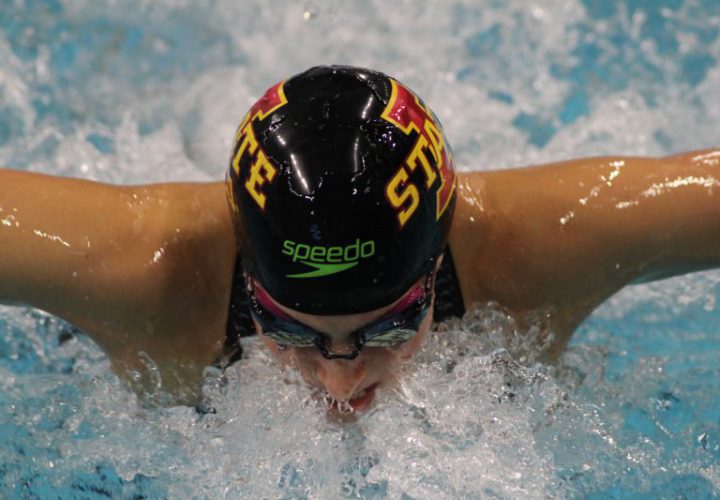 Photo Courtesy: Andy Ringgold / Aringo Photos
By Jason Tillotson. 
In the only Big 12 matchup this week, we have the Iowa State Cyclones taking on the University of Iowa Hawkeyes in their annual CyHawk meet. Since Iowa State only has a women's team, only the lady Hawkeyes will be traveling to Ames, Iowa this Friday to battle it out in Beyer Pool with the Cyclones.
Last year at this meet Iowa State freshman Keely Soellner broke a school record in the 1,000 freestyle with a time of 9:56.76, making her Iowa State's first woman to break the 10:00 barrier.
The Cyclones are currently 3-1, while on a three meet winning streak. Their only loss comes from their dual with Nebraska back in October. Iowa is on a three meet losing streak right now, though they did post some strong performances at the Minnesota Invitational. The Cyclones just came off their invitational action at the Kansas Classic, where the team placed third overall.
The Hawkeyes are much deeper than the Cyclones in most of the events but expect a showdown in the distance freestyle races this weekend, as that is an area where the Cyclones have an opportunity to out swim the Hawkeyes. Iowa State duo of Mary Kate Luddy and Soellner will battle Iowa distance star Abbey Schneider.
Luddy will look to lead the Cyclones in the butterfly events too as she comes into the meet at the fastest Iowa State swimmer in both the 100 and 200 distances. Luddy will have to hold off Kelsey Drake from Iowa, as she comes in with an NCAA 'B' cut in the 200 fly with her sub-2:00 time of 1:59.45.
The IM events are a strong area for the Cyclones as well, which should allow for an opportunity to score some serious points against the Hawkeyes. Iowa State's Silqi Luo and Haley Ruegemer will lead the Cyclones in the IM battles against Drake and Tereysa Lehnertz.