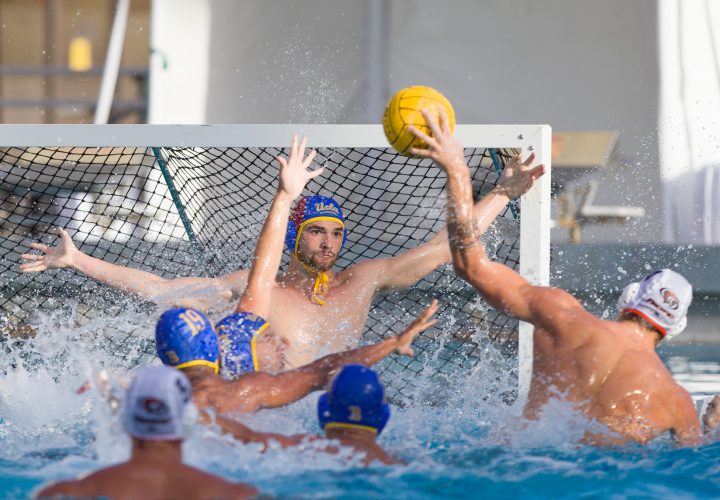 UCLA defends attack from Pacific's Ege Colak. Catharyn Hayne/KLC fotos
Michael Randazzo, Swimming World Contributor
In a NCAA Men's Water Polo Tournament semifinal match Saturday at USC's Uytengsu Aquatics Center, UCLA Head Coach Adam Wright maintained his cool even as he saw his top-seeded Bruins fall a goal behind fourth seed Pacific early in the match.
"We have a lot of young kids playing and we have a veteran group that's helping them come along," he said in comments after the match. "These guys have been in big moments, which helps this weekend."
Making adjustments between the first and second periods, UCLA rallied with four straight scores, part of a goal-scoring burst that gave the favored Bruins a decisive lead on their way to a convincing 11-9 victory over the Tigers.
With the win, UCLA advanced to today's championship match at 3 p.m. (PST), where they will face a familiar foe: the Trojans of USC, who knocked off defending NCAA champs Cal in a thrilling 12-11 decision on Saturday night.
For Wright, the Tiger attack held challenges, including Luke Pavillard, the Golden Coast Conference's player of the year. The 6-5 sophomore from Australia gave his team its only lead when he hit back-to-back power play goals late in the first period, giving the underdog Tigers hope after the Bruins had shot out to a two-goal advantage to open the match.
Pacific Head Coach James Graham, whose squad was back in the NCAA tournament after a four-year absence, was obviously disappointed, but gave credit to a resilient Bruin squad, led by three goals from Nicolas Saveljic and two apiece by Alex Roelse, Max Irving and Jack Grover.
"There's a reason why UCLA is here all the time," Graham said. "They're super deep, they've got guys at every position, and every one of them is qualified to finish the scenario that they're presented."
"You have to pick your poison and we did today" he added. "We just came up short."
Hope for the Tigers is dashed by a familiar foe
The Tigers were likely pleased with their NCAA draw, as they were facing a Bruin squad that they had met two previous times this season, both UCLA one-goal victories. Wright's team were the surprise of the Mountain Pacific Sports Federation season, felling MPSF rivals Cal and USC early in the season and compiling an 8-2 record this season against all Final Four competition. When Jack Grover beat Pacific goalie John Hedges one minute in on a straight on shot, followed by a six-meter rocket by Saveljic, the Bruins' superlative freshman, it looked like UCLA had an easy pathway to its fifth title match in the last seven years.
Graham is renowned for his ability to analyze the sport from a statistical perspective, seeking the best outcome possible. To have a third crack at the Bruins appeared to offer the upstart GCC squad a golden opportunity to sneak into the NCAA title game.
Ege Colak got behind the Bruin defense to beat goalie Alex Wolf at the three-minute mark, then Pavillard went to work, beating the Bruin netminder twice within a minute with his team on the power play, giving the Tigers their first and only lead of the contest.
UCLA got the equalizer two and half minutes into the second period on a goal by Alex Roelse, then Max Irving—as he has many times in his illustrious career in Westwood—gave his team a lead they would not relinquish, with a six-meter skip-shot at the 2:41 mark.
"We've got plenty of guys who can step up; it just happened to be me." the senior who leads all current Bruins in goals said. "The ball just came to me in this moment and time."
The Bruins would score the next two goals—a power play score by Saveljic with two minutes left in the half and Felix Brozyna-Vilim's goal on their first possession of the second half. They outscored the Tigers 7-3 in the second and third quarters and not even Pavillard's third goal of the game could blunt the Bruin attack.
When Grover collected his second goal of the game with a two-meter put-back halfway through the final period, UCLA had a three-goal advantage and would not be denied yet another title tilt with the Trojans.
Saveljic may be new to what is clearly the most important rivalry in NCAA men's varsity polo, but, given a depth of big-game experience back in his home country of Montenegro, appeared to pick things up quickly.
"For UCLA we're always going step-by-step." he said. "For now we're thinking only about our recovery and how to be best for tomorrow."
When quized about his first taste of the American version of a sport that his region dominates, the freshman replied that he's impressed with what he's seen.
"It's really amazing," Saveljic said. "There are a lot of people following this competition. I didn't expect that."
Wait until he sees what a UCLA-USC match for all the NCAA marbles is like.