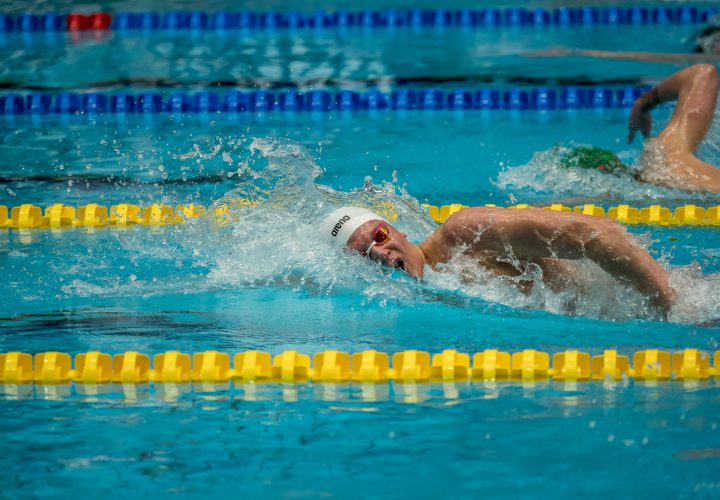 Photo Courtesy: Peter H. Bick
Agon is the proud sponsor of all high school coverage (recruiting, results, state championships, etc.) on SwimmingWorld.com. For more information about Agon, visit their website?AgonSwim.com.?National Records for High School Are Pending Application Verification.? Click Here to Learn More
Agon is the proud sponsor of all high school coverage (recruiting, results, state championships, etc.) on SwimmingWorld.com. For more information about Agon, visit their website AgonSwim.com.
The 2018 Tennessee High School swimming state championships kicked off today, with prelims and finals of the first half of the high school event lineup.
Baylor's Trey Freeman started the meet by setting a new National High School record in the 200 freestyle. The University of Florida commit destroyed the field with a 1:33.06.
That time cleared both the Independent School mark of 1:33.26 set by Grant Shoults in 2016, as well as the public school record of 1:33.30 set by Carmel's Drew Kibler last year.
Baylor is an independent school, though, meaning only Shoults' record is erased from the books.
Freeman's swim was the second National Record of the session, after the girls from Harpeth Hall took down the 200 medley relay mark.
Splits:
Event 4  Men 200 Yard Freestyle
==================================================================
         2:00.29  TNQT State Qualifying
    Name           Year School            Prelims     Finals              
==================================================================
                        === A - Final ===                         
 
  1 Freeman, Trey       Baylor Varsity    1:41.99    1:33.06 TNQT   
                 21.58        45.22 (23.64)
        1:09.17 (23.95)     1:33.06 (23.89)