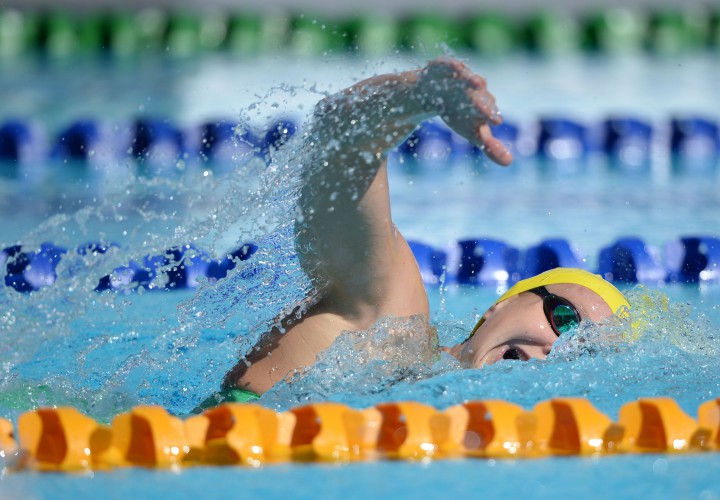 Editorial coverage for the Pan Pacific Championships is proudly sponsored by Master Spas! For complete coverage of the Pan Pacific Championships, check out our event landing page.
GOLD COAST, Australia, August 23.
After the Australians set the world record with a 3:30.98 at the Commonwealth Games earlier this month in the women's 400-meter freestyle relay, about the only entity more favored to win any specific event this week was Katie Ledecky in anything she decided to swim, and the Aussies came through with flying colors tonight.
The foursome of Cate Campbell, Brittany Elmslie, Melanie Schlanger and Bronte Campbell could not duplicate the 3:30 speed from Glasgow, but they still managed a Pan Pacs record time of 3:32.46. That smoked the 3:35.11 set by the U.S. back in 2010.
Meanwhile, Simone Manuel, Missy Franklin, Abbey Weitzeil and Shannon Vreeland raced to silver in 3:34.23 with a team much different than the veteran-laden team that won the 2010 title that featured Natalie Coughlin, Jessica Hardy, Amanda Weir and Dana Vollmer.  Team USA's sprint group has some seasoning to do to return to the type of form the Red, White and Blue is used to seeing.
Japan's Miki Uchida, Misaki Yamaguchi, Yasuko Miyamoto and Yayoi Matsumoto snatched bronze in 3:39.06.
Canada (3:39.78), Brazil (3:42.20), New Zealand (3:47.51) and Hong Kong (3:50.47) also fielded teams.
Notably, Simone Manuel's 53.25 leadoff also is a 17-18 U.S. National Age Group record, beating the previous mark of 53.36 set by Franklin in 2013.
Results:
  1 AUSTRALIA  'A'                3:30.98    3:32.46!  989  
     1) CAMPBELL, CATE 22             2) r:+0.16 ELMSLIE, BRITTANY 20 
     3) r:+0.18 SCHLANGER, MELANIE 27 4) r:+0.46 CAMPBELL, BRONTE 20  
    r:+0.78  25.28        52.89 (52.89)
        1:18.50 (25.61)     1:46.61 (53.72)
        2:12.14 (25.53)     2:39.58 (52.97)
        3:05.07 (25.49)     3:32.46 (52.88)
  2 UNITED STATES  'A'            3:32.31    3:34.23.  965  
     1) MANUEL, SIMONE 18             2) r:+0.45 FRANKLIN, MISSY 19   
     3) r:+0.26 WEITZEIL, ABBEY 17    4) r:+0.40 VREELAND, SHANNON 22 
    r:+0.63  25.59        53.25 (53.25)
        1:19.16 (25.91)     1:46.63 (53.38)
        2:12.08 (25.45)     2:40.44 (53.81)
        3:06.15 (25.71)     3:34.23 (53.79)
  3 JAPAN  'A'                    3:37.90    3:39.06   902  
     1) UCHIDA, MIKI 19               2) r:+0.11 YAMAGUCHI, MISAKI 24 
     3) r:+0.13 MIYAMOTO, YASUKO 19   4) r:+0.17 MATSUMOTO, YAYOI 24  
    r:+0.71  26.26        54.76 (54.76)
        1:21.17 (26.41)     1:49.59 (54.83)
        2:15.64 (26.05)     2:44.64 (55.05)
        3:10.36 (25.72)     3:39.06 (54.42)
  4 CANADA  'A'                   3:37.09    3:39.78   893  
     1) VAN LANDEGHEM, CHANTAL 20     2) r:+0.22 POON, VICTORIA 29    
     3) r:+0.31 WILLIAMS, MICHELLE 23 4) r:+0.35 ACKMAN, ALYSON 21    
    r:+0.69  25.90        54.43 (54.43)
        1:20.51 (26.08)     1:49.11 (54.68)
        2:15.23 (26.12)     2:44.27 (55.16)
        3:10.79 (26.52)     3:39.78 (55.51)
  5 BRAZIL  'A'                   3:41.05    3:42.20   865  
     1) HERRMANN, GRACIELE 22         2) r:+0.27 MEDEIROS, ETIENE 23  
     3) r:+0.33 DE PAULA, DAYNARA 21  4) r:+0.01 MARCHIORO, ALENDRA 21
    r:+0.68  26.36        55.53 (55.53)
        1:21.51 (25.98)     1:50.54 (55.01)
        2:17.00 (26.46)     2:46.43 (55.89)
        3:12.30 (25.87)     3:42.20 (55.77)
  6 NEW ZEALAND  'A'              3:43.83    3:47.51   805  
     1) LUCIE-SMITH, SAMANTHA 22      2) r:+0.24 QUILTER, LAURA 22    
     3) r:+0.14 LEE, SAMANTHA 22      4) r:+0.00 ROBINSON, EMMA 19    
    r:+0.76  27.42        56.45 (56.45)
        1:23.07 (26.62)     1:52.35 (55.90)
        2:19.67 (27.32)     2:49.50 (57.15)
        3:17.73 (28.23)     3:47.51 (58.01)
  7 HONG KONG  'A'                3:40.80    3:50.47   775  
     1) CHENG, CAMILLE 21             2) r:+0.41 CHAN, KIN LOK 20     
     3) r:+0.41 LAU, CLAUDIA 21       4) r:+0.50 SZE, HANG YU 26      
    r:+0.70  26.67        55.68 (55.68)
        1:23.55 (27.87)     1:54.06 (58.38)
        2:22.04 (27.98)     2:53.32 (59.26)
        3:20.53 (27.21)     3:50.47 (57.15)