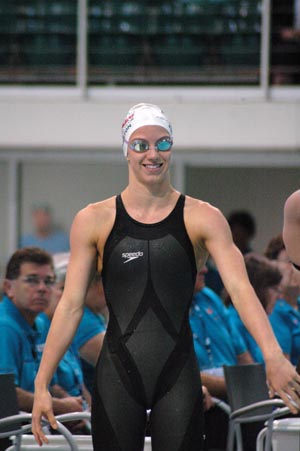 MELBOURNE, Australia, September 24. ROBERT Hurley completed the Australian Short Course Championships with his fourth and fifth titles of the meet.
Hurley first won the men's 200 back with a time of 1:53.33, while Daniel Arnamnart took second in 1:54.03. Chris Walker-Hebborn finished third in 1:54.64.
Hurley then claimed the title in the men's 1500 free with a time of 14:55.47, albeit doing so behind ineligible Chris Alderton of Great Britain – who won the event in 14:52.42. Theodore Pasialis then touched third in 14:58.19.
Tom Miller opened the night with a win in the men's 100 free. He clocked a time of 47.86, inside the 47.89 Matt Targett used to win the event last year. Mitchell Patterson finished second in 48.10, just ahead of Kyle Richardson's 48.17.
Amy Cockerton followed with a triumph in the women's 50 back. She touched in 27.69 with Grace Loh taking second in 27.81. Bridget Taylor finished third in 27.94.
Sarah Katsoulis surfaced from the women's 200 breast with the win in 2:24.25. Tessa Wallace placed third in 2:25.48, while Samantha Marshall took third in 2:25.55.
Sam Ashby touched first in the men's 100 IM with a time of 54.51, just ahead of Tommy D'Orsogna's 54.81. Stephen Parkes rounded out the podium in 55.20.
Marieke Guehrer won her third crown of the meet with a 56.96 in the women's 100 fly. Amy Smith finished second in 58.41, while Ellese Zalewski took third in 59.98.
Christian Sprenger won the men's 50 breast in 26.96, while Matthew Abood (27.67) and Robert van der Zant (28.39) took second and third, respectively.
Olympic medalist Cate Campbell cruised to victory in the women's 50 free with a time of 23.98. Olivia Halicek finished second in 24.57, while Guehrer wound up third in 24.74.
Chris Wright then topped the men's 200 fly in near-national record time with a 1:54.00. He finished just off the pace of the 1:53.85 set by Andrew Richard in 2004. Jayden Hadler placed second in 1:56.11, while Lachlan Staples took third in 1:56.71.
In multi-disability events, Samantha Gandolfo claimed the women's 10 & over 50 back in 35.36, while Craig Morgan took home the men's 10 & over 50 back in 28.45. Prue Watt grabbed the women's 10 & over 100 fly in 1:06.60, while Sean Grierson took first in the men's 10 & over 100 fly in 1:19.57.
Ben Donaldson, Sprenger, Wright and Richardson closed down the meet with a victory in the men's 400 medley relay by way of a 3:32.81.