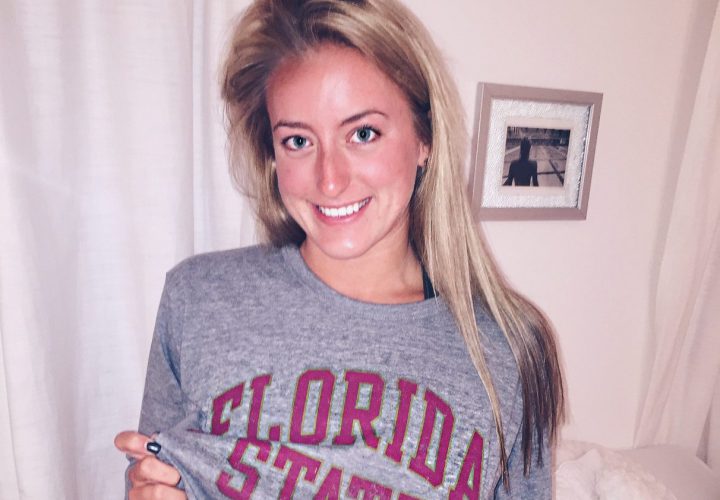 Photo Courtesy: Audrey Mooney
Agon is the proud sponsor of all high school coverage (recruiting, results, state championships, etc.) on SwimmingWorld.com. For more information about Agon, visit their website AgonSwim.com.
Neal Studd is working on rebuilding the Florida State program, and he has secured another verbal commitment for the women's squad. Audrey Mooney will join the Seminole in the fall as a member of the Class of 2021.
Mooney shared,
"I'm thrilled to announce my verbal commitment to swim for the Florida State Seminoles. I have known I wanted to be a Seminole for quite a while now, and after my official NCAA visit I realized that Florida State was truly the only school for me. Florida State has so much potential & I believe that this team will accomplish incredible things. I am honored to be a part of this up and coming program under new head coach, Neal Studd. I'm incredibly blessed and thankful for my parents, and club coach, Norm Wright, for all the support and encouragement through out this journey."
She swims for the Northern Kentucky Clippers where she has developed into a strong breaststroker.
Her best times are:
50 Breast 30.61
100 Breast 1:05.57
50 Free 24.48
200 IM 2:08.92
At the 2016 ACC Championships, freshman Mckenna Harris and Natalie Purnell finished 29th and 30th for the Seminole in the 100 breaststroke. While Mooney is not yet in scoring range either, she'll overlap with that duo for two years.
Madison Holland,  Hailey Ladd, and Kara Coughlin have also verbally committed to the Class of 2021.
To report a verbal commitment email HS@swimmingworld.com.