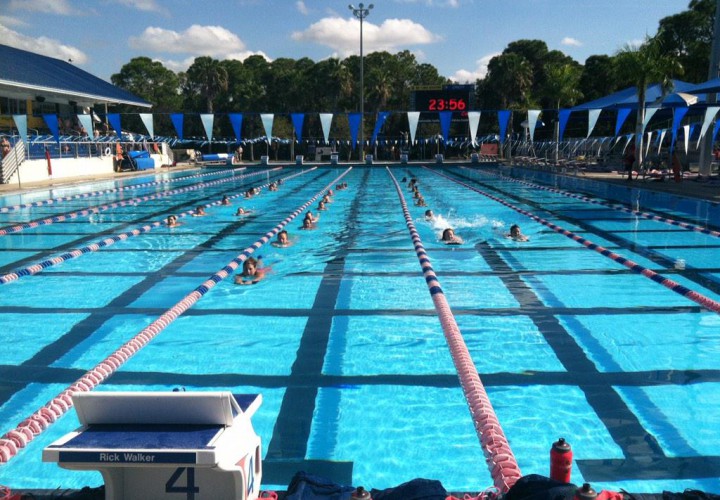 By Kelsey Lynch, Swimming World College Intern
KINGSTON – There are no meets during the next few weeks for the Atlantic 10 Swimming Conference, but after the holiday teams will travel to where it's warm and train harder than ever this season. Since these training trips follow the holiday break, swimmers must have the discipline to stay in shape while they are home, because when they return, the business starts. For now, student-athletes are focusing on finishing up their fall semesters by balancing studying for their final exams while also training.
A Glance Back
Last weekend, Davidson swam in their mid-season invitational two weekends after the rest of the conference. The Wildcats raced in the Total Performance Invitational, hosted by Kenyon College in Gambier, Ohio. Davidson had a great meet with some stand-out performances by Elise Lankiewicz and Katy Williams, helping the women finish fourth in the invitational. Davidson's men finished sixth. Lankiewicz broke two of her school records to win the 1,650-yard freestyle (16:42.26), as well as the 1,000-yard freestyle record, which she split at 10:09.12 during her mile swim. She currently leads the A-10 rankings for both these events. Williams also broke a school record in the 100-yard breaststroke (1:02.97) to win the event; this swim places her second just behind Duquesne's Kayla Owens (1:02.94) in the A-10. For Davidson's men, Luke Burton was their top performer. He won the 200-yard breaststroke (48.66) which was just hundredths away from the meet record (48.64).
As predicted in last week's preview, the Fordham Rams swept their dual meet last against Manhattan College. The women won all 15 events, and the men took 13 of the events.
Rhode Island swam at Bryant and also swept for a win, claiming first in almost every event; the Rams had not taken a win at Bryant for several years.
The U.S. Winter Nationals Meet in Greensboro, N.C. was also last weekend with many A-10 swimmers racing there. Nationals was a chance for the top-ranked swimmers in the A-10 to compete against a full heat of swimmers at their speed; this can prepare them better (as opposed to a smaller dual meet) for A-10 Championships in February.
A Glimpse Forward: Training Trips Approaching
As student-athletes, swimmers rarely are given time away from their home pool. It's impossible to take a vacation during a swimmer's winter break, so training trips fill the void.
After the holiday break, A-10 teams will tackle training trips—a bittersweet experience for the swimmers.
Why travel somewhere else to train if teams have pools on their campuses? Training trips are a tradition for college swimming, and the answer lies in that for both coaches and swimmers, it offers something far different than training at home does. It's about switching up the scenery, and it's likely that the sunshine and sand make training twice a day worth the torture and agony. Coaches push their swimmers limits and beyond during these trips, and swimmers are willing to go there because after their workout, they know sunshine awaits them. Positive and confident mindsets are brought out during these trips as the scenic palm trees and blazing sun make it easier for swimmers to attack even the most brutal sets.
Coaches and swimmers know there's so much more to soaking up the sun and crafting a tan. Head Coach for Davidson John Young says, "We travel to South Florida and enjoy a chance for warmer weather, but more importantly, we enjoy a rhythm that is totally different from our normal in Davidson. The team spends more time training, but also more time outside and together, maybe reading, and certainly recovering. Traveling as a team offers our athletes a chance to recharge collectively, while steeling themselves for the stretch run to our championship."
Assistant Head Coach for Rhode Island Anthony Randall says, "It's always good to get away from the normal day-to-day routine. The swimmers know that when they go to a different location, the training will be their primary focus and they accept that challenge."
As opposed to training while classes are in session, swimmers can focus less about an exam the next day, and more on swimming workouts—this being a time that occurs only once during the season.
For swimmers, in addition to the hours of training, it's also about bonding with one another. Massachusetts' senior Sophie Hornby says, "Training trips are an incredible part of being on a team. Traveling somewhere new with everyone really solidifies the bond we have as teammates and it shows that when we work together, we get to have fun together as well…it's one of the best parts of the season."
Most A-10 teams travel south to various areas of Florida, while Massachusetts trains in Puerto Rico. For Rhode Island and Richmond, both teams travel to Sarasota, Fla., where they will compete against each other in an unofficial dual meet. The two teams can race against an in-conference team, and also have fun surrounded by massive palm trees at the Sarasota YMCA. The teams train in a workout together mixing both Spiders and Rams within the same lane, and then the two race in a meet.
When A-10 conference swimmers return from the sun, it'll be just two short months until the showdown with all 11 schools in Ohio at the Spire Institute. But for now, A-10 swimmers can take a break from meets and focus on their final exams, staying in shape, and enjoying the holidays.
Training Trip Checklist:
Don't get caught in the sun without a training trip necessity! Check the list below for items easily forgotten.
-Sunscreen
-Aloe lotion
-Sunglasses
-Tinted goggles
-Extra suit, goggles, and cap
-Equipment bag
-Extra towels
-Flip flops
-Foam roller/rolling stick
-Water bottle
-Boarding pass
-Identification
Kelsey Lynch is a senior Journalism major and Writing minor at the University of Rhode Island, swimming distance freestyle on URI's Division I team throughout her collegiate career. Before Rhode Island, Kelsey trained at Cape Cod Swim Club in Buzzards Bay, Mass. for 10 years