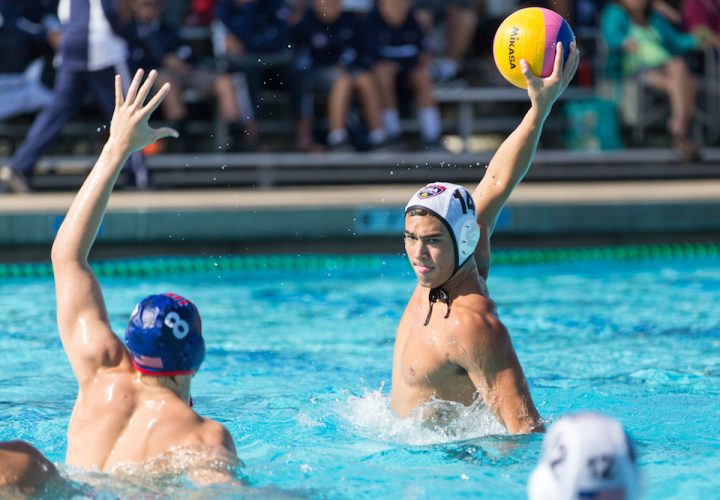 Photo Courtesy: Jared Gray/USA Water Polo
By Michael Randazzo, Swimming World Contributor
The National League — outside of NCAA intercollegiate competition the highest level of U.S. men's water polo — kicks off a third season of play this weekend with matches at San Ramon Valley High School in San Ramon, California. The eight teams competing in 2017 include defending champion the New York Athletic Club, Olympic Club, Los Angeles Athletic Club, Alumni, USA University, USA Collegiate, USA Junior, and USA Academy.
According to John Abdou, Chief High Performance Officer for USA Water Polo, which created and oversees the National League, its original purpose was to prepare the U.S. Men's Senior National Team for the Olympics, the sport's highest level of competition.
In a telephone conversation earlier this week Abdou explained that the league's was meant "to support our men's national team that needed to be rebuilt" under U.S. head coach Dejan Udovicic.
With the Rio Olympics over, and the 2020 Tokyo Games more than three years away, Abdou agreed that the league's role as an Olympic training ground for top American players is up for examination.
"Now that that [the Olympics are] over, there's room on our side to see it expand and become bigger," he said.
A makeover to allow the best-known American players — Olympians Merrill Moses (NYAC), John Mann (NYAC), Peter Varellas (Olympic Club), McQuin Baron (USA University) and Ben Hallock (USA University) will compete in the National League this season — to play professionally in North America is a logical development.
Abdou, who since 2013 has been a full time USA Water Polo staff member, agreed that the dream of a post-college league for U.S. polo players is a persistent one.
"The idea of a semi-professional league in North America has always been the goal of anyone who understands the sport at a high level."
The problem is that previous attempts at an American pro league have failed. The Premier League, revamped in 2002 by legendary coach Ratko Rudic, folded in 2008 though it's structure — a mix of current and graduated college players competing in the spring— is similar to the National League.
One possibility proposed by Dragan Jovanovic, who with five-time U.S. Olympian Tony Azevedo has built HaBa WaBa North America into one of the premier youth tournaments on the continent, is for the U.S. to form a pro league with Canada and Mexico.
"A professional league in North America is the only solution for the issues that the sport is facing," Jovanovic said in a recent interview.
"[We need] to create something meaningful which will drive development of the clubs; better training, better competition in the age-group level, better development of the Northeastern part of the United States. Development in Texas; development in Florida; development in Canada, in Mexico."
The logistical and political challenges of integrating foreign teams or players in an American endeavor are daunting, but Abdou suggested that the biggest hurdle is money. Currently the National League is solely underwritten by USA Water Polo and the United States Olympic Committee.
Plus, Canadian and Mexico success in the sport lags far behind their larger North American neighbor. Participation by Canada (four) and Mexico (five) in the Olympics is dwarfed by the US's 22 appearances and six medals, including silver in 1984, 1988 and 2008.
"First and foremost, [adding international clubs is] certainly within the realm of possibility," Abdou said. "There's no restriction on our end to keep North American international club teams out of the National League."
According to one Canadian club coach, cooperation is essential to grow the sport outside of California, which consistently produces the continent's best players.
Nishant Damani, Head Coach and Director of the Mavericks Water Polo Club in Toronto, identified that a key obstacle for Canadian polo is identical to that in America: geography. Stating that every major city in Canada has water polo, Coach Damani said: "[O]ur massive country makes it impossible to connect these cities together in a viable league structure without major funding."
Saying there's a "huge consensus" regarding a North American league, Damani suggests creating a sustainable league structure in the East by targeting areas where water polo athletes are located, including Toronto, Ottawa, Montreal, New York and Michigan. Because these regions are relatively convenient by car or short flights, travel expenses would be minimized.
Linking this league to a Western initiative —outside of NYAC all National League clubs are based in California — the top two finishers in each division would play for a North American Championship.
Damani's suggestions represent a creative solution to altering the National League structure, which besides play on February 24 – 25 will hold matches at the  Woollett Aquatic Center in Irvine, CA on March 10 – 11 and then on April 1 – 2 for the league's championship.
USA Water Polo's Abdou believes that the addition of new teams, including the Alumni and LA Athletic clubs, ensures the tournament's best-ever competition.
"The goal is for more teams like Alumni and LA Athletic," he said. "The more of those that can be created, the better the league will be."