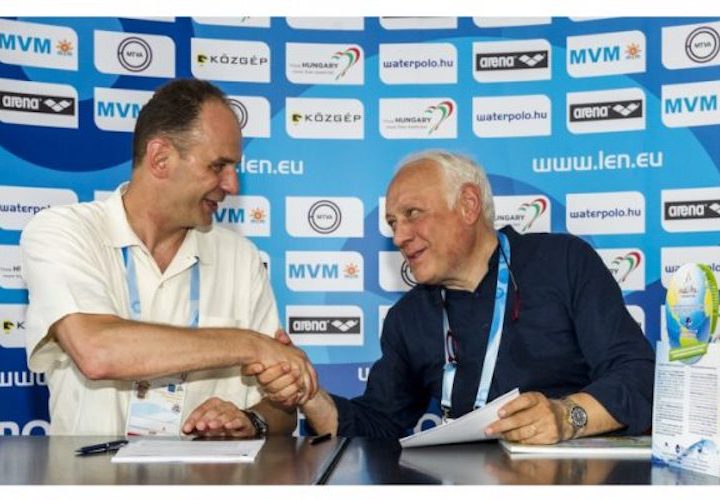 Dragan Jovanovic with Bartolo Consolo, founder of HaBa WaBa
By Michael Randazzo, Swimming World Contributor.
One of the most influential thinkers about the future of American youth water polo is a Serbian native who lives in the northern reaches of Canada. Dragan Jovanovic, formerly a top goalie for Yugoslavia and Serbia, is the CEO for DJ Global Wave, a Calgary-based sports management company seeking to revolutionize the sport.
Since 2015 DJ Global Wave has staged HaBa WaBa North America in Montreal. More than 30 youth teams from all over the world are expected to attend the annual event that Jovanovic and his partner, Tony Azevedo, will host from July 5 – 9.
HaBa WaBa North America is an offshoot of the youth festival Bartolo Consolo launched 13 years ago in Italy, which legendary Olympic water polo coach Ratko Rudic has described as "the best water polo project in the world."
Jovanovic spoke recently to Water Polo Planet about the challenges of growing the sport in Canada, his partnership with Azevedo, a five-time Olympian for USA, the values HaBa WaBa North America seeks to promote and how Canada, Mexico and the U.S. can ensure the sport's long-term health by launching a professional water polo league in North America.
Can A Pro League In America Save the Sport?
Jovanovic believes water polo's future is tied to a men's professional league on this continent.
Citing the sport's decline in Europe, he said over the past decade men's volleyball has leapfrogged Italian polo in popularity as well as the value of player and coaches' contracts.
"Water polo has stayed at the same level or even declined [while] volleyball has expanded and it's now 10 steps ahead of our sport," he lamented.
Jovanovic believes that water polo — currently dominated at the highest levels by former Yugoslavian provinces Croatia, Montenegro and Serbia — desperately needs to expand in North America. The U.S. has more youth players than anywhere else in the world, but, despite recent growth at the high school level, has yet to capture Americans' imaginations.
"North America needs a Michael Jordan of water polo," he said, pointing to Tony Azevedo's relative anonymity as an indicator of why an American professional league is necessary.
"Tony went to five Olympics and won the silver medal [in 2008] but never played professionally in the U.S," Jovanovic said. "Young players didn't have much chance to see him, to talk to him.
Acknowledging that NCAA women's water polo is the best league in the world — "There's nothing better than that — coach-wise, training-wise" — he believes it's imperative to spur improvement on the men's side by developing a pro league with teams from Canada, Mexico and the U.S.
"Someone needs to inspire players to continue to improve, to go to practice, to play more games," he added. "In my mind, a professional league in North America is the only solution for the issues that water polo is facing. It's a way to save our sport."
The Water Polo Revolution Will be Televised in Canada
Moving to Canada in 2001 after a stellar playing career in Europe, Jovanovic embraced his new home — except for the weather and Canada's continued failure at international water polo.
"It wasn't easy going from a country where anything but a gold in water polo is a failure to Canada, which is anywhere from 16 – 20th place in the world at any time," he said. "It was a sporting cultural shock."
Named head coach of the national team in 2004, Jovanovic quickly found himself in a position to change the fortunes of Canada's Olympic water polo program. His team beat a favored Romania squad in the 2008 Men's Water Polo Olympic Qualifications in Bucharest to make the Beijing Games, where Canada finished 11th.
After stepping aside in 2013 as the Canadian Water Polo Association's program director, he launched his own company and began working with Azevedo.
"The most important thing is that Tony's and my vision have matched from day one," Jovanovic said. "We agree on the issues affecting our sport — not only in North America, but all over the world."
HaBa WaBa stages an Olympic-style festival where young athletes from all walks of life can meet, compete and develop friendships for life.
"We're experimenting, we're analyzing – all of that," he said. "[We want] to make it fun for kids, of course, but also to apply or analyze those results to understand what's possible to change the game [for the better]."
DJ Global Wave's mission aligns with USA Water Polo — which oversees all levels of the sport in the U.S. — but the two organizations have yet to form a partnership
"I don't think that we overlap at all," he explained. "They have their own vision and goals [while] we have ours. They are huge; we are not. We're trying to develop programs where we can."
For water polo to prosper Jovanovic believes an integrated approach spanning youth training to a North American pro league is necessary.
"You can grow the sport from the bottom and expand the grassroots, which is important, but if the sport doesn't have something on top, something that kids can aspire to, it's hard to keep them playing after high school."