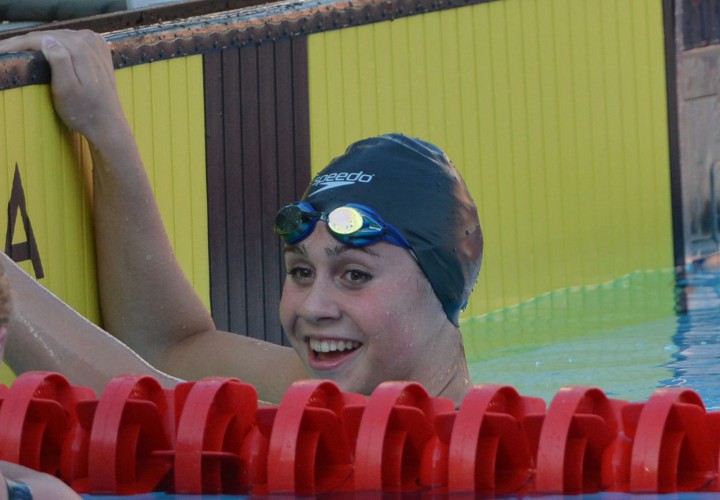 Photo Courtesy: Donna Nelson
Speedo Sectional Series is proudly sponsored by Speedo. Visit SpeedoUsa.com for more information on our sponsor.
On the final day of Speedo Sectionals in Indianapolis, Grace Ariola showed up to make a statement in her 100 freestyle race with Regan Smith. On the men's side, Skyler Cook-Weeks saw gold in another distance event, while Carmel Swim Club, the ultimate victor of the meet, continued to display its immense depth throughout the night.
In the women's 400 medley relay, the Waves Bloomington Normal team showed off their skill in the strokes with the swift squad of Grace Ariola, Noelle Peplowski, Julia Heimstead, and Melissa Pish. The team cruised to victory in a meet record-breaking time of 4:13.27. Carmel Swim Club laid claim to second in 4:21.26, while Riptide Swim Team, led by Regan Smith in the backstroke, snagged third in 4:24.27.
The men's relay came down to the touch in the end. Phoenix Swimming, anchored by Adi Arofovic, held on until the end, despite a valiant late charge from 15-year-old Thomas Shepanzyk and Berkeley Aquatic Club. Phoenix grabbed gold in 4:02.21, and Berkeley was just behind in 4:02.37. Scarlet Aquatics' team also put up a strong fight but settled for third in 4:03.04.
In the women's 200 IM, victory unsurprisingly belonged to 15-year-old Regan Smith of Riptide. Smith annihilated the field and led the entire way The weak link of her event was her breaststroke leg–the second-slowest in the pool in 43.71–but even Smith's weak stroke could not prevent her from claiming the gold and a respectable 2:17.02.
Lauren Edelman, swimming unattached, found the wall next in 2:20.71. Edeleman's strong backstroke leg set her apart from Waves Bloomington's Noelle Peplowski, the third place finisher (2:21.42).
In the men's race, Paul Le of Missouri State University proved himself to be similarly commanding, posting a 2:03.86–nearly four seconds faster than his closest competitor. Michigan Lakeshore Aquatics' Ian Miskelley just edged out River Wright of Bluefish Swim Club thanks to an aggressive back half. Miskelley stopped the clock in 2:07.71, while Wright took third in 2:08.05.
Although the final times of the women's 1500 failed to be as close as in the previous races, the event nonetheless demonstrated the importance of mere tenths of a second in any victory. Bryn Handley, swimming unattached, and 14-year-old Kim Junseo of Scarlet Aquatics remained close, but Handley gradually pulled away as her 34-second fifties stayed in the low range, while Junseo's fifty splits climbed higher in the 34-second range.
Handley achieved gold in 17:08.82, while Junseo dropped six seconds from her seed time for silver and a 17:12.00. Junseo's teammate, Abigail Kilgallon, claimed the third spot on the podium in 17:19.29.
The men's 800, on the other hand, remained close to the finish. Michigan Lakeshore's Skyler Cook-Weeks and Carmel's Jacob Mitchell passed the lead back and forth throughout the race, but it was Weeks who eventually came out on top in 8:25.74.
Mitchell's second-place time of 8:26.06 was no less respectable, particularly since he is only fifteen. Baris Denizli of Scarlet Aquatics nabbed third in 8:32.19, ahead of teammate Jackson Karofsky.
The next event proved to be a significant change of pace. In an exciting finish to the women's meet, Waves Bloomington's Grace Ariola topped Riptide's Regan Smith in the 100 freestyle. Ariola had the back half speed to pop a 55.89, just shy of the meet record. Smith, racing shortly after her 200 IM, pounded out a 56.53, just ahead of Carmel's Gertrude Rothrock in 56.74.
The final event of the meet, the men's 100 freestyle, ended the meet on an exciting note. Bluefish Swim Club's River Wright, Carmel Swim Club's Andrew Couchon, and Bluefish Swim Club's David Fitch all cracked the 53-second mark and remained close throughout the race. Couchon initially led, but Wright fought back for victory in 52.33. Couchon faded for second in 52.90, while Fitch surged for third in 52.92.
Results are available on Meet Mobile: 2017 Speedo Sectionals at Indianapolis.