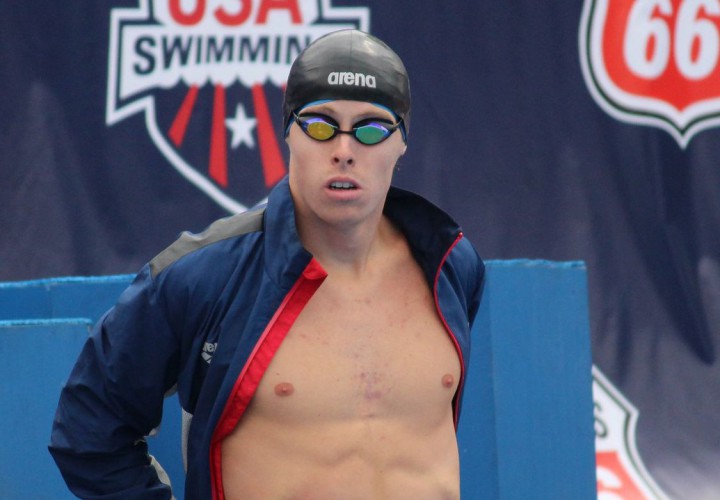 Photo by Griffin Scott
Editorial coverage for U.S. Senior Nationals proudly sponsored by Master Spas!
IRVINE, California, August 9. IT's been a busy time for Michigan's Connor Jaeger after completing his collegiate eligibility this year a trio of NCAA titles as well as 10 NCAA All-American certificates.  Earlier this week, the bronze medalist in the 400-meter freestyle at the 2013 Barcelona World Championships, made another National Team by winning the 1500-meter freestyle on Wednesday night.
Well, Wednesday proved to be a truly incredible day for Jaeger as he put his name on the dotted line with Arena USA that morning with a deal that goes through the 2016 Rio Olympics.  Jaeger, who is seen as the top male distance freestyler in the U.S., adds yet another piece to Arena's growing arsenal of U.S. talent with Arena-signees Tom Shields and Matt McLean already having huge success this week in Irvine as well.
Swimming World spoke with Jaeger about the deal after his 400-meter freestyle preliminary swim today:
Arena confirmed the news with its official release:
Arena North America, one of the world's leading brands in aquatic sports, is proud to announce a partnership with distance star and newly-crowned 1500m Free National Champion, Connor Jaeger.

Jaeger, a 2012 U.S. Team member and the reigning champ in the 400m freestyle, will represent the elite swimwear brand through 2016. On the opening night of the 2014 USA Swimming National Championships, Jaeger claimed the national championship in the 1500m freestyle and secured his place on Team USA at the upcoming 2014 Pan Pacific Championships and 2015 FINA World Championships.

"I am thrilled to be a part of Team Arena and to know that I'm going into this key competition season in the best swimsuit technology out there," said Jaeger. "I believe in what the company stands for. I knew I wanted to wear Arena when I first tried the Carbon Flex, and I knew I wanted to be part of their team when I saw the way they work together with their athlete partners. Arena is committed to really getting its athletes out in the community, and that was extremely important to me in choosing a sponsor."

"Seeing Connor's incredible rise to national dominance over the past couple years, combined with having the chance to meet and speak with him immediately made him a 'must-have' for Arena's sports marketing team," said Steve Ozmai, Director of Brand Development for Arena North America. "At Arena, we look to sign talented athletes, but even more important to us is signing athletes who are positive role models and true stewards of our sport. In Connor's case especially, we knew we were a match. He's a blazing force, advancing fast in the distance swimming world. Arena North America is much the same – a young powerhouse of a brand that has been making waves since our return to the U.S. Market in 2009."

Jaeger quietly debuted the sponsorship on Day 1 of the U.S. National Championships, winning the mile in a brand new POWERSKIN Carbon Flex. Jaeger will look to defend his 2013 National Championship in the 400m freestyle Saturday, facing off against Team Arena teammate and 2012 gold medalist, Matt McLean.

As a member of Arena's North American team of athletes, Jaeger will make eight appearances around the country annually.

"At Arena, we challenge ourselves daily to create unique activation plans for each of our athletes," said Jamie Fabos, Manager of Marketing Communications and Events for Arena. "We reject the idea of a 'cookie cutter' athlete agreement, and instead strive to customize each athlete's activation to their own strengths, passions and personalities. The American public is ready to get behind these kids as they move toward Rio in 2016, and we want to help them get to know the incredible athletes on Team Arena."