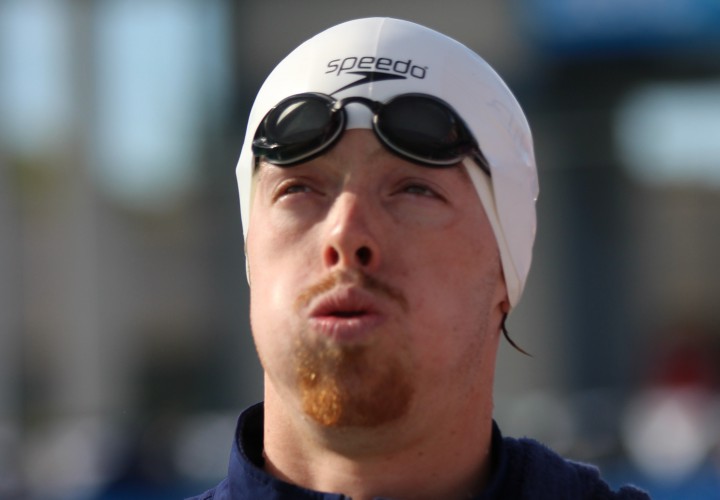 Arena Grand Prix – Santa Clara editorial coverage is proudly sponsored by Arena USA. Visit ArenaUSA.com for more information on our sponsor. For all the latest coverage, check out our event coverage page. Also, take a look at some amazing photography in our Facebook photo gallery.
SANTA CLARA, California, June 22. HE had to wait several hours to find out that he won, but Club Wolverine's Connor Jaeger's time from this afternoon snatched the men's 1500-meter freestyle title at the Arena Grand Prix in Santa Clara.
Jaeger had to catch a plane, so he elected to swim in an earlier heat and he made the most of it as he clocked a 15:00.97 for the win. That time vaulted him to sixth in the world rankings, ahead of Sun Yang's 15:01.33 from Chinese Nationals. That's a strong place to be considering Sun is the reigning world-record holder.
Swimming in the last heat with finals, The Woodlands' Mcihael McBroom took second overall in 15:04.41 to take 13th in the world rankings. Club Wolverine's Sean Ryan finished third tonight in 15:07.82 and now holds 19th in the rankings.
Badgers' Ryan Feeley (15:21.61), Eric Hedlin (15:23.95), Club Wolverine's Michael Klueh (15:26.97), Dynamo's Matias Koski (15:33.56), Dynamo's Kevin Litherland (15:33.90) and Nitro's Sean Grieshop (15:39.11) all broke 15:40 to finish in the top nine of the timed final event.