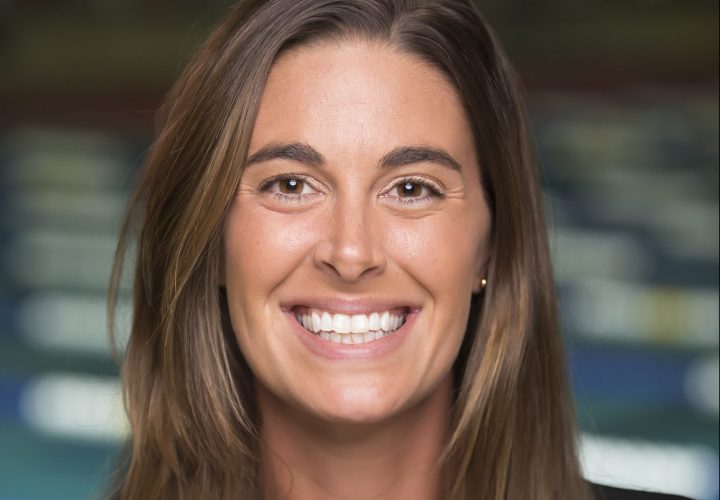 Photo Courtesy: Joe Howell
TUSCALOOSA, Ala. – Angie Nicolletta has been named an assistant coach on Dennis Pursley's Alabama swimming and diving staff it was announced this week.
"Angie's skills and background are a perfect fit for our coaching staff," Pursley said. "Her extensive experience at the club and collegiate level combined with the passion and enthusiasm she brings to the pool deck will make her a great addition to our team."
Nicolletta, who spent the past four seasons as an assistant coach at Vanderbilt, replaces Lisa Ebeling who was named the head coach at Northern Colorado in late August.
"I would like to thank Coach Pursley for giving me the opportunity to coach at The University of Alabama," Nicolletta said. "Immediately after I stepped on campus, I felt a part of the Bama Family. I'm excited to continue working within the SEC and alongside of one of the best coaching staffs in the country. I know I can bring a lot of energy and excitement to this program and look forward to building relationships with all our young men and women."
Before joining the Commodores, Nicolletta spent a season on the Air Force Academy coaching staff while also serving as coach and aquatic supervisor at The Club at Flying Horse.
"In addition to her other duties, Angie will serve as the women's recruiting coordinator on our staff," Pursley said. "We are certainly excited to welcome her to the Crimson Tide swimming and diving family."
Prior to joining the collegiate coaching ranks, Nicolletta served as head site coach of the Stingrays Swimming club in Marietta, Ga. She also served as an assistant coach at Lakeside Seahawks and Nashville Aquatic Club coaching staff, two of the nation's premier swim clubs.
Nicolletta swam for Louisville, setting school records in the 200 butterfly and as part of the 200 freestyle, 400 medley and 400 freestyle relays. She was also a championship finalist in a number of events for the Cardinals at the Conference USA Championships.
A native of Marietta, Ga., Nicolletta earned a degree in sports administration from Louisville in 2005.
For all the latest information on the Alabama swimming and diving teams, follow AlabamaSwimDive on Twitter, Instagram and Facebook. General athletic news can be found @UA_Athletics on Twitter and Instagram and Alabama Athletics on Facebook.
The University of Alabama Contributed this report.