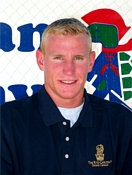 By Greg Eggert
FINA Press Commission
KINGSTON, Jamaica, April 20. ONE-TENTH of a second was the margin of difference between a CARIFTA (Caribbean Free Trade Agreement) champion and an Olympic qualifier.
Tonight Andrew Mackay, 17, became the first-ever Cayman Islands swimmer to achieve a qualifying standard for the Olympic Games at the 2003 Caribbean Swimming Championships in Kingston, Jamaica.
"I really was shooting to make the cut in the 100 back, but I went out too fast," Mackay said. Andrew had the qualifying time in the backstroke, his best event, practically tattooed on his forehead and his disappointment showed the second he saw the scoreboard and instantly knew that his time fell short of what was required.
Andrew's coach Dave Kelsheimer offered this advice: "Lift your head up and be ready to race in the 200 individual medley."
Less than 30 minutes later, Mackay got on the blocks for the 200 individual medley, his last event of the day. "I wasn't thinking about making the cut while standing behind the blocks, but once I got in the water I felt great and guessed that with a strong finish I would have a shot at it. When I saw the 2:08.67 time on the scoreboard I still wasn't sure I had swum fast enough," he said. It was several moments before Andrew's winning time was confirmed. Then his coach checked, and then double checked that he was reading the official qualifying standards correctly. A minute later a roar was heard in the stands when Andrew flashed the signal to his parents that he was going to Athens.
Swimming and track & field are the only two Olympic events where each nation of the world may send one male and one female athlete to compete regardless of any performance standard. But Dave Kelsheimer, who hails from exotic Michigan, has long held a higher standard for his athletes. Since his arrival in Grand Cayman eight years ago, he has been preparing for the day when one of his swimmers would achieve the Olympic qualifying standard instead of entry through the "charity exemption."
Andrew Mackay has been swimming since age 10 and some time after he turned 13 he began dreaming of swimming in the Olympics. He has only had one swim coach and together they shared a vision of a Cayman swimmer competing at the Olympic Games in Athens or Beijing, or maybe even both! Pretty lofty goals for a swimmer from Cayman; you see even if you make every swim practice, train thousands of meters for years, and finally can hold your own on the FINA World Cup Circuit, there is still the simple fact that it is next to impossible to qualify for the Olympic Games in the Cayman Islands. To do so requires a 50 meter swimming pool….and Cayman doesn't have one.
Coach Kelsheimer's Cayman team isn't letting the lack of an Olympic size pool get in the way of their Olympic dreams. After two days of competition at the CARIFTA Championships, the Cayman team has racked up 19 gold medals, nearly a dozen new meet records, and is in third place in the race for team points.
Meanwhile, the parents of Cayman athletes who are watching the meet from the stands are hard at work to make that 50 meter pool a reality.
The Cayman Islands have recently been host to dozens of the world's best swimmers who have been invited to relax and participate in the Olympic Swimmers' reunion following the 1996 & 2000 Olympic Games. 1992 Olympic Champion Mike Barrowman liked the island so much that he now lives there full-time.
Over the years, Andrew's parents, Sarah and Peter Mackay, have adjusted to the fact that some of the world's best athletes have not only visited their island, but also their home. Now they will be adjusting to the fact that there will be an Olympian living under their roof.