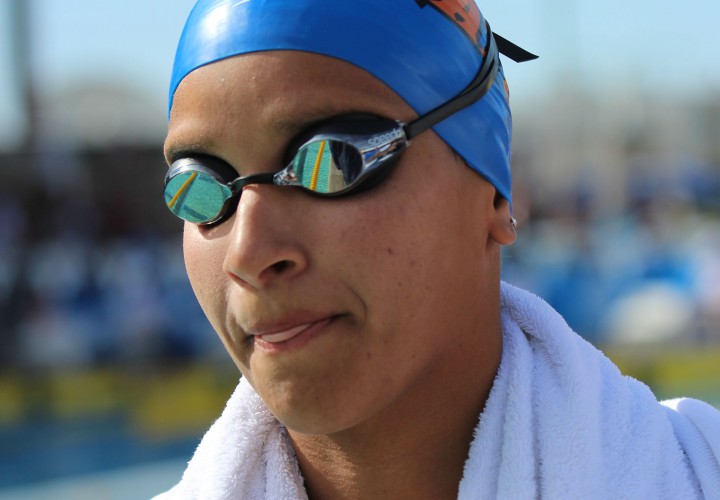 VERACRUZ – Severe winds and some of the best swimmers her region has to offer could not stop Venezuela's Andreina Pinto from blowing through┬áCentral American and Caribbean Games swimming with six golds.
After having already won the 200, 400 and 800 freestyles and the 200 and 400 IMs, Pinto added the 200 fly tonight in 2:11.34.  That's just off Rita Medrano's meet record of 2:11.25 from 2010.
Mexico's Maria Mata took second in 2:13.48, while Jessica Camposano of Colombia wound up third in 2:14.18.
Bahamas' Arianna Vanderpool-Wallace chased down her fourth gold of the meet with a win in the 50 free.  That went with her wins in the 100 free, 50 fly and 100 fly. She clocked a 25.24 in the 50 free tonight for the win.
Puerto Rico's Vanessa Garcia took second in 25.63 with Mexico's Liliana Ibanez claiming third in 26.04.
Colombia's Omar Pinzon downed the meet record in the men's 100 back with a 55.48.  That swim cleared Cuba's Rodolfo Falcon, who clocked a 55.60 way back in 1998.  That's Pinzon's third win of the meet, along with victories in the 200 back and 200 IM.
Venezuela's Albert Subirats finished second in 55.68 with Cuba's Armando Barrera placing third in 56.54.
Mexico's Maria Fernanda Gonzalez took the women's 200-meter back title in 2:13.47.  Colombia's Carolina Colorado finished second in 2:18.36 with Guatemala's Gisela Morales placing third in 2:19.14.
Venezuela's Carlos Claverie posted a meet record in the men's 200-meter breast with a 2:12.44.  That time cleared David Oliver's 2:16.10 from 2010 by a wide margin.  Mexico's Miguel De Lara touched second in 2:14.78 with Colombia's Jorge Murillo earning third in 2:14.90.
Trinidad and Tobago's George Bovell clocked a 22.30 to win the men's 50-meter free, just off his 2010 meet record of 22.23.  Suriname's Renzo Tjon-A-Joe took second in 22.62 with Cuba's Hanser Garcia earning third in 22.69.