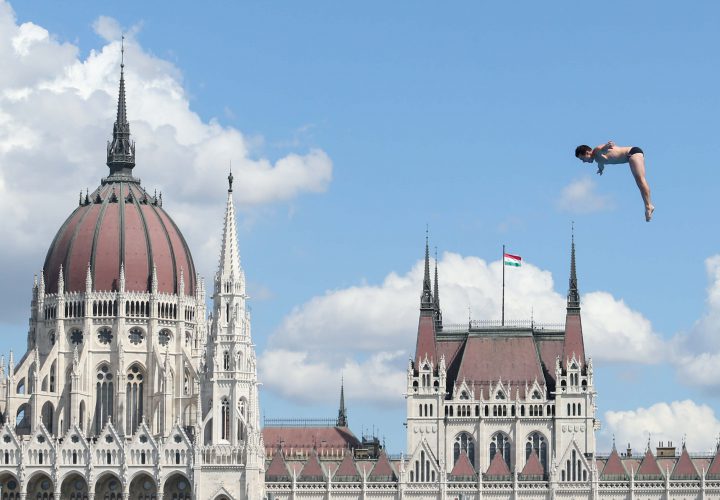 American high diver Steve Lo Bue earned his nickname "miracle-man" after hitting his head on the platform, and then successfully completing his dive, at a high diving competition in France two years ago. Today, the miracle man became the first American to win men's 27m platform.
The former Purdue diver racked up a total of 397.15 point in order to score the gold medal.
Lo Bue was in fourth place after preliminaries. He jumped up to second place in semifinals when he performed an inward triple with a half twist (5461B) for 9s, 9.5s, and a 10. Lo Bue then scored over 113 points on his final dive, securing him first place.
Michael Navratil from the Czech republic finished in second, only 6.25 point behind Lo Bue, while Alessandro de Rose from Italy is going home with bronze. American Andy Jones finished in fourth.
De Rose was another surprise on the podium. He was in 9th place after preliminaries, and 7th place after semifinals. In finals, the Italian diver's armstand back two and a half with three twists (6256D) scored over 112 points, and earned him third place.
In a unexpected turn, Gary Hunt from the U.K. finished in fifth place. The most decorated cliff diver in the event, and one of the most consistent, dropped form first to fifth in the final round. His front triple with four and a half twists (5169D), the hardest dive in the history of cliff diving, and a dive on he competes, only received 3.5s, 4s and 4.5s from the judges.
The dive set Hunt 40.75 points behind Lo Bue.
Today's event concludes diving at the 2017 FINA World Championships.