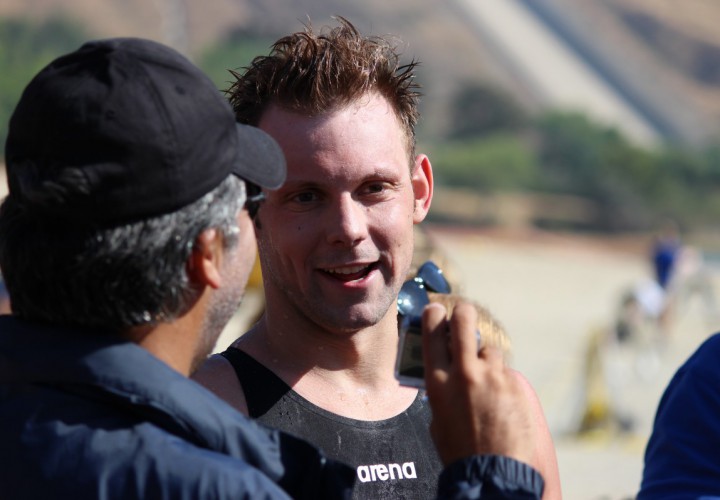 Photo Courtesy: Griffin Scott
LAUSANNE, Switzerland, October 9. FINA is currently considering a bid by the United Arab Emirates to host a stop on the FINA Open Water World Cup series in 2015, and the United States open water swimming community will not stand for it considering that Fran Crippen became the first swimmer to die during a FINA-recognized event four years ago in Fujairah, UAE.
In an article for ESPN, Bonnie Ford reports that a bid by the UAE was considered by FINA's Technical Open Water Swimming Committee last month, with two representatives of UAE Swimming currently part of that committee.  Additionally, one of the members of the committee, Ayman Saad of Egypt, oversaw the race in which Crippen died. A final decision will be made during the FINA Aquatics Convention in Doha, Qatar next month.
Alex Meyer, Crippen's best friend who first noticed that Crippen was missing at the end of the race in Fujairah, before any safety personnel or meet management had recognized one of the top swimmers in the world hadn't made it to shore, is fighting the UAE ever having a stop on this tour again.
"Mr. Ayman Saad and his organizing committee executed the World Cup race in 2010 with such gross incompetence and negligence (and handled the aftermath just as poorly) that I don't believe they should ever be given a second chance," Meyer wrote in a letter to USA Swimming. "Even if they could guarantee an exemplary safety plan and response … high stakes and dangerous environmental conditions is the most dangerous competitive situation an athlete can be put in. I do not believe this race would be safe."
Crippen was not the only casualty of the race as three female swimmers "were treated for heat exhaustion" after the race in 2010.
Meyer isn't the only swimmer who is on record as believing that the UAE should never host an open water meet again. Christine Jennings told ESPN that while "the sport has come a long way in terms of safety," since Crippen's death, that "that country does not deserve to have a race there ever again."
German open water legend Thomas Lurz also stated "Of course, I don't think it would be good to race there again."
Swimming World has also had conversations regarding the ESPN story with those in the open water community, and every indication is that FINA should expect an American boycott of any UAE-hosted open water event.  And, with the influence the U.S. has with other members of the global community, a UAE-based open water competition could be one of the sparsest meets on record.