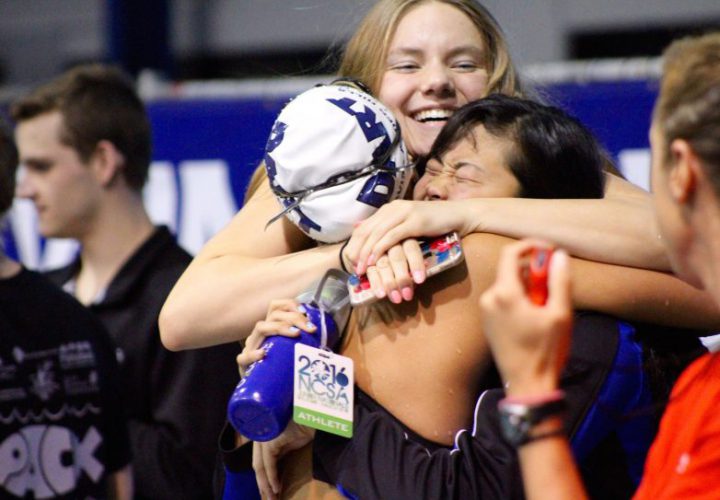 Photo Courtesy: Taylor Brien
Speedo Sectional Series is proudly sponsored by Speedo. Visit SpeedoUsa.com for more information on our sponsor.
The 2017 Speedo Sectionals series will continue in Carlsbad, California this weekend. While the meet lacks the Olympic star power Breeja Larson brought to last weekend's College Station stop, there are still plenty of quick club swimmers ready to race.
La Mirada Armada's Taylor Ault comes into the meet with three top seeds. The 18 year old has the fastest entry in the 200, 500, and 1650 freestyles, all by solid margins.
Amalie Fackenthal is the sprinter to beat in the women's meet. The 16 year old from Davis Aquadarts has the fastest entry time in the 50 and 100 freestyle.
The young Chloe Clark is also poised to make a splash on the women's side. The Sierra Marlins' 15 year old is top seed in the 200 and 400 IMs and the 100 backstroke. She is also in the top five in the 200 backstroke, and 100 freestyle and breaststroke.
Her teammate Bryce Mefford will be a force on the men's side of the meet. The 18 year old is entered in six events this weekend and holds the top seed in four of them (100 and 200 backstroke, 100 fly, 200 free). He also has the second fastest entry in the 50 and 100 freestyles where only San Diego YMCA's 21 year old Brandon Crabtree is faster.
San Clemente Aquatics' Bradley Prolo leads the way in both breaststrokes and the 200 IM. The 17 year old is the only swimmer seeded sub two minutes in the 200 breaststroke. He is also the top entrant by nearly two seconds in the 200 IM.
The meet starts Thursday afternoon with the women's 1000 and the men's 1650 freestyle.
View the full psych sheet here.