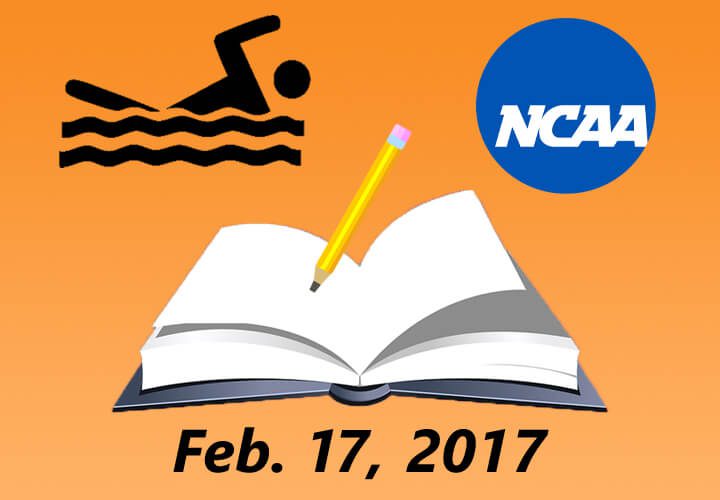 By David Rieder.
The women's ACC championships concluded last night in Atlanta, but it's just now crunch time at the the SEC championships and at the women's Big Ten championships. Check out the entries in today's notebook.
Don't look now, but Lilly King got a lot faster since last year.
Lilly King went to the Short Course World Championships in December, so she didn't get to swim a traditional mid-season meet with her Indiana teammates. She has only put on a suit once all season before this week's Big Ten championships—at the USA College Challenge, when she swam the current top-ranked times in the country in both the 100 (57.30) and 200 breast (2:05.64).
But when she swims the 100 breast later today and the 200 breast Saturday at Purdue, we could be on record watch. King set American records in both events in winning a pair of NCAA titles as a freshman last year. Those times were 56.85 in the 100 and 2:03.59 in the 200.
Why the record watch? Well, look at what she's done so far. Her 25.55 breaststroke split on Indiana's 200 medley relay was a half-second quicker than her best split from NCAAs last year. She swam a 1:55.59 in the 200 IM—much quicker than the 1:57.21 that was her best time last season—and split a 56.53 on Indiana's 400 medley relay, also quicker than she posted at NCAAs last year.
The entire world saw King's abilities in the 100 breast this summer when she won gold in Rio, and she figures to be all-but-unbeatable in that event on the college level. King has enough endurance to hold on for the 200-yard event as well, but in that event she will have to deal with Minnesota's Kierra Smith, a more natural 200 breaststroker and the 2015 NCAA champion in the event, at both Big Tens and at NCAAs.
The boys are on the move in Knoxville.
In all three men's events Thursday night at the SEC championships, the winning time would have placed in the top-five (at least) at last year's NCAA championships. That started in the 400 IM, where Chase Kalisz had to work harder than he might have expected to hold off Florida's Mark Szaranek, 3:36.21 to 3:36.54. Only the now-graduated Josh Prenot beat those times all of last season.
Next month in Indianapolis, Kalisz figures to challenge or possibly break his own American record of 3:34.50. How much rest did Georgia get for SECs? Just ask Jay Litherland, who didn't break 3:40 in the 400 IM, or Gunnar Bentz, who finished in 3:43.95. The Bulldogs always step up their game at the NCAA championships, and a mixed performance at the conference meet has become par for the course.
As for Szaranek, he improved to sixth all-time in the event behind Kalisz, Prenot, Tyler Clary, Michael Phelps and Will Licon. Szaranek broke a Florida school record belonging to a man named Ryan Lochte, arguably the greatest Gator swimmer of ever. The time was his best by almost three seconds, and the 400 IM now has a new contender for a top-three finish at the end of the season.
The Florida men have been impressive so far in Knoxville, and that theme continued throughout the night as Caeleb Dressel won the 100 fly in 44.21 and Maxime Rooney finished first in the 200 free in 1:32.18.
If you needed move proof that Dressel is no one-trick pony with the sprints, you got it Thursday night. The time is his lifetime best and has been surpassed a grand total three times ever. A challenge to reigning Olympic gold medalist and former Bolles teammate Joseph Schooling at NCAAs looks within the realm of possibility.
Meanwhile, Rooney dropped more than a second and a half off his best time Thursday and suddenly looks like a contender for a top-three finish at NCAAs. No, he's still nowhere close to Townley Haas' 1:30.46, but the next highest returning finisher from the 2016 NCAA meet is another Gator, Jan Switkowski, who finished in 1:32.14. Under the guidance of Florida head coach Gregg Troy, it's hardly surprising to see the talented and enthusiastic Rooney putting it all together.
In case you missed it…
The North Carolina State women capped off the women's ACC championships Thursday night with a team championship. Before the meet, head coach Braden Holloway explained how he believes his women have made even more strides than their more-celebrated male counterparts since Holloway's staff took over six years ago.
How much did this one mean? Just watch this interview Holloway and senior (and ACC most valuable swimmer) Alexia Zevnik.
Or, if you prefer, watch Holloway celebrate with a leap into the pool.
All commentaries are the opinion of the author and do not necessarily reflect the views of Swimming World Magazine nor its staff.