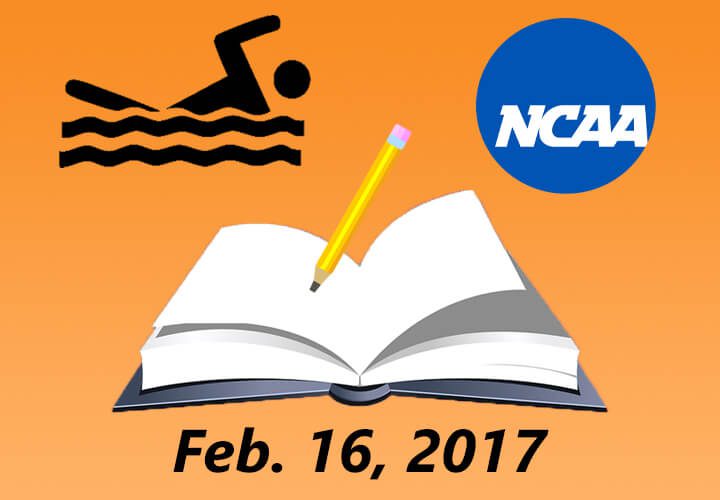 By David Rieder.
The SEC, ACC women's and Big Ten women's championships are all in full swing at this point, but the ACC, entering the final day of competition, gets the bulk of the attention in today's notebook.
Mallory Comerford steps up her game in the 200 free at ACCs.
We don't hand out the LumaLanes Performance of the Week for several more days, but if I had a vote right now, it would go to Louisville sophomore Mallory Comerford for that 1:41.70 she posted in the 200 free.
Sure, Caeleb Dressel has posted some pretty ridiculous relay split, and no one else has ever swum faster than his 18.46 50 free from Wednesday night, but no one doubts his status as the top sprinter in the country. As for Comerford, consider these facts:
The time ranks the Louisville sophomore eighth all-time. Six of the seven ahead of her are Olympic gold medalists: Missy Franklin, Allison Schmitt, Katie Ledecky, Simone Manuel, Dana Vollmer and Natalie Coughlin. The seventh, Megan Romano, was no slouch either. Pretty good company.
A year ago at ACCs, Comerford touched Leah Smith to win the conference title, 1:42.79 to 1:42.97. This time around, Comerford swam more than a second faster and beat Smith by more than a second and a half.
The time was a pool record by more than a half-second, meaning it was faster than the 1:42.42 that Brittany MacLean posted to win the NCAA title in the event last season.
She also beat the ACC record in the event, besting the 1:42.51 set by Lauren Perdue in 2011, which was about 17 months before she became an Olympic gold medalist.
The time ranks first in the country this season, ahead of Simone Manuel's 1:41.90 from November.
Will Comerford be the center of attention in the 200 free at NCAAs next month? No, of course not—not in a field with Manuel and Katie Ledecky. And Comerford knows that very well—it was among the topics discussed in her post-race interview Wednesday night.
But despite the humble exterior, she's confident. Last year, when she was basically an unknown quantity, Comerford did not back down from the challenge of facing Smith at ACCs or the top swimmers in the country at NCAAs. When she finished second to MacLean at NCAAs, no one was less surprised than the Louisville coaches and Comerford herself.
She wasn't intimidated at Short Course Worlds, either, anchoring the U.S. women to a pair of relay gold medals. So why would it be any different when she faces Ledecky or Manuel at NCAAs or when she deals with NC State freshman Ky-Lee Perry in the 100 free later on today?
No Small Feat for Meghan (or for Sydney Pickrem or for Madeline Banic).
Up in Knoxville at SECs, Dressel did his thing in the 50 free, and Chase Kalisz cruised in the 200 IM, but the women's racing featured some younger names fighting their way into the national conversation. First up on that list was Tennessee freshman Meghan Small, who won the 200 IM in 1:53.31, and not too far behind was Texas A&M sophomore Sydney Pickrem at 1:53.64.
One race later, Tennessee sophomore Maddy Banic won the 50 free in 21.54, beating out defending NCAA champion Olivia Smoliga by two one-hundredths of a second.
Banic, who finished eighth in the 50 free at NCAAs last season, suddenly has the fastest time in the country. Small and Pickrem now rank second and third, respectively.
Smoliga, Manuel and Abbey Weitzeil already had enough competition to worry about in the 50 free with each other. Same thing with Ella Eastin, Kathleen Baker and Madisyn Cox in the 200 IM. But no fan should be complaining about more talented players jumping into the mix.
Lilly King splits a 25.
Yes, a 25.55 50 breast split on Indiana's 200 medley relay for Lilly King. That's good, right?
Well, it's hard to compare relay splits of 50s of stroke. USA Swimming doesn't keep records for any 50-yard events, and there's no official database of relay splits. One of King's heralded training partners thinks that should change.
For the record, King split 26.05 at NCAAs last season. Dropping a half-second in a 50 in a year is a lot. So, that 25.55 split? Yes, it's good. Very good.
Showdown Brewing for ACC title on the final day.
When asked about how it felt to win the ACC title in the 100 breast Wednesday night, Laura Simon immediately pointed out that all she wanted to do was score points for her Virginia Cavaliers. UVA was in the lead after Simon's win, but NC State promptly scored 124 points in the 100 back to re-take the lead.
At the end of the session, Wolfpack seniors Kayla Brumbaum and Alexia Zevnik sat in the ice tub and took stock of the moment: their team had a chance, on the final day, to win an ACC team championship. Just that fact alone meant plenty to the two women who, four years ago, joined a team coming off a 37th-place finish at the NCAA championships.
With one day of competition remaining in Atlanta, NC State has 776.5 points and Virginia 750. The evening session gets the glamor, but the prelims could decide if Virginia wins a tenth-consecutive ACC championship or if the rapid rise of the NC State women culminates with a trophy.
All commentaries are the opinion of the author and do not necessarily reflect the views of Swimming World Magazine nor its staff.