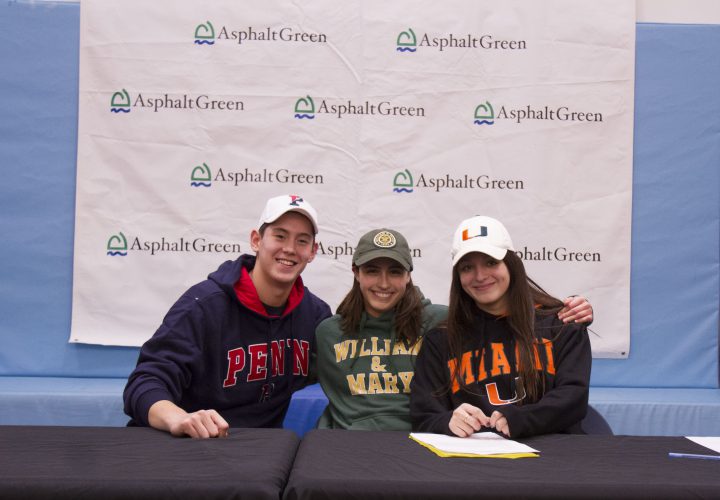 Photo Courtesy: Asphalt Green
Agon is the proud sponsor of all high school coverage (recruiting, results, state championships, etc.) on SwimmingWorld.com. For more information about Agon, visit their website AgonSwim.com.
To report a college commitment, email HS@swimmingworld.com. Join Swimming World's Watch List
NEW COMMITS: Three seniors from Asphalt Green Unified Aquatics (AGUA) in New York City have signed their National Letters of Intent to swim in college: CJ Hinckley (University of Pennsylvania), Inez Olszewski (College of William & Mary) and Emily Weissman (University of Miami).
The three posted impressive swims as AGUA won the Delaware First State Cup earlier this month. Hinckley earned runner-up honors and a lifetime best in the 500, while Olszewski was a member of the team's winning 200 freestyle relay. All three swimmers will race at the upcoming Tom Dolan Invitational hosted by NCAP from Dec. 8-10.
CJ Hinckley
Best times:
500 free – 4:34.13
1,000 free – 9:24.91
1,650 free – 15:29.83
Hinckley will make an immediate impact on the Ivy League stage for Penn after making his first USA Nationals cut in the mile last short course season. He also has Juniors cuts in the 1,000 and 800 freestyles.
Penn is on the rise in the conference and has a tradition of distance excellence, especially after Christopher Swanson won a memorable 1,650 at NCAAs in 2016. The Quakers placed three men in the top nine in this event at last year's Ivies.
Hinckley would have placed tenth, and two out of the three top finishers will have graduated by next season. His current times in the 500 and 1,000 are just outside scoring range as it took a 4:28.88 and a 9:21.48 to score last year.
The Penn men have also received a verbal commitment from Zachariah Althoff this season.
Inez Olszewski
Best Times:
50 free – 24.23
100 free – 52.66
200 free – 1:54.08
500 free – 5:05.92
Quickly-improving Olszewski has the potential to be a huge contributor to the William and Mary program. Coming into this season, Olszewski's lifetime best in the 500 was a 5:25.28 – she posted a near-20 second drop in her first 500 of the season for Asphalt Green.
Her current times are just outside of scoring range for her respective events, as it took a 23.82, 52.25, 1:52.72 and 4:59.11 to score in last year's CAA Championships. But it is likely that Olszewski will reach or better these times by the end of her short course season.
The Tribe has already gotten verbals from Sonora Baker and Rebecca Rogers for the 2018-19 season as well.
Emily Weissman
Best times:
500 free – 5:02.73
1,000 free – 10:08.80
1,650 free – 17:01.26
While Weissman is slightly outside scoring range at the incredibly deep ACC Championships, she would have been the second-fastest miler for the Hurricanes last season. Likewise, Weismann was just one second off the team's top time for the 1,000.
At last season's Championship, it took a 16:46.24 to score in the 1,650. Only five of the top sixteen are returners for next season, opening up opportunity for young members of the ACC Conference in this event.