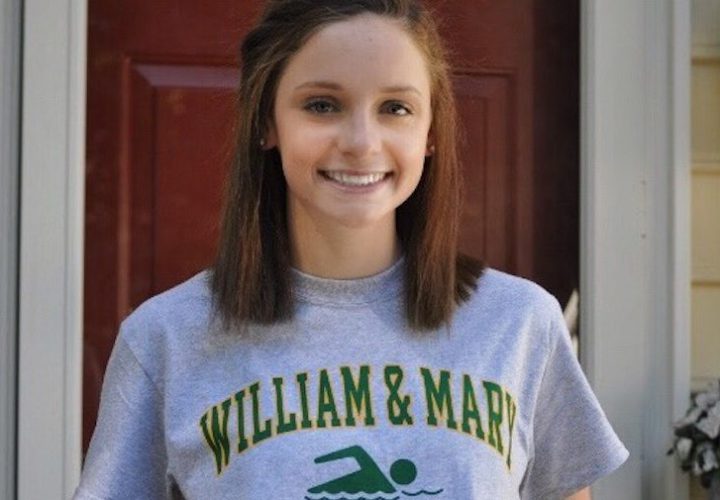 Photo Courtesy: Rebecca Rogers
Agon is the proud sponsor of all high school coverage (recruiting, results, state championships, etc.) on SwimmingWorld.com. For more information about Agon, visit their website AgonSwim.com.
To report a college commitment, email HS@swimmingworld.com. Join Swimming World's Watch List
NEW COMMIT: Defending Colonial Athletic Association Conference champions William and Mary have received a verbal commitment from Rebecca Rogers. Rogers will move to Williamsburg next fall from Richmond, Virginia where she swims for Nova of Virginia Aquatics, Inc. and is a senior at Mills E. Godwin High School.
Rogers wrote to Swimming World,
"I can't wait to spend the next four years swimming for the tribe! William and Mary had the perfect mix of academics and swimming that I was looking for and I could not be more excited to attend in my father's alma mater fall!"
Rogers is pretty well rounded. Her top times include,
200 Fly 2:03.61
400 IM 4:29.10
200 IM 2:07.53
200 Back 2:05.81
All of those 200 times were set last spring as Rogers raced at Virginia short course senior champs and then headed to Orlando for NCSA Junior Nationals just two weeks later.
Rogers should be a significant point contributor to the Tribe. Her best 200 fly time would have finished seventh at last year's Championship meet. Junior Abby Mack won the event for the Tribe while sophomore Maria Oceguera (2:01.86) finished third. She'll overlap with Rogers for one year. Rogers would also be a B finalist in the 400 IM with her best time. William and Mary did not have any swimmers in that top eight, but did put three into the B final, two of whom (Morgan Smith and Julia Bland) will still on the roster during Rogers' time.
Her Nova teammates Grace Wielar and Lauren Meeker have also made verbal commitments to college swim teams.