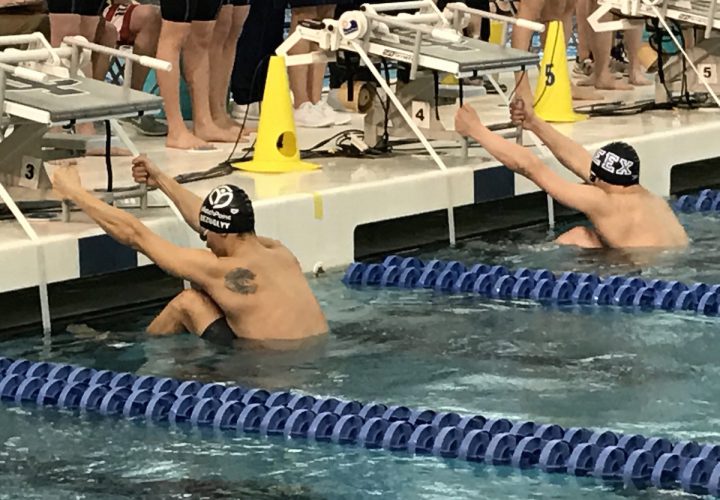 Photo Courtesy: Emma Miller
Speedo Sectional Series is proudly sponsored by Speedo. Visit SpeedoUsa.com for more information on our sponsor.
By Emma Miller, Swimming World Contributor
Though he is the oldest swimmer competing at the 2017 EZ Speedo Sectionals, Oleksandr Bezuglyy's age doesn't show in the pool.
"Twenty years, I've been swimming 15 miles per day, and that's why I can stay in shape," Bezuglyy explained. "Just swimming like, three, four, maximum five times per week."
The 31-year-old from Ukraine is in a unique situation. Bezuglyy is an assistant coach for the Brooklyn-based swim team Matchpoint NYC, home to seven Sectionals qualifiers and over 90 athletes in total. He says that swimming at large competitions like Sectionals allows him to set an example for his kids to follow.
"I also am swimming coach, I have junior swim team. Sometimes, I'm competing at competitions with them in order [for the] parents to see me and try to compare," he explained. "They may think what their children should be like in the future."
Matchpoint NYC's head coach Konstantin Petrov explained why his assistant coaches choose to swim in competitions.
"They're younger coaches, they very love to be swimmers, they love to continue to swim," Petrov said. "I have them as coaches, and the assistants – they know the kids look up to them."
Petrov himself has extensive swimming experience. Hailing from modern-day Kazakhstan, he was a member of the Soviet Union's national swim team from 1983 to 1988. With an Olympic bronze medal from the 1988 Summer Olympics under his belt, Petrov continues to swim to this day and expects the same of his coaches.
Reflecting on his personal swimming background, Bezuglyy remembered what it was like when he was up against much older competition.
"Before, back in my day, I was struggling," he admitted. "Because you know, it's very hard. It's exactly the same experience I had back in my days when I was 15, 16, and by my side swam the big guys, maybe 30 years old. I thought, 'how is that possible?' But it's okay. You just turn off your brain and enjoy your swimming."
Bezuglyy qualified for finals in four of his five individual events throughout the weekend, all of which top-five finishes. His 3:56.07 in the 400 IM was good enough for second, while he earned bronze after going 2:01.85 in the 200 breaststroke.
"I expect one more medal [Sunday night]," Bezuglyy said with a grin. "I want to gain a full set – gold, silver, bronze. We'll see how it goes."
Bezuglyy was unable to "gain a full set," but he did manage to capture silver in the 200 IM with a time of 1:51.36, a whole two seconds faster than his swim at prelims.
Throughout the weekend, Bezuglyy was ousted by men nearly half his age. Going forward, however, he is going to take on competition his own size.
"In one month, I'm going to attend the U.S. Masters National Championship competition in California," he explained.
Bezuglyy is currently ranked first in the men's 30-34 age group in four separate events by U.S. Masters Swimming: the 100 and 200 backstroke, the 200 breaststroke, and the 400 IM. In preparation for the Spring Championships meet, which will feature upwards of 2,000 swimmers, Bezuglyy says that he's dreaming big despite the short window of time remaining to train.

"I have a goal to set a national record for my age group in one mile. I'm going to do my best," he said, laughing. "Only three and a half weeks, so we'll see."