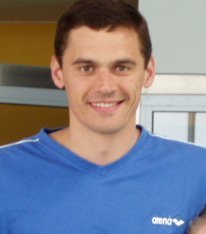 By Phillip Whitten
PARIS, December 23. RUSSIAN superstar Alex Popov will make it official — he's calling it quits after a magnificent career, according to a story yesterday in the French sports newspaper, l'Equipe.
The story comes as no surprise. Popov, 33, announced before the Olympic Games that Athens would be his final competitive appearance. His disappointing showing there only reinforced the wisdom of his declared decision.
It had been expected that Popov would make a non-competitive, farewell appearance at October's Short Course World Championships in Indianapolis, where he was to be honored by FINA. But he did not show in Indianapolis.
Popov was the world's dominant sprinter in the 1990s, becoming the first swimmer to win Olympic titles in both the 50 and 100-meter freestyle events in two successive Olympic Games when he won both sprints in Barcelona in 1992 and repeated in Atlanta at the Centennial Games of '96.
Four years later in Sydney, Popov failed to medal in the 50, but he was favored to take the 100-meters for a third straight Olympic Games, which would have made him the first man to achieve that distinction.
(Dawn Fraser is the only woman to have won the 100 free in three Olympiads, taking gold in Melbourne in 1956, Rome in 1960 and Tokyo in '64. Had she not been banned from competing after the Tokyo Games by an overly zealous official, she might well have won a fourth crown in the 100 free. The only other swimmer to have won any Olympic event three times in a row is Hungary's Kristina Egerszegi, who took the 200-meter backstroke in 1988, '92 and '96.)
The personable Russian gave it his all, but was beaten to the wall by 0.39 seconds by the Flying Dutchman, Holland's Pieter van den Hoogenband . Charcteristically, Popov said afterwards: "When Pieter won, all the respect goes to him. He's the Olympic champion. . I was second. That's the end of the story."
During the 1990s, Popov's duels with US sprint star Gary Hall, Jr., captured many a headline. The matches between the two speedsters were enlivened by the fact that there was no love lost between the two thoroughbreds. Popov emerged the winner in most of those duels, though Hall has since established himself as the world's pre-eminent 50-meter sprinter, winning Olympic gold in 2000 and 2004 – joining Popov as the only two men to have won that pure sprint twice in a row.
When Popov refers to his swimming accomplishments, his preferred choice of pronoun is rarely 'I', but 'we', in reference to his coach, Gennadi Touretski, with whom he shares a close relationship.
"The main thing in my career is consistency. I achieved the results and I stayed there. To be consistent you have to believe in what you are doing and you have to believe in your coach. It is like any relationship. I have been married for seven years and I've been with Gennadi for 13 years; you have to trust each other.
POPOV'S RECORD:
1991: LC European Championships – 1st 100m free
1992: Olympic Games – 1st 50m free, 1st 100m free
1993: LC European Championships – 1st 50m free, 1st 100m free
1994: LC World Championships – 1st 50m free, 1st 100m free
1995: LC European Championships – 1st 50m free, 1st 100m free
1996: Olympic Games – 1st 50m free, 1st 100m free
1997: LC European Championships – 1st 50m free, 1st 100m free
1998: LC World Championships – 1st 100m free,
2000: Olympic Games – 2nd 100m free. LC European Championships – 1st 50m freestyle, 1st 100m freestyle, 1st 4x100m free relay, 1st 4x100m Medley relay.
2002: SC World Championships – 1st 4x100m medley relay
2003: LC World Championships – 1st 50m free, 1st 100m free, 1st 4x100m medley relay
2004: LC European Championships – 1st 50m free