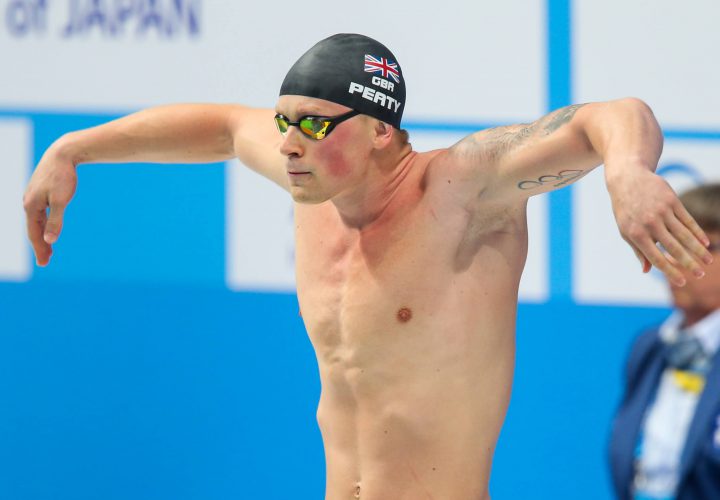 Adam Peaty.
Photo Courtesy: SIPA USA
Make it four in a row for Adam Peaty.
The Olympic breaststroke champion won his fourth consecutive 100-meter breaststroke title at the British Championships in Edingburgh, Scotland, on Saturday.
He convincingly won the title in dominating fashion, finishing in 58.78 ahead of the 200 breast winner James Wilby (1:00.05) in silver medal position and Ross Murdoch (1:01.26) in bronze.
Junior Tom Dean of Maidenhead Swimming Club won the Men's 200 Individual Medley final (1:59.88), smashing the European Junior qualification time by three seconds.
David Cumberlidge came out on top of a closely fought 50 Free Final in 22.28, just edging junior Lewis Burras (22.79) to second place. However, in the skins event, the result was reversed.
Eighteen-year-old Brodie Williams from Millfield School took the 200 Backstroke Final 2:00.29 (though Germany's Christian Diener finished in 1:59.36, but is not British), with Loughborough University's Luke Greenbank picking up the silver (2:00.37) and City of Cardiff's Xavier Castelli (2:00.58) in the bronze medal position.
Holly Hibbott from Stockport Metro picked up her second British title of the weekend after last night's 800 free title taking the 400 free in 4:11.86 (Spain's Mireia Belmonte was faster in 4:09.08 but is not British).
Hibbott wasn't the only double medalist this week – the University of Edinburgh's Lizzie Simmonds followed up her 200 backstroke success with victory in the 100 event, finishing in 1:00.65, knocking Kathleen Dawson (1:00.84) into second place and Jess Fullalove (1:01.05) into bronze medal position.
City of Cardiff swimmer Chloe Tutton also completed the double taking the 200 Breaststroke (2:25.69 … Spain's Jessica Vall finished in 2:24.92) following on from last night's 100m win. And after being surprised by his 400 freestyle victory last night Jay Lelliott completed the double with the 800 title in 7:57.31.
City of Cardiff's Harriet Jones completed the day three action winning the 50m Fly Final in 26.99.