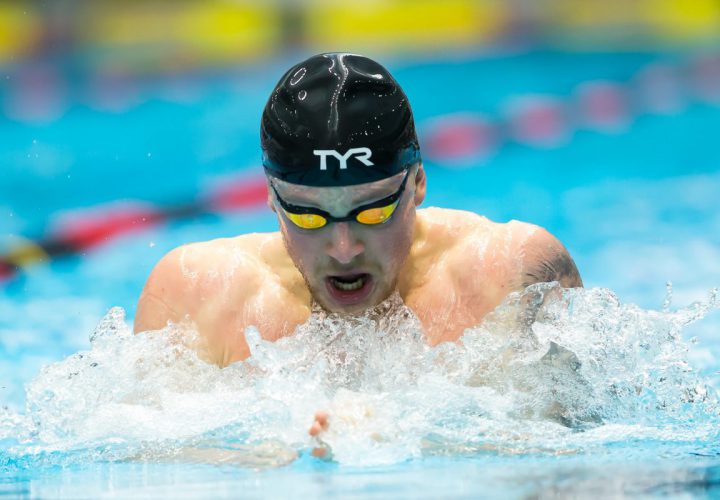 Photo Courtesy: Christopher Hanewinckel-USA TODAY Sports
The second night of action from the 2017 British Swimming Championships in Sheffield produced some fast swimming as Adam Peaty rattled his own World Record in the 50 breaststroke with a 26.48, just off his 26.42 World Record from 2015. 22-year-old Jocelyn Ulyett shocked the likes of Molly Renshaw and Chloe Tutton as she broke Tutton's British Record in the 200 breast with a 2:22.08 to automatically qualify for Budapest for her first World Championships. Ulyett dropped five seconds off her personal best going into today. Georgia Davies also picked up a win in the 100 back as she was inside the consideration time for Budapest to potentially qualify for her second World Championships.
Tonight's Events:
Women's 50 Butterfly
Men's 50 Breaststroke
Women's 800 Freestyle
Men's 200 Butterfly
Women's 100 Backstroke
Men's 100 Backstroke
Women's 200 Breaststroke
Women's 50 Butterfly
Charlotte Atkinson won the first final of the night with a win in the 50 fly at 26.81 ahead of 15-year-old Sophie Yendell at 26.90, who set a British Age Record. The 50 stroke events are not qualifiers for World Championships so Atkinson will have to pick up a spot in the 100 fly later on in the meet. Alys Thomas was third at 26.94.
Laura Stephens (26.98), Freya Anderson (27.02), Raquel Matos (27.06), Lauren Mills (27.16) and Tain Bruce (27.44) also swam in the A-final.
Men's 50 Breaststroke
Adam Peaty rattled the World Record in the 50 breaststroke on Wednesday night in Sheffield at the 2017 British Swimming Championships with a 26.48. Peaty just missed the 26.42 he set at the 2015 World Championships in Kazan. Peaty is easily the fastest swimmer in the world ahead of Italy's Nicolo' Martinenghi (26.97). Peaty will pick that event up for the World Championships in Budapest since he won the 100 last night. The world record will be on watch later this summer when Peaty steps on the blocks in Budapest.
Euan Inglish (27.65), Mark Campbell (27.66), L Clifford-Stephenson (27.86), Charlie Attwood (27.90), James Wilby (28.37) and Lawrence Palmer (28.75) also competed in the A-final. Chris Steeples was disqualified in the event.
Women's 800 Freestyle
Jazz Carlin won the 800 free title with an 8:30.56 for the win at the British Swimming Championships. It was a little bit of disappointing swim for Carlin as she was the silver medalist in Rio last summer with an 8:16.17, but this was her first 800 race since Rio. We will see if Carlin gets selected for Budapest with that swim. Carlin dragged along Holly Hibbott the whole way as Hibbott was second at 8:31.78. Carlin's time puts her eighth in the world. If Carlin gets selected, it would be her fifth World Championship appearance as she has swum at every World's since 2009.
Camilla Hattersley (8:36.42), Danielle Huskisson (8:38.71), Alice Dearing (8:39.80), Isobel Griffiths (8:45.34), Leah Crisp (8:53.33) and Nikki Miller (8:54.54) completed the top eight.
Men's 200 Butterfly
James Guy won his second British title of the weekend with a win in an unconventional 200 fly. Guy won the title with a surprising 1:55.91, just outside of the consideration time for Budapest. Guy most likely wouldn't swim that event anyway because it is his fourth best event as he will focus on the middle distance freestyle events. Guy beat Cameron Brodie (1:57.46) and Olympian Duncan Scott (1:57.50).
Joe Litchfield (1:59.28), Thomas Paine (1:59.78), Michael Gunning (1:59.83), Luke Howdle (1:59.89) and Matthew Domville (2:02.07) also competed in the championship final.
Women's 100 Backstroke
Georgia Davies got her 2017 campaign off to a quick start with a British title in the 100 back with a 59.34, inside of the consideration time for Budapest. Davies was the only swimmer in the field to break 60 seconds as she could be off to her second World Championships if she gets picked up for consideration. Davies last appeared in the World Championships in 2013 in Barcelona. Davies beat Jess Fullalove (1:00.52) and veteran Elizabeth Simmonds (1:00.58).
Davies is now third in the world this year behind Canada's Kylie Masse (58.21) and Australia's Emily Seebohm (58.62). Davies was 10th at the Olympics last summer with a 59.85 in the semis.
Kathleen Dawson (1:01.27), Chloe Golding (1:01.33), Lauren Quigley (1:01.81), Anna Maine (1:01.91) and Kirsty Simpson (1:02.03) also swam in the championship final.
Men's 100 Backstroke
Chris Walker-Hebborn won the 100 backstroke national title in Sheffield but fell short of the consideration time for Budapest. Walker-Hebborn won with a 54.24, way off the qualifying standard. Walker-Hebborn will most likely not qualify for Budapest but Great Britain still needs a backstroker to lead off their talented medley relay so who knows what will happen. Walker-Hebborn beat 20-year-old Luke Greenbank (54.75) and veteran Xavier Mohammed (54.93).
Walker-Hebborn also indicated in his post race interview that he has changed coaches so maybe he still has more to prove moving forward. Walker-Hebborn was 11th in Rio last summer with a 53.75 and swum a 52 in 2015, so Britain might cut some slack with him here and bring him along to Budapest for relay only duty.
Joseph Hulme (55.19), Charlie Boldison (55.52), Craig McNally (55.58), Joe Elwood (55.59) and Brodie Williams (56.00) also swam in the championship final.
Women's 200 Breaststroke
There was a really strong field in the women's 200 breaststroke final that featured four olympians from last summer. But the winner was not an olympian as Jocelyn Ulyett shocked the field in winning the race and breaking the British Record at 2:22.08. Ulyett also swam under the automatic qualifying time for Budapest as she is now second in the world behind Russia's Yulia Efimova (2:21.35).
Ulyett took on the likes of Olympians Molly Renshaw (2:23.04) and Chloe Tutton (2:24.28). Renshaw and Tutton swam for Great Britain at the Olympics last summer placing sixth and fourth respectively. Ulyett broke Tutton's British record set last summer in Rio that was a 2:22.33. Coming into today, Ulyett's best time was a 2:27.25.
Great Britain has been lacking in the women's breaststroke events in the last few years as they have not had a medalist at the World level since Kirsty Balfour was second at the 2007 World Championships in the 200. The British women have already broken the 50 and 200 British records this week as Imogen Clark broke the 50 record last night. The future looks bright for Britain as Ulyett (2nd), Renshaw (3rd) and Tutton (6th) are all ranked high in the world in the 200. Renshaw did not get under the automatic qualifying time but it is likely she will join Ulyett in Budapest in the 200. Renshaw would be off to her second World Championships while Ulyett is officially off to her first.
Katie Matts (2:25.51), Abbie Wood (2:26.02), Hannah Miley, Georgia Coates (2:27.48) and Megan Morrison (2:30.31) also swam in the championship final.