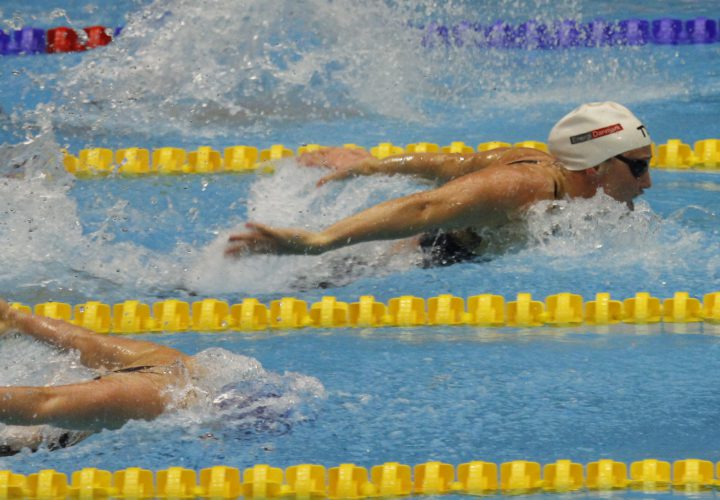 Photo by Pia Ellegaard Mortensen
BERLIN, Germany, August 22. HEADED into day five of finals at the European Championships, most focused their attention on Gregorio Paltrinieri's pursuit of a distance sweep in the men's 800 and Sarah Sjostrom's quest for a world record in the 100 fly. However, young British breaststroker Adam Peaty stole the show, setting his first career world record in the semi-finals of the men's 50 breast. Jeanette Ottesen also scored one of the big upsets of the meet in the women's 100 fly.
Scheduled Events
Men's 800 free final
Women's 200 free semis
Men's 100 fly semis
Women's 200 breast final
Men's 100 free final
Women's 50 back semis
Men's 200 back semis
Women's 100 fly final
Men's 50 breast semis
Mixed 400 free relay final
Finals
Men's 800 Free
Despite swimming in lane two, few doubted that Italy's Gregorio Paltrinieri would walk away with his second European title of the meet. He blistered the race off the gun, flipping in 3:50.28. He faded down the stretch, but he had enough of a cushion that no one would have a chance to catch him. Paltrinieri touched in 7:44.98, falling short of his best time this year, a second-ranked 7:43.01.
Paltrinieri's splits

| | | | | | | | |
| --- | --- | --- | --- | --- | --- | --- | --- |
| 26.86 (1) | 55.78 (1) | 1:24.78 (1) | 1:53.98 (1) | 2:22.87 (1) | 2:51.97 (1) | 3:21.05 (1) | 3:50.28 (1) |
| 26.86 | 28.92 | 29 | 29.2 | 28.89 | 29.1 | 29.08 | 29.23 |
| 4:19.68 (1) | 4:48.84 (1) | 5:18.26 (1) | 5:47.77 (1) | 6:17.37 (1) | 6:46.69 (1) | 7:16.38 (1) | 7:44.98 |
| 29.4 | 29.16 | 29.42 | 29.51 | 29.6 | 29.32 | 29.69 | 28.60 |
Just as they did in the 1500, Italy's Gabriele Detti and the Faroe Islands' Pal Joensen battled for the entire distance, but just like he did on Wednesday, Joensen pulled ahead over the final stretch. Joensen touched in 7:48.49, the third-fastest time in the world, while Detti could not come close to the top time in the world he set this spring, a 7:42.74. He settled for third in 7:49.35.
Great Britain's Stephen Milne made a run at the medals, but he could not close a big gap on Joensen and Detti, and he settled for fourth in 7:50.64, good for sixth in the world. The Czech Republic's Jan Micka moved into the world top-ten with a fifth place 7:52.19, followed by Hungary's Gergely Gyurta (7:55.47), the Netherlands' Ferry Weertman (7:55.57), and Slovakia's Richard Nagy (7:56.28).
Women's 200 Breast
Denmark's Rikke Moeller Pedersen had no peer in the final, but she sought to make a run at her own world record. She led wire-to-wire, touching six one-hundredths of a second under world record-pace at the 150, but she faded slightly down the final stretch, touching in a meet record-time of 2:19.84. That crushed her own meet record, a 2:22.32 from the semi-finals. She's actually been a bit faster this year, with a 2:19.61 from June.
Pedersen's splits

32.02 (1)
1:07.30 (1)
1:42.83 (1)
2:19.84
35.28
35.53
37.01
Great Britain's Mollie Renshaw used an enormous finish to come from fifth at the 150 all the way to second at the finish. She touched in 2:23.82, good for ninth in the world, while Spain's Jessica Vall Montero settled for third in 2:24.08. Russia's Vitalina Simonova (2:24.87) and Spain's Marina Urzainqui Garcia (2:24.96) also got under 2:25, while Russia's Maria Astashkina (2:25.07), Italy's Giulia De Ascentis (2:26.71), and Belgium's Fanny Lecluyse (2:28.38) completed the finale.
Men's 100 Free
France's Florent Manaudou shed the label of "50 swimmer" once-and-for-all in a European championships final victory. Manaudou took the lead with an outstanding start and never let up, touching in 47.98. The time ranks third in the world, just trailing Australians James Magnussen (47.59) and Cameron McEvoy (47.65).
Manaudou's splits
Fabien Gilot touched with a lot to celebrate as he made it a 1-2 for France, touching in 48.36, the tenth-best time in the world. Gilot touched out Italy's Luca Leonardi, who finished with an 11th-ranked 48.38. Russians Alexander Sukhorukov (48.52) and Sergey Fesikov (48.82), who knocked pre-race favorite Vlad Morozov from the field in prelims, finished fourth and seventh, respectively, while Italy's Luca Dotto (48.58), Hungary's Dominik Kozma (48.76), Romania's Marius Radu (49.05) also swam in the final.
Women's 100 Fly
Denmark's Jeanette Ottesen pulled off one of the shockers of the week when she upset Sweden's Sarah Sjostrom to win the women's 100 fly. Ottesen led Sjostrom by 0.23 at the 50, but Sjostrom tracked her down over the final 25 meters. At the wall, though, Ottesen had just enough to get her fingertips on the wall first by one one-hundredth of a second, 56.51 to 56.52. Both times fell just short of the top time in the world, a 56.50 from Sjostrom in June.
Ottesen's splits

Sjostrom's splits
With the top two so far ahead of the field, few noticed the race for bronze, which turned out to be an incredible one, with Italy's Ilaria Bianchi touching out the Netherlands' Inge Dekker by, again, one one-hundredth of a second – 57.71 to 57.72. Another Italian, Elena Di Liddo, took fifth in 58.27, ahead of Great Britain's Jemma Lowe (58.48), Germany's Alexandra Wenk (58.59), and Slovakia's Katarina Listopadova (58.79).
Mixed 400 Free Relay
Italy set a European record in taking the win over Russia in a tight finish. The Italian quartet of Luca Dotto, Luca Leonardi, Erika Ferraioli, and Giadi Galizi won the event in 3:25.02, taking down the European record of 3:29.10. Russia's Andrey Grechin, Vlad Morozov, Veronika Popova, and Margarita Nesterova grabbed second in 3:25.60, ahead of France (3:27.02) and Turkey (3:35.79).
Italy's splits

Dotto
23.33
48.78
3:25.02
Leonardi
23.04
48.01
Ferraioli
25.86
53.83
Galizi
25.97
54.40
Semi-Finals
Women's 200 Free
Italy's Federica Pellegrini has by far the best credentials in the field of the women's 200 free, and she flexed her muscles in the semi-finals, clocking the top time with a 1:56.69. Pellegrini won the 2008 Olympic title and world titles in 2009 and 2011, and she holds the world record, but she won't have an easy road to the title on Saturday. Veronika Popova finished just behind Pellegrini with a 1:56.84. Both have swum much faster this year; Pellegrini holds the fourth-ranked time in the world at 1:55.69, while Popova ranks sixth at 1:55.93.
Pellegrini's splits

27.65 (3)
57.02 (2)
1:26.88 (1)
1:56.69
29.42
29.81
29.81
Hungary's Katinka Hosszu will make a run at her fourth gold medal of the meet as she qualified third in 1:56.96. She has already taken gold in both IMs and tied for the 100 back title. The Netherlands' Femke Heemskerk qualified next in 1:57.15, just ahead of Sweden's Michelle Coleman (1:57.18) and Spain's Melanie Costa Schmidt (1:57.24). France's Charlotte Bonnet (1:58.05) and Bulgaria's Nina Rangelova (1:59.06) will join them in the final.
Men's 100 Fly
Poland's Konrad Czerniak set the pace in the semi-finals and has a comfortable cushion headed into the final on Saturday. The bronze medalist in the event at the 2013 World Championships, Czerniak touched in 51.58, the fifth-fastest time in the world this year, trailing a trio of Americans and World Champion Chad le Clos.
Czerniak's splits
The bronze medalist at the Commonwealth Games, Great Britain's Adam Barrett, touched out Germany's Steffen Deibler in semi-final one, 51.80 to 51.81, while Belarus' Pavel Sankovich qualified just behind in 51.83. All three clocked times that rank among the world top-ten. Poland's Pawel Korzeniowski (52.07), the Netherlands' Joeri Verlinden (52.10), and Russia's Nikita Konovalov (52.11) all qualified for the final, while Hungary's Laszlo Cseh tied France's Mehdy Metella for eighth place, forcing a swim-off.
Both men swam much faster in the swim-off, but Cseh won in 51.73 over Metella's 51.96. Cseh's time would have booked lane five for the final, but the silver medalist from last year's World Championships will swim in lane eight on Saturday.
Women's 50 Back
One day after tying Katinka Hosszu for the European title in the women's 50 back, Denmark's Mie Neilsen will be in pole position to score a win on her own. She touched first in the semi-finals in 27.78, just behind her fourth-ranked 27.78 from earlier this year. Spain's Mercedes Peris Minguet bumped herself up to sixth in the world, as she touched second in 27.91, while Great Britain's Georgia Davies could not match the 27.56 she clocked earlier this year for second in the world, but her 28.13 easily qualified her for the final. Joining her will be countrywoman Fran Halsall (28.19), Italians Arianna Barbieri (28.30) and Elena Gemo (28.44), Belarus' Aliaksandra Herasimenia (28.46), and Russia's Daria Ustinova (28.48).
Men's 200 Back
Pre-race favorite Radoslaw Kawecki earned the top seed for the final, but he had to stave off a strong effort from Hungarians Peter Bernek and Gabor Balog to do so. Trailing both at the 150, Poland's Kawecki blazed home to touch in 1:57.35 to win semi-final two, just ahead of Bernek's 1:57.41, while Balog finished in 1:57.97. The silver medalist at last year's World Championships, Kawecki currently owns the number 11 time in the world this year at 1:56.45, while Bernek sits one spot ahead at 1:56.42.
Kawecki's splits

27.32 ()
57.79 (4)
1:27.55 (3)
1:57.35
30.47
29.76
29.80
Italy's Luca Mencarini also finished strongly, clocking a 1:58.16 to win semi-final one and take the fourth seed, while Lithuania's Dans Rapsys and Germany's Jan-Philip Glania tied for fifth with times of 1:58.21. Meanwhile, Germany's Christian Diener (1:58.37) and France's Benjamin Stasiulis (1:58.46) will swim in the outside lanes in the final.
Men's 50 Breast
Great Britain's Adam Peaty has been a breakout star in sprint breaststroke this year, and in the semi-finals he achieved the best result of his career when he broke his first world record. Peaty clocked 26.62, edging Cameron van der Burgh's world record-time of 26.67 from the 2009 World Championships. He also broke his own European record of 26.78 set in winning the Commonwealth title last month. He should be the overwhelming favorite to win gold in the final, and he could look to lower the record even further; a long glide into the wall leaves the possibility for a faster mark with a better-timed finish.
Obviously, Peaty qualified first for tomorrow's final, as Serbia's Cada Siladji finished second in 27.33, and Lithuania's Giedrius Titenis grabbed third in 27.39. Defending champion Damir Dugonjic got into the field, as the Berkeley-trained Slovakian clocked 27.40. Other finalists include Italy's Andrea Toniato (27.60), France's Giacomo Perez-Dortona (27.61), Russia's Andrey Nikolaev (27.68), and Germany's Hendrik Feldwehr (27.70).
Twitter Coverage
For up to the minute coverage, follow us on Twitter @SwimmingWorld: