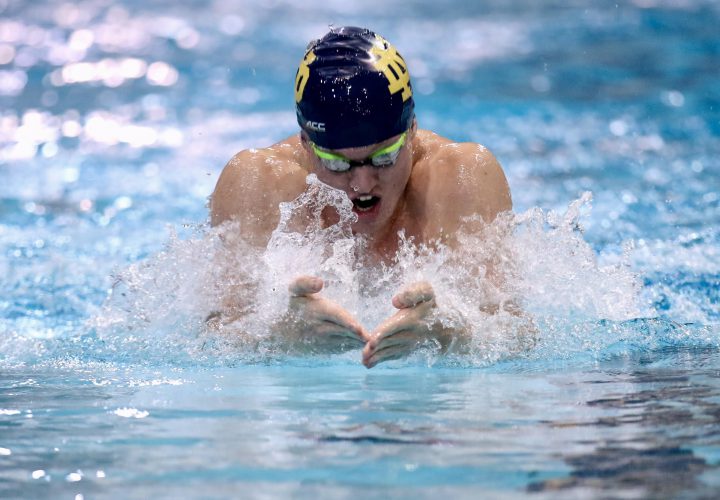 Photo Courtesy: Marcus Snowden/University of Notre Dame
The Notre Dame Fighting Irish scored a pair of upset dual meet wins over highly-touted Louisville Saturday morning in South Bend, Ind., as the first full weekend of ACC swimming dual meets wrapped up.
The Fighting Irish won the women's meet by a massive 181.5 to 118.5 margin, while the men won a tight one, 153.5 to 146.5.
The star of the day for the Notre Dame women was sophomore Abbie Dolan, who swept the 50, 100 and 200 free and led off the Irish's victorious 400 free relay that held off Louisville, 3:20.49 to 3:20.77.
Winning events in dual meet was nothing new for Dolan, who came out on top plenty as a sophomore, but check out who she touched out in both the 100 and 200 free: Louisville star Mallory Comerford. Dolan won the 200 free by one hundredth, 1:46.12 to 1:46.13, and after taking the 50 free in 22.98, she again touched out Comerford, 48.94 to 48.99, in the 100 free.
Notre Dame's Lindsay Stone won the 1000 (9:51.48) and 500 free (4:50.07), while Louisville's women got just three wins all day in swimming: Grace Ogelsby in the 200 fly, Maria Astashkina in the 200 breast and Rachael Bradford-Feldman in the 200 IM.
In the men's meet, double winners Robby Whitacre (100 back, 48.27, and 200 back, 1:45.58), Zach Yeadon (1000 free, 9:02.47, and 500 free, 4:21.66) and Justin Plaschka (50 free, 20.04, and 100 fly, 47.91). For the Cardinals, senior breaststroker Carlos Claverie unsurprisingly finished on top of both the 100 (55.47) and 200-yard (2:01.12) distances of his best stroke.
Full results from the meet can be found here.
Minnesota at Florida State
Florida State's men cruised to a win over the visiting Golden Gophers, 179 to 121, but the Seminole women could not quite catch up to Minnesota and fell by a score of 153.5 to 146.5.
In a balanced effort from the FSU men, no swimmers actually won more than a single individual victory. Wins came from Rudo Loock in the 200 free (1:37.85), Connor Kalisz in the 100 back (49.24), Max Polianski in the 200 fly (1:50.05), Chad Mylin in the 50 free (20.09), Tyler Roberge in three-meter diving (389.18), Felipe Ribeiro de Souza (44.69), Griffin Ailanz in the 200 back (1:48.95) and Kanoa Kaleoaloha in the 100 fly (47.83).
The FSU men also won both 200-yard relays comfortably, with Mylin, Paxton Rhodes, Kaleoaloha and Will Pisani putting up a time of 1:29.64 in the 200 medley and Mylin, Pisani, John Vann and Emir Muratovic winning the 200 free relay in 1:20.66.
In the women's meet, Florida State's Madeline Cohen, Natalie Pierce, Leila Johnston and Lexi Smith opened the meet with a 200 medley relay win (1:40.81), but the Seminoles only picked up five more wins all day. Pierce won the 100 breast in 1:01.74 and tied with Minnesota's Lindsey Kozelsky to win the 200 breast in 2:15.68.
Also for the Seminoles, Molly Carlson won one-meter diving (280.95), Blaire Mulka won on three-meter (315.35), and Shelley Drozda picked up a narrow win over Minnesota's Brooke Zeiger in the 200 IM, 2:03.22 to 2:03.62.
Access full results here.
Boston College at Bryant
On Friday night, Boston College was swept by Bryant, with the Eagle women losing 156 to 144 and the men falling 161 to 137. Victoria Lin was the only BC double event winner, taking first in the 200 fly (2:10.42) and 100 fly (58.52). Full results are available here.