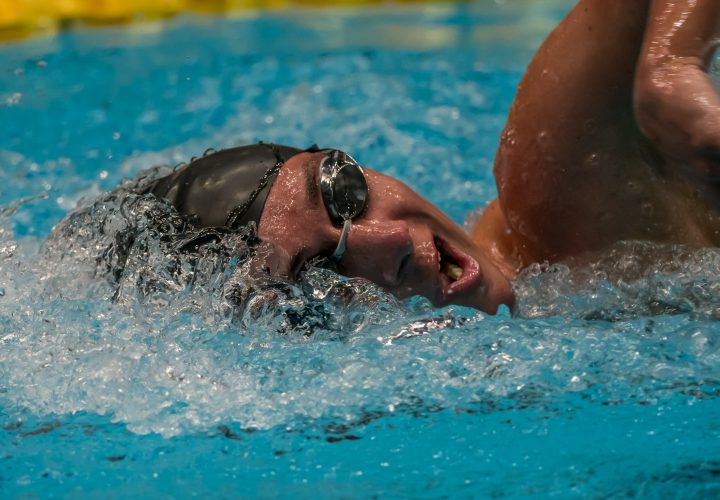 Photo Courtesy: Peter H. Bick
Men's 1500 Free Final
Team USA's Andrew Abruzzo faced a tough competitor in teammate Michael Brinegar during the final heat of the men's 1500-meter freestyle, but managed to sprint the last 100 yards, splitting a 28.71 on the last 50, to claim the gold medal and solidify his sweep of the distance events. Abruzzo's winnng time of 15:06.48 was less than three seconds faster than Brinegar's – the two stayed neck and neck during most of the exciting race, with Brinegar finishing 15:09.00 for the silver medal.
The race for silver/bronze was also an extremely close one, as the bronze went to Russia's Iaroslav Potapov with his time of 15:09.18, just 0.18 behind Brinegar. Hungary's David Lakatos posted the next best time, 15:18.07, for fourth place.
Australia's Jacob Vincent, who swam in the earlier heats during prelims, managed to place fifth with his time of 15:18.84. Sixth place went to Marcos Gil Corbacho of Spain in 15:20.14.
Also having swum in the earlier heats was Tatsuki Shoike, who finished seventh in the final rankings with his time of 15:26.01. Eighth place went to Nathan Robinson of Australia with his time of 15:27.38.
Swimming World Radio
Andrew Abruzzo, United States
---